★★★★★

based on

2

reviews.
Overall rating:
Miami Falls Canal System Fishing
The Miami Falls Canal System is the most productive Florida Peacock Bass fisheries in the state of Florida. If you are looking to catch a trophy peacock bass here in Florida, this is the place to go. Deep in the heart of Miami, you will embark on a urban Florida Fishing adventure through a long canal system filled with South Florida wildlife.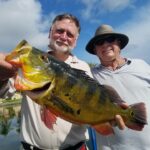 The Cutler Drain Canal (C-100 series) is made up of 4 sections with 13.5 miles of navigable waters. It is located in southern Miami-Dade County between Kendall and Cutler Ridge. When these canals were constructed back in the mid-1900s, they were created out of mainly coral rock. Boaters should be conscious of this as they navigate the waters to protect themselves from boat damage. These coral rocks are what the peacock bass thrive and hold to for structure. Most of the canals have vertical drops and edges that can range reach up to 30 feet. The average depth is 12 feet deep. Along these canals, there are two five-acre, sand bottomed lakes that are 10 feet deep.
One of the most breathtaking parts of the Miami Falls Canal System is the urban feel you get when cruising through. Enjoy the beautiful South Florida homes while fishing. Take pictures as well of the abundance of wildlife including iguanas of all colors and sizes. Don't speed through the canals as it is home to many South Florida residents that paddle board and kayak.
The exotic butterfly peacock bass is the main species of choice when fishing the canal system. You can also experience Florida largemouth bass, along with many species of the cichlid family, freshwater tarpon and even snook. The average size of peacock bass you will experience will be between 1 to 2 pounds. The Falls will still remain as one of the best locations to land a trophy peacock bass weighing 3 to 5 pounds +. The Florida record is 9.08 and came from a nearby fishery. If you have not experienced a Florida Peacock Bass, they are incredibly hard strikers and fighters. Live bait will always be the best option to catch a trophy but jerk baits and top water baits will also be effective.
Enjoy a mid-day fishing adventure on the Miami Falls Canal System when the sun is shining. This exotic species love the warm weather! Land your trophy bass next time visiting Miami or the state of Florida!
*****Miami Falls Reviews*****
Fishing fun
★★★★☆
"
The water was to low to unload the boat at the boat ramp that we met Captain Tim at but he quickly adjusted the plan and drove us approximately 15 miles to another location. The fishing was good. Captain Tim was great! We had a blast.
"
Miami Falls Fishing
★★★★★
"
We had a great day with Capt. Wayne Fellows. Plenty of fish caught and lots of fun had. Capt. Wayne knows his stuff.
"
For more information on Miami Florida Fishing
For more information on Miami Fishing Guides