Lake Rating:
Lake Rating - Read customer reviews of lake, click to read
FISH AEROJET CANAL FLORIDA
Pricing?

To get current pricing. Click on the AVAILABLE button on the pictures below. Then adjust the date, time, and the number of people and it will display the total price
Searching Availability...
About Aerojet Canal Fishing & Tours
The Aerojet canal in Homestead Fl is just minutes from the Key Largo. You fish a casting distance from Saltwater, all while enjoying catches provided by freshwater. Because of its place, it gets very little pressure and, in return, grows giant bass; a few of the side benefits of being located so far south is the capabilities to produce and keep up PEACOCK BASS in the same fishery. Aerojet canal is never noisy and congested like some commercial, maybe a few extra anglers on the weekends. Traveling from the boat ramp, it doesn't look like a must. But like most canals, this one especially has its sweet spots that always seem to hold fish. With that said, this place has a lot and is generally productive for most anglers with a little knowledge of the area…
Read More
Trip Core Details
Region: South Florida – Miami
Duration: 4, 6, & 8 hrs
Cancellation: 12 hrs in advance
Weather-Related: Full refund
Instant Online Confirmation
Includes All State Taxes
What's Included:
All Fishing Equipment
Professional Captain
Boat & Fuel
Cooler & Ice
Bottled water
Photos
What's NOT Included:
Florida Freshwater Fishing License for those ages 16+
Live bait if desired is also additional and is purchased the morning of the trip. (optional)
Food or Specialty beverages
Fishing Chairs
GPS & Fishfinder
Life Jackets
Catch and Release Allowed
Keep Fish Allowed within Laws
Boat Specs: 20+ ft
Boat Capacity: 4 People
All Fishing Equipment
Boat & Fuel
Photos
Light Tackle
Heavy Tackle
Livebait
Artificial Lures
Spinning Rods
Baitcasting Rods
Left & Right Handed
Fly Rods (request only)
Braid & Mono Line
Fishing beautiful North Florida on a boat fully equipped with top quality rods, reels, hooks, and artificial lures. 
Exploring state-ranked Rodman Reservoir in search of trophy largemouth bass, hard-fighting black crappie (speck) and so much more.
Guided fishing tour by a USCG professional fishing captain knowledgeable of North Florida and all of its waters. 
Take home a souvenir of your big catch with perfect photos taken by your guide and spread on social media as desired.
Local Operator Information:
Complete Operator information, including local telephone numbers for your destination, are included on your Confirmation email. Our Trip Managers select only the most experienced and reliable guides in each destination, removing the guesswork for you, and ensuring your peace of mind.
Participants are encouraged to bring comfortable shoes, a light-colored shirt, a hat, sunglasses, and sunscreen.
Airport Lakes Peacock Bass Fishing Guides
Amazing peacock bass fishing
★★★★★
"
I was traveling to Key Largo on vacation and wanted to catch a peacock bass while here. After doing research, I found the aerojet canal system and booked online. My captain gave me a call and told me the fishing was going to be fantastic. It surely was too. We caught big numbers of nice peacock bass on this trip and I could not have been more satisfied!
"
CLICK HERE TO WRITE AEROJET REVIEW
The entrance off the road of US1 is a bit difficult to see and access, especially with weekend traffic. The Aerojet canal is flood control and has a structure on both ends. It fishes like a combination of Tamiami and Snapper Creek canal systems, all while providing urban anglers with more exciting fishing opportunities.
What to Expect
 Peacock Bass Fishing Aerojet Canal offers some of the most exciting and varied canal fishing in southeast Florida. Several anglers have reported canal 'trifecta,' or 'grand slam' catches of butterfly peacock and largemouth bass topped-off with a Snook. The butterfly peacock is a world-renowned game fish that was successfully introduced in the mid-1980s by the Florida Fish and Wildlife Conservation Commission to eat undesirable exotic fishes and offer more sport-fishing anglers in the metropolitan Miami-Ft. Lauderdale area.
Fallen trees, canal intersections, sharp bends, and dead ends are generally productive areas for catching most fish species. Sport-fishes also congregate in the shade of the pump structures. Shoreline vegetation, rip-rap, and even some residential sea walls (particularly in lateral canals) also give good fishing opportunities. If there is a strong current in the central channel, spend more time fishing lateral canals, small lakes, and other areas that offer refuge from the wind (e.g., cut-outs, bridge pilings, and the downstream side of spillway).
Seasons and Limits
Aerojet Canal supports excellent butterfly peacock and largemouth bass populations that average about 14 inches (1.5 pounds). Nearly 50% of the harvest-able butterfly peacock and 40% of the largemouth bass are more extensive than this. The biggest butterfly peacock (10 pounds) ever confirmed in Florida came from this canal.
The bag limit for butterfly peacock is two fish per day, only one greater than 17 inches; up to five largemouth bass are allowed. But only one of these can be greater than 14 inches. Fishing for butterfly peacock is usually best from March through May, but they act consistently throughout the year. Butterfly peacock feeds only during daylight and typically close to shore, although schooling peacocks will sometimes feed aggressively in open water. Largemouth bass fishing tends to be best during the winter when the water cools, and early in the morning, evenings, and even at night during the summer.
MORE INFORMATION ON AEROJET CANAL FISHING
The Butterfly peacock, much of the time, is caught using live bait. Opposite of the largemouth bass, which makes them an excellent fish for younger anglers and those just learning to bass fish. Live bait, such as small golden shiners purchased at local tackle shops are the best overall bait for butterfly peacock and largemouth bass. It is illegal to use goldfish or any other non-native fish for bait, except those legally caught and immediately used in the same canal.
For those who enjoy fishing with artificial lures, just about any fast-moving minnow imitating plug or fly can entice a peacock. Early in the morning, look for tarpon rolling at the surface, especially if it is running swiftly. The number and quality of panfish over six inches in the Aerojet Canal is about average for area canals. Live worms and crickets are the choice baits for many panfish anglers, although fresh bread or bread dough works well, is readily available, and it costs less.
Techniques
Shoreline anglers will need to explore the best locations for shoreline fishing, and always be sure to park cars safely out of ways. Some non-native panfish species like the Spotted tilapia are also bream-shaped, golden in color with black spots or bars, and some adults have red on them. These exotic fishes are good to eat, and you can keep every one you catch in the Aerojet canal system.
For current Miami Peacock, bass fishing reports check with local Miami Peacock Bass Guides. If you have never experienced peacock bass, we hope this piques your interest enough to take your first venture into the Miami Lakes for this fantastic sport fish. There are thousands of people searching for Florida peacock bass, and we would be delighted if you would allow us to take you fishing. Make your fishing trip come true with one of our professional peacock bass fishing guides.
Current Aerojet Fishing Reports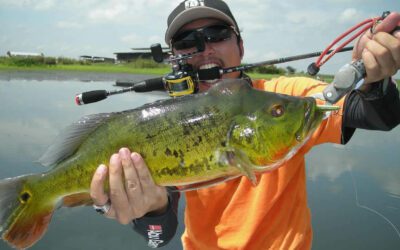 Every location has that one fish that brings tons of people to the area and for South Florida, it's peacock bass....
read more
Frequent Asked Question of Aerojet Canal
Where can I catch peacock bass in Miami?
Miami Airport Lakes – Peacock Bass
Antonio Maceo Park
City Park & Boat Ramp
5100 NW 7th Street
Miami, FL 33126
Miami has a wide variety of parks and recreational activities. The City of Miami Parks and Recreations Division manages over Antonio Maceo park facilities that offer a range of fun things to do for the entire family.
If you're into nature, be sure to check out, Antonio Maceo Park on NW 7 Street. Looking for a great picnic site? The Pace Park Picnic Islands located south of Julia Tuttle Causeway is the place to be.
Want to expend some energy and engage in some watersports, by using the community city boat ramp. There is a $15 dockage fee each time.
What is the best bait for canal fishing?
Bait must look natural as otherwise, the peacock bass fish will not eat it
Anglers use lots of different types of bait fishing Miami Airport lakes Canals, fly fishing, topwater lures, jigs, and hard jerk baits are some the most popular.
If you are not experienced, live bait or known as shiners are the most product for catching peacock bass.
When putting a shiner on the hook you must thread it through the lips of the shiner for the right action.
Where can I fish in Miami without a boat?
Although the park does not want you fishing from the dock, Antonio Maceo park does let you fishing from the sea wall and shoreline. There is no cleaning of fish allowed at Antonio Maceo Park, but it is one of the most productive places in Miami to fishing without a boat. The nearby Haulover Inlet also offers good fishing and offers a bait and tackle shop, and a fish cleaning area.
Where is the best spot to fish?
Antonio Maceo Park Lake is an overwhelming place to navigate which is just a short drive from downtown Miami. It has been there since 1970 and presently it has been developed with a great two-lane concrete boat ramp and people can enjoy pedal-boating, canoeing, kayaking, powerboating, and fishing. People fish here mainly peacock bass, but can also catch catfish, Mayan cichlid, and even largemouth bass.
Today, the main lake area is called Blue Lagoon it's a confinement basin that is connected to more than 30 miles of canals
. 
The encompassing body of water with all of the canals and lakes have enthralled people in general for quite a long time
.
The lake also offers guests the chance to appreciate paddle and sailing in the main Blue lagoon as it is a Manatee zone and is enforced slow wake zone.
What fish are biting in Miami?
Airport Lake Species
The Airport lakes offer multi-species fishery, why Peacock bass is the popular species the Blue Lagoon has a great population of largemouth bass as well. The bi-catch of Airport lakes is the chance to catch tarpon, snook, jack carnival and others all in once location.
With such a wide variety of species all in one body of water in South Florida, you never know what you're going to catch.  To stay up to date, be sure to get our current Airport lakes fishing reports. Click the link to learn more about what fish are biting in Miami.
How do people dress for fishing charter?
In layers is best, but fishing is casual. A sundress for ladies with bikini underneath is not uncommon. Khaki shorts for guys is as dressed up as anyone ever gets, long pants work if you're not using to the sun. In the same vein, there are no "styles." Get comfortable with whatever dress code is the norm. But always try to wear light colors as they are cooler.
Where can I park my car at Airport lakes?
There is parking at most at Antonio Maceo Park for cars, as well as boat trailers. This location is NOW paying online parking, currently $15 dollars. If you can find local nearby parking, many places are city meter parking. Your captain can tell you the complete cost, if you use Uber or Lyft there is no cost to enter.
What are you waiting for?
We also have great deals available on the following lakes that match your search criteria.