★★★★★

based on

12

reviews.
Overall rating:
North Florida Fishing Guides
We have several North Florida fishing guides to choose from, the list updates are done continuously. If you have previous when with us and your guide is not listed please call the office for details and contact information. If you're looking for specific things, non-smoking, live-bait specialist, artificial only, etc. give us a call we have the right guide for you!

North Florida Fishing Guides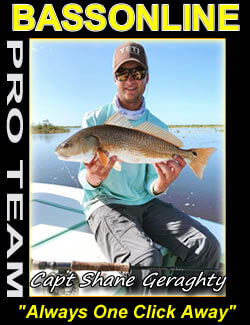 Captain Shane Geraghty
is born-and-raised in
Deland, FL
. I am a USCG licensed captain and focus on sight-fishing with light tackle or fly fishing equipment. One of the greatest joys is spending a relaxing day on the water and getting clients on the fish of a lifetime.
I operate an 18ft 2002 Hellsbay Whipray shallow water skiff made to get into the backwaters. The main focal points to my guide trips are along the St. Johns River as well as Mosquito Lagoon. Whether you want to explore Freshwater Bass Fishing or Inshore Fishing near New Smyrna Beach, FL, I got you covered. With over 10 years of fishing experience, I would love the opportunity to get you on the water and create a memory you will never forget!
To fish with Capt Shane click here!
North Florida Guide Reviews
Unbelievable fishing experience
★★★★★
"
Well let's start with the captain. Captain Kenneth Walker is the real deal and even though I only spent 10+ hours fishing with him, he is one of the best bass fisherman I have ever met. Also very dedicated to having satisfied customers. I recently came down south from Massachusetts to do some bass fishing and was not disappointed. Not only did captain Walker help me break my personal best fish after fish he would not stop untill we pulled In the trophy fish I came to Florida for. We caught probably 20+ quality fish the whole trip including largemouth, Gar, mud fish, speckled cat fish. The last fish of the day was 9 pounds 5 ounces large mouth and I'm still in shock the next day. Not only did we catch quality fish one after another I learned so much more about shiner fishing that I did not know before. If you are looking to get yourself a trophy fish look no.further and book your reservation with captain Walker today. I know I will definitely be back for another trip. Thank you again for a great time Captain Walker and the folks over at bassonline.com
"
Best day of monster bass fishing ever!!!
★★★★★
"
I took my son on an eight hour trip with Captain Ken Walker on Rodman Reservoir on my son's 14th birthday. I had seen pics of huge bass that had been caught on that lake and had seen great reviews for Captain Ken Walker, so I had really big hopes for us. Captain Ken exceeded my hopes and expectations. We started catching fish within the first 20 minutes of fishing. Within the first 30 minutes of fishing my son landed a huge 9 lbs. 13 oz. trophy bass! From then on we never went more than 20 minutes without catching a fish. I landed an 8 lbs. 7 oz. and then an 8 lbs. 12 oz. bass by noon! That's 3 trophies in less than 5 hours in the boat! We caught 7 different species of fish and they were all big and fun to catch. Ken is both a great guide and a gentleman as well. He greatly exceeded my wishes and desires. He was very helpful and patient with us. I can't wait to get back to Rodman to fish again and when I do there is only one person that I want to fish with - Captain Ken Walker!
"
Amazing
★★★★★
"
A (4-hour trip) turned into an amazing fishing experience with Steve Niemoeller what a great guide and person. 24 fish were caught one been over 9 pounds what a fun trip. Thanks Steve will call next time were up here...
"
Click below on the region of the map you wish to find a fishing guide!
Southeast | Southwest | Okeechobee | Central | North | Panhandle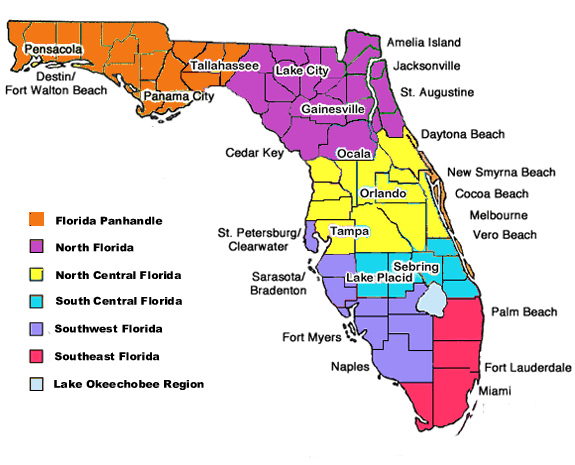 We are continuously adding new North Florida Fishing Guides to this page. If you have went with a guide before and he is not listed please call the office for details and contact information.
If you are a bass fishing guide in the North Florida Region please contact us by using this contact form!