North Florida Fishing Guides
We have several North Florida fishing guides to choose from, the list updates are done continuously. If you have previous when with us and your guide is not listed please call the office for details and contact information. If you're looking for specific things, non-smoking, live-bait specialist, artificial only, etc. give us a call we have the right guide for you!

North Florida Fishing Guides

North Florida Guide Reviews
Best day of monster bass fishing ever!!!
★★★★★
"
I took my son on an eight hour trip with Captain Ken Walker on Rodman Reservoir on my son's 14th birthday. I had seen pics of huge bass that had been caught on that lake and had seen great reviews for Captain Ken Walker, so I had really big hopes for us. Captain Ken exceeded my hopes and expectations. We started catching fish within the first 20 minutes of fishing. Within the first 30 minutes of fishing my son landed a huge 9 lbs. 13 oz. trophy bass! From then on we never went more than 20 minutes without catching a fish. I landed an 8 lbs. 7 oz. and then an 8 lbs. 12 oz. bass by noon! That's 3 trophies in less than 5 hours in the boat! We caught 7 different species of fish and they were all big and fun to catch. Ken is both a great guide and a gentleman as well. He greatly exceeded my wishes and desires. He was very helpful and patient with us. I can't wait to get back to Rodman to fish again and when I do there is only one person that I want to fish with - Captain Ken Walker!
"
Amazing
★★★★★
"
A (4-hour trip) turned into an amazing fishing experience with Steve Niemoeller what a great guide and person. 24 fish were caught one been over 9 pounds what a fun trip. Thanks Steve will call next time were up here...
"
Amazing day of fishing!
★★★★★
"
Capt Steve Niemoeller put us on the bass from the first cast! I lost count of how many fish we caught. It was nonstop all day long! We caught several in the 5 lb. range, and there wasn't a fish below 3 lbs. He was very professional and was extremely accommodating to my 75 year old father, who is a little shaky on his feet. I would definitely recommend Capt Steve to anyone looking for a great day on the water! We will be booking with him in the future.
"
Click below on the region of the map you wish to find a fishing guide!
Southeast | Southwest | Okeechobee | Central | North | Panhandle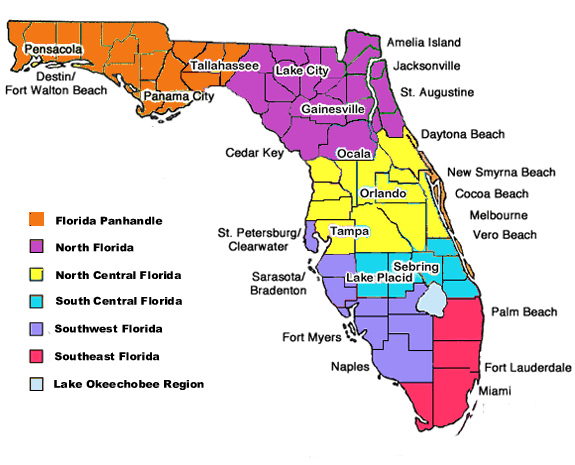 We are continuously adding new North Florida Fishing Guides to this page. If you have went with a guide before and he is not listed please call the office for details and contact information.
If you are a bass fishing guide in the North Florida Region please contact us by using this contact form!