Overall rating:
North Florida Fishing Guides
We have several North Florida fishing guides to choose from, the list updates are done continuously. If you have previous when with us and your guide is not listed please call the office for details and contact information. If you're looking for specific things, non-smoking, live-bait specialist, artificial only, etc. give us a call we have the right guide for you!

North Florida Fishing Guides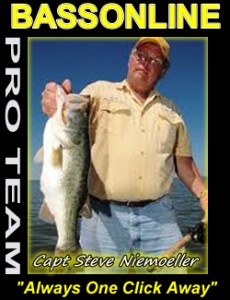 Captain Steve Niemoeller
Licensed Master Captain that lives in DeLand Florida
Full Time Professional Guide, primarily servicing the freshwater lakes of St Johns River, Lake George, Lake Woodruff, and Lake Monroe. Also regularly guides on Kissimmee Chain, Lake Toho, Harris Chain of lakes, Stick Marsh /Farm 13 and has great success on Ponce Inlet and Mosquito Lagoon in the saltwater catching redfish and other species.
Co–Owner of Steel Shad Lure Company
Part Time Certified Captain for the St Johns river Sea Tow company
Married for 25 years, born in Columbus Indiana moved to FL in 1984
Capt Steve featured in lots of articles over the past years in magazines all across the country and around the world.
Also a writer and guest of weekly and monthly fishing report for Southern States Fishin and Huntin magazine. Look for Captain Steve north Florida fishing reports posted here on our Florida fishing reports page.
His weekly fishing report can be heard on WNZF 106.3 FM radio Saturdays and Sunday 9 am The Southern Sportsman!
Captain Steve's sponsors include, Hontoon Marine, Yamaha Outboards, Owner Hooks, Stanley Reel it Feel It, Rod glove, Skinny water products and BassOnline.com
You can read more about our North Florida Fishing Guides and Capt Steve and visit his website at Central Florida Fishing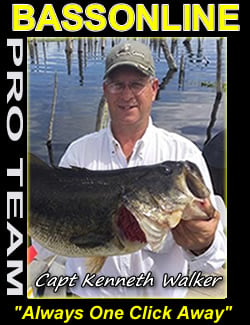 Capt Kenneth Walker is a Air Force Veteran, Father, grandfather, and retired firefighter paramedic. A Florida Native Kenneth grew up in Gainesville, and has fished the local waterways since the age of 3. Now he is sharing those experiences with you on his exclusive fishing guide trips.
He is a world traveler and has Traveled to 38 countries, so far. Specializes in Bass, Crappie, and live bait Fishing.
Lakes: Kingsley Lake, Orange Lake, Lockloosa Lake, Little Orange Lake, Newnan's Lake, St. Johns River ( palatka area ), Santa Fe Lake & specializes in RODMAN RESERVOIR ( The nations #8 Big Bass lake, as ranked, by B.A.S.S. ).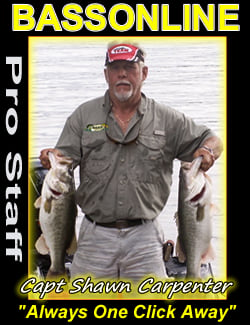 Captain R. Shawn Carpenter of Ocala, Florida is considered one of the top North Florida fishing guides and has been guiding for more than 10 years.
He has been a professional angler and guide for the past 15 years. Shawn has fished the ESPN Bassmaster and ABA Tours.
He is very skilled, knowledgeable in freshwater techniques, and excellent in teaching others. Specializes in artificial lures and teaching the next generations the value of fishing.
The North Region and covers Rodman Reservoir, Orange Lake, Lake Kerr, Harris Chain of Lakes, Lake Griffin, Lake Panasoffkee and St. Johns river as well as many more great lakes. You can read more about Capt Shawn and visit his website at Ocala Bass Fishing

North Florida Guide Reviews
Big Bass
★★★★★
"
Awesome dirt time fishing experience, capt. Brent Neelson was extremely knowledgeable guide, although it was a little ruff getting that early morning bite, he quickly was able to put us on the fish! I being a Maine vet. The discount was very appreciated, If you're looking to fish Florida look no further!!!
"
My experience with Capt Steve
★★★★★
"
Our group fished with Steve for 2 days in early March. We were scheduled to fish at Rodman. The weather was fine until our first day. Then the temp went south and the wind went north. Steve was great to work with. He is not only knowledgeable but very flexible. He took us to areas out of the wind but put us on fish. He is a great guy. Looking forward to fishing with him again.
"
Fabulous Fishing with Captain Ken Walker
★★★★★
"
It was an experience of a lifetime getting to fish with Captain Ken Walker Feb 22 and 24, 2017. This captain is tireless in locating fish, teaching fishing techniques and ensuring we had a great time. Bill is an experienced bass fisherman and Dee is a newbie! We fished the mouth of the St John river near Astor, FL the first day and caught a total 11 bass including two 7 pounders. The second day we fished Rodman Reservoir and caught a total of 17 bass and Dee landed her first trophy bass weighing in at 9.25 pounds!!!!!! We can't say enough positive things about Captain Walker and we are making our reservations for 2018 this week.
"
- Dee Greer/Bill Schaefer
Click below on the region of the map you wish to find a fishing guide!
Southeast | Southwest | Okeechobee | Central | North | Panhandle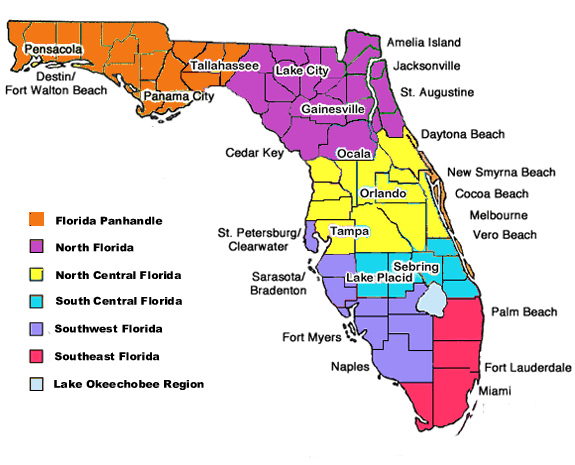 We are continuously adding new North Florida Fishing Guides to this page. If you have went with a guide before and he is not listed please call the office for details and contact information.
If you are a bass fishing guide in the North Florida Region please contact us by using this contact form!