11 Places to Go Fishing in Atlanta GA
Home to some of the most breathtaking parklands in the U.S. and blessed with an abundance of lakes, Georgia is the ideal destination for nature and aquatic life lovers.
So it's no wonder that both beginner and advanced fishermen love The Peach State. Whether you're an angler living in Metro Atlanta or near the north Georgia mountains, you'll find many beautiful lakes and rivers to cast your fishing poles. Even the best trout fishing and bass sportfishing spots are no more than 2 hours away from Atlanta.
So if you're an angler looking for something to do in Atlanta, Georgia, you've come to the right place. Below, we've gathered and summarized the best fishing spots in Georgia for you.
Where can you fish in Atlanta Georgia?
For fishing and boating in the Atlanta area, these are some of the best options with good options for folks wanting to get out of downtown.

Instant Confirmation

  Angler's Top Choice

FREE Cancellation
Fishing in Atlanta Reviews
Best guides
★★★★★
"
This trip makes for the perfect day - the lake setting is beautiful, and the guide was friendly and very professional.
"
Laughs and Fish with Teen Son
★★★★★
"
My son and I love to fish together. Its been tough since we moved to Georgia since you have to fish a bit differently with your flies. We went out with John and had a blast. Will do it again!
"
Perfect Fly Fishing Day with Son
★★★★★
"
Had an awesome day learning about fly fishing and catching a bunch of trout with my son. Our guide was very knowledgeable and made the day a great experience.
"
CLICK HERE TO WRITE A ST Atlanta REVIEW
1. Lake Clara Meer
At the heart of Metro Atlanta is the Piedmont Park, and in it is Lake Clara Meer, which measures a proud 11.5 acres and was created for the Cotton States and International Exposition. Outfitted with a new nearby fishing dock and three new fishing piers, it's the best place to go if you're looking for a relaxing fishing spot. At Clara Meer, you'll be able to fish for crappie, largemouth bass, catfish, and bream, all while taking in the beautiful Midtown skyline.
The best part is, it's super close to anywhere you might live in the city.
2. Lake Lanier
Looking for a less relaxing and more thrilling fishing experience? You might find that at the 38,000-acre Lake Lanier, which can be located 60 miles north of Atlanta and is bursting with bass and crappie. Lanier is distinct as a flat, open, and straight body of water. The entire shoreline is accessible to anglers (except for the beach), and docks and piers are also available.
Always have the option to stay overnight at the campground or in one of the cottages, where boat slips are also available. What's more, it's a popular spot for RVers and campers as well.
3. Bull Sluice Lake
Do you want to get out of the city, but not so far away? Then, go fishing at Bull Sluice. Only 20 miles north of Atlanta, this 673-acre body of water is located in the Chattahoochee River National Recreation Area.
Calming and serene, this is an ideal spot for people for anglers and hikers alike. Although you won't be able to go swimming there, Bull Sluice makes up for it by having abundant fish — take your pick from Bull Sluice Lake's channel catfish, bream, bass, crappie, yellow perch, brown trout, and rainbow trout!
Do note; however, swimming is not allowed at this lake.
4. Lake Allatoona
f you're an angler living near Georgia, there is every chance you have already heard of Lake Allatoona, which is easily one of the most popular places to go on a fishing trip near Atlanta.
Located within the Red Top Mountain State Park, only 35 miles from the metropolis, Allatoona measures 12,000 acres and boasts a gorgeous 270 mile-long shoreline, including the Acworth Beach and other facilities at the Cauble Park.
The U.S. Army Corps of Engineers maintains brush piles along the Bethany Bridge Fishing Jetty. What's more, submerged fish-attracting Christmas trees — 200 strong in number — are within accessible casting distance of the jetty, including fly fishing.
Not to mention, you can also go swimming at Cauble Park or take advantage of its picnic tables and other picnic facilities. It's a fairly busy place, so organize your expectations accordingly.
Top Targeted Fish Species
5. Lithia Springs
Located 5 miles away from Six Flags over Georgia, the Sweetwater Creek State Park calls to adventurers and anglers of all kinds. You'll find what you need for the dinner table in this vast and awe-inspiring green space.
With the help of ingeniously placed fish attractors, which bring in channel catfish, Largemouth bass, striped bass, and bluegill. And don't worry if you forgot to bring your fishing gear — everything is available in a nearby bait and tackle shop.
Found only 19 miles west of downtown Atlanta, the George Sparks Reservoir is 215 acres in size and one of the most popular quick-fix fishing spots near the metro. So you can grab your bait and show up on any day!
6. Charlie Elliott Wildlife Center Ponds
Are they looking for a proper getaway from the city? Fifty miles from Atlanta is the Charlie Elliott Wildlife Center, which spans 6,400 acres in total and boasts 20 different ponds of varying sizes (from 1 to 95 acres) managed intensively for anglers like you.
These ponds, which are not pay-to-fish lakes but are planted with numerous fish attractors, are home to bluegill, largemouth bass, redear sunfish, crappie, and channel catfish. In addition, you will find no shortage of bankside exploration or angling opportunities at Charlie Elliott.
7. Randy Poynter Lake
Are you seeking a lowkey break from urban life in quiet and serene surroundings? If you love to fish, you'd be crazy not to visit the 650-acre Randy Poynter Lake, a reservoir 35 miles east of Atlanta and only 6 miles north of the beloved suburban Conyers. Here, black crappie and big bass can be found (although sometimes with little effort) among a few other fish species.
Randy Poynter also has fishing piers, a boat ramp, a playground, walking trails, a shady picnic area, and a retreat house. To make things even better, gasoline motors are not allowed on the lake, so you don't have to worry about irritating noise pollution ruining the serenity of the environment.
8. Fort Yargo State Park
Accessible through Georgia State Route 81, Fort Yargo State Park is home to a 260-acre lake where you can catch bream, crappie, striped bass, and catfish.
And once you've satisfied your angling desires, get your nature fill at the 20.5 miles of biking and hiking trails or the gorgeous beach.
Do you want to stay overnight? The campsites, cottages, yurts, and cabins at the park are the perfect place to do that once you've got nothing left to fish.
9. Stone Mountain Lake
About 27 miles away from the metropolis, Stone Lake is the largest water body in the same name park. It spans an impressive 323 acres and allows you to revel in many aquatic activities.
Like canoeing and kayaking, this park is also perfect for a fishing getaway. Stocked with carp, bass, catfish, crappie, and bream fish, this lake is the gift that keeps on giving.
10. High Falls State Park Lake
Hidden in the heavy pine woods of Monroe County, Georgia, High Falls Lake sits proudly inside the High Falls State Park, named for its breathtaking cascades. This park is easily one of the best fishing spots in Atlanta, GA.
Especially if you're craving to catch some white, hybrid, and smallmouth bass fishery, or if it's fly fishing you're into, the catfish here will be satisfying to the bait as well (a note for fly fishing enthusiasts: stocking occurs between March and August).
11. Chattahoochee River
And finally, whether you're a Georgia native or visiting for the weekend, the experience of the 'Chattahoochee River — as locals love to call it — is not one you should miss out on. Located only about 30 minutes away from Atlanta, the Chattahoochee is the perfect year-round source for smallmouth bass, catfish, trout, and 20 other fish species, including fly fishing.
(fact: the Georgia Dept. of Natural Resources stocks the lake between Azalea Drive and Buford Dam with 150,000 trout annually.) Retaining a refreshingly cool temperature throughout the year, the river (located within a park) can be accessed for fishing from 30 minutes before sunrise until 30 minutes after sunset.
Local Atlanta Fishing Guides
Meet the team of Atlanta
Georgia Fishing
Guides, we know the best spots, baits, and techniques to give you the greatest fishing experience in the Atlanta area.
Do you need a fishing license in Georgia?
Before you set out for your fishing journey, remember to read up on fishing regulations in Georgia. If you're 16 or older, you'll need a valid Georgia fishing license to fish. A trout stamp is also required for all resident anglers between 16 and 64 years of age for trout fishing. A good reference is the Georgia Department of Natural Resources; their website can tell you more about the fishing license requirement and how to get it.
Current Bass Online Articles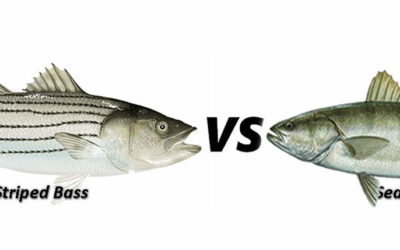 Sea Bass & Striped Bass: A Comparison The sea bass and the striped bass are different types of species even though they have the ''bass'' word in their name. When it...
read more
Parting Words
Fishing in Georgia is a singularly gratifying experience, as any angler in the area will tell you. All any angler needs, after all, is a beautiful spot and a few beautiful fish to catch. But all the places we have mentioned here have their boat ramps, public restroom, and picnic tables, along with helpful, friendly employees (and don't be surprised to find one or two tennis courts here and there as well).
The websites we have linked for each fishing hole will also give you boating, swimming, admission fees, activities, fishing charters, and operating hours. What's more, you'll be able to borrow equipment for all your fishing needs (for free or for a small charge) at many of Georgia's parks and lakes. We recommend visiting the Georgia Department of Natural Resources website or the Georgia Wildlife website for more fishing spots.
We hope you have a wonderful time fishing in and around Atlanta, GA!
Questions? Feel free to call us, Email us or use the chat us to speak to one of our specialists.
Questions? Feel free to call us, Email us or use the chat us to speak to one of our specialists.
Questions? Feel free to call us, Email us or use the chat us to speak to one of our specialists.
What are you waiting for?
We also have great deals available in the following cities that match your search criteria.