Lake Toho Fishing
Welcome to Lake Toho fishing; Our staff of fishing guides on Lake Toho cordially invite you to experience possibly the best bass fishing you will ever encounter. Fish Lake Toho one of Florida's most famous big bass lakes and get to enjoy one of Florida's most precious natural resources all while catching big trophy bass.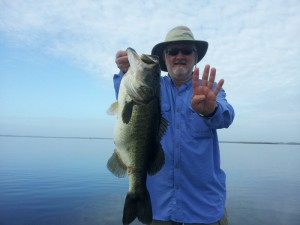 Were proud of being the leaders in Orlando bass fishing guide services in Central Florida and hope if you're searching for the excitement of trophy bass fishing while visiting Orlando you will give us a call after exploring our website and all the great pictures.
When planning a vacation to Central Florida area consider taking a guided bass fishing trip with Florida's largest and most respected fishing guide service. Our guides are full-time bass fishing guides and professional tournament anglers that know how to provide the prefect fishing experience for our customers. Catching trophy bass on Lake Toho and creating memories is what our guide service is consistently achieving daily!
Our no fish, no pay guarantee on all Orlando bass fishing trips leaves us consistently at #1, standing alone at the top when it comes to credibility and reliability in the Orlando bass fishing industry. BASS Online specializes in catching trophy bass, with artificial lures, fly fishing gear and live bait. Our fishing guides will teach you proven techniques that catch trophy Florida bass, at the same time helps improve your skills for bass fishing on your own.
Come experience the beautiful Orlando Florida area and all of its Central Florida lakes including Lake Toho, Lake Cypress and Lake Kissimmee. These lakes are all part of the Central Florida Chain of lakes that provide the perfect opportunity for you to experience Orlando Florida bass fishing. Be sure to visit our bass fishing photos page to see what our customers are catching during these fishing trips. Click here to see Orlando bass fishing guide rates for fishing Lake Toho and the Kissimmee Chain of Lakes.
Consider a vacation in Central Florida bass fishing, a great way to spend time with the family while in Orlando. Men, Women, children, your best friend or business client are all welcome to come enjoy a day of bass fishing on Lake Toho with us. We plan on making your Orlando fishing trip an unforgettable experience, that will have you thinking about nothing other than wanting more and leaving you craving to come back for more.
We have only U.S. Coast Guard licensed Orlando bass fishing guides, we maintain the highest standard of safety to make sure you have a relaxing day while you are fishing with us. The one thing that remains the same in Florida is the abundance of trophy bass fishing opportunities as well as the chance to see exotic plants and watch native Florida wildlife. If you're seeking that once in a lifetime fishing trip or just want to experience more of what Florida's beautiful lakes have to offer, book your charter now.
We offer the largest variety of fishing charters and vacation packages specifically for Orlando and Lake Toho, at very competitive pricing and custom designed for your needs. Remember you are getting the area's very best guides!
Please take a moment and review the website and our Toho fishing reports.
We genuinely hope that our list of clientele, accomplishments and overall experience will help make choosing us as your next Orlando bass fishing experience an easy one. Thanks for visiting!
Interested in reserving a Lake Toho Fishing trip?
More about LAKE TOHOPEKALIGA (Osceola County): Lake Tohopekaliga known to the locals as Lake Toho is an 18,810-acre lake located southeast of the city of Kissimmee. The Florida Fishing Commission fish attractors are especially popular fishing areas, for a map with lat-long coordinates, click here.
Largemouth bass anglers may want to direct their time on the water around the mouth of Shingle Creek, enhanced shorelines east and west of South Port Park, Lanier Point, Goblets Cove, and Brown's Point. Offshore hydrilla patches near channel marker 24, Little Grassy Island, and in Goblets Cove will also hold a good number of bass. Additionally, anglers who can find moving water associated with rainfall runoff should give these areas a cast or two. Both live and artificial baits can be very effectively utilized within all the above mentioned areas. Golden shiners are the live bait of choice by most anglers, although spinner-baits (white, white/Chartreuse or yellow skirted), lip-less crank-baits (chrome or shad colored) and pl