Lake June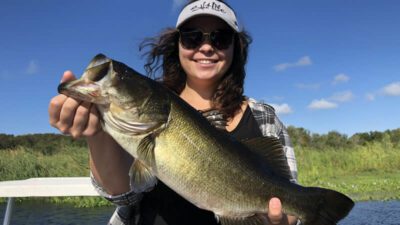 Lake June is located off of route U.S. Highway 27 in Highlands County is Highlands County's 3rd largest lake consisting of 3,739 acres of water. The lake is a standard Florida style kidney-shaped lake with additional coves on the northeast and northwest corners. The lake is definitely a multi-use lake. Used by both anglers fishing and recreational activities such as ski boats, water skiing, and jet skiing.
Lake June Fishing
Many snowbird anglers visiting Sebring & Lake Placid in Highlands County during the winter look forward to fishing the shallow waters of Lake Istokpoga and Lake Okeechobee. But most can locate fish better on Lake Placid and it's sister lakes because it fishes more like the reservoirs they fish back north.
Lake June is a 12-months a year fishery. During the spawning months, anglers target stretches along the shoreline of Lake June to sight fish for bedding fish. There's a mixture of vegetation that provides protection for bedding bass and plenty of opportunity for anglers in search of a trophy-sized bass during this time. Like most lakes in Florida, the spawn comes in waves and is driven by water temperature and the light-dark cycle.
Lake June Techquinies
During the spawn swim jigs work on about any lake in Florida and really well on Lake June, spinnerbaits, soft plastics and live shiners are the proven baits of choice. During the pre and post-spawn, the bass will hold up in the grass edges and can be taken with swimbaits, crankbaits, hard jerk baits, soft plastics and live bait.
Lake June Fishing Guides
This 3,726 acre lake with depths exceeding 40 feet, in some areas. Lake June provides deep-water fishing for bass, crappies, and bluegills, while also providing sandy bottom and plenty of shallow-water vegetation.
The Lake is historically hard for anglers to find fish, the fish move shallow and deep without notice. Our Lake June fishing guides are used to following these fish and can offer up lots of local information to our north friends wanting to fun fish.
Why waste your valuable time searching, when our guides can easily cut that learning curve in a third. Have a local club fishing tournament and need the winning fish, look us up.
Highlands County Boat Ramp
There are two public boat ramps; HL Bishop Park, which is part of the Lake June Park Sports Complex. Located on the south side of the northeast cove, has softball diamonds, picnic tables, a fishing dock, and a swimming area. The other boat ramp is located almost opposite the park on the north side of the same cove.