Naples Peacock Fishing Charters
Naples, FL is one of the most breathtaking destinations to visit in Florida. Surrounded by an endless amount of activities from shopping to spending time on the beach, you can never get tired. Have you ever wondered how to enhance your travel experience? Getting outdoors and potentially exploring our Naples peacock fishing charters can be a life-changing experience.
One of the most essential parts about exploring the outdoors is a local expert. Years of experience has allowed our local experts and professional fishing guides to show you the ultimate outdoor adventure. Every trip is unique and will be catered to your families needs. We want to show you and educate you on what Naples, FL is truly about.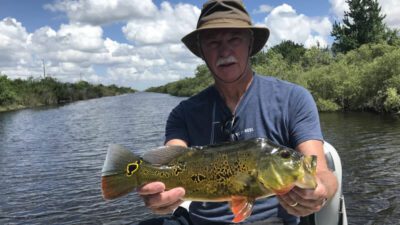 Peacock bass are commonly targeted here in Florida. Many believe that the only place to catch them is in South Florida. What they don't know is that there are several hidden gems located in Southwest Florida as well. We want to help you uncover these fisheries so that you can show your guests a great time when they visit you.
Captain's Mark Rogers, Nick Pasquarello, and Rick Mitchell are all exceptional local experts that can get you on fish. They all fish for peacock bass and largemouth bass near Naples, FL. If you are looking to catch peacock bass in Southwest Florida, these are the guys to explore with. Hop onboard their comfortable and spacious fishing vessels for a trip and adventure you will never forget.
If you are a lover for urban outdoor adventures, the Golden Gate Canal System would be the perfect fit for you. As you cruise through the backyards of beautiful homes and residents of Golden Gate, FL, you will have a blast catching peacock bass. One of the best parts about this fishery is that it also holds largemouth bass, freshwater snook, and so much more. Every time you go out, you will be on the fish.
When it comes to the ultimate Southwest Florida fishing adventure, the Florida Everglades dominates. Bass fishing in the long stretches of canals in the Everglades makes for the perfect fishing experience. Over the years, the exotic peacock bass has made their way into these waters. As a result, we know have a fantastic fishery for both peacock bass and largemouth bass along Alligator Alley.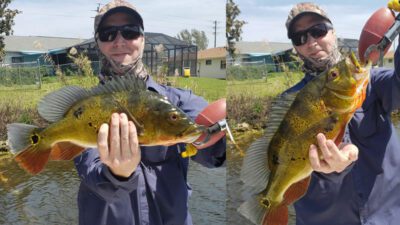 Catching a peacock bass can be tricky. They are sensitive and are quite smart for being a fish. Most days, you can throw every artificial lure you have at them without any luck. One of the most effective ways to catch peacock bass in Florida is with live bait. Domestic shiners are the magic to get peacock bass in the boat. Your local expert will have the bait onboard for you before arriving at your fishing location.
Everglades Bass Fishing is also dominated with largemouth bass. If you love to catch bass, this is your destination. Cast after cast you can bring in some big numbers of fish all year long.
Artificial baits work exceptionally well for the largemouth bass. If you want to target largemouth bass on your peacock bass fishing adventure, make sure to let your captain know. The best time to do that is during the early morning hours. Get your bait exploded on before setting the hook into some hard-fighting peacock bass.
As you can see, you have so many opportunities here in Southwest Florida. In just a short drive, you can be on the water exploring all that there is to offer. Whether peacock bass fishing or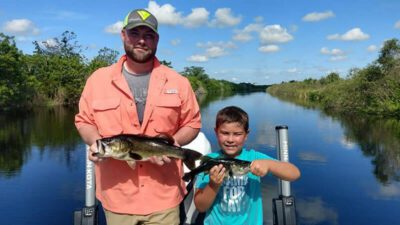 largemouth bass fishing, our local experts will get you on the fish. Peacock bass are an extremely exciting species to catch and you do not have to travel out of the United States to catch them. We look forward to seeing you on the water next time!
Come Visit Naples, FL and Catch Yours Today
[fusion_button link="http://bassonline.com/trips/city/naples/alligator-alley/" title="BOOK YOUR EVERGLADES FISHING TRIP ONLINE NOW!" target="_self" alignment="center" modal="" hide_on_mobile="small-visibility,medium-visibility,large-visibility" class="" id="" color="default" button_gradient_top_color="" button_gradient_bottom_color="" button_gradient_top_color_hover="" button_gradient_bottom_color_hover="" accent_color="" accent_hover_color="" type="" bevel_color="" border_width="" size="" stretch="default" shape="pill" icon="" icon_position="left" icon_divider="no" animation_type="" animation_direction="left" animation_speed="0.3″ animation_offset=""]BOOK YOUR EVERGLADES FISHING TRIP ONLINE NOW![/fusion_button]
If you enjoyed this post about Southwest Florida Fishing, you might also enjoy this fishing report from the same area.
Don't forget to follow us on Facebook, YouTube, Twitter, and Instagram.