Naples Bass Fishing Adventures
The Paradise Coast is one of the most breath-taking destinations in Florida. When you are visiting Southwest Florida, make sure you explore all that this coast has to offer. Naples, FL is filled with adventures and fun for the whole family, especially bass fishing. Join us on a Naples Bass Fishing Adventure on your next visit to Florida.
One of the luxuries about fishing in Naples is the ability to go freshwater or saltwater fishing. During this time of year, the freshwater dominates. You can travel to the Florida Everglades, Lake Okeechobee, or peacock bass fishing in the Golden Gate Canals. This destination has exceptional fishing and is only going to get better. Our local experts spent some time in Golden Gate in search for the elusive exotic peacock bass and freshwater Snook.
Here is your fishing report from our local experts:
Captain Mark Rose had the pleasure of fishing with Noah and his friend. They were traveling to Naples, FL on vacation and wanted to check out the bass fishing while here. The Golden Gate Canals was a perfect fit and produced big time for them. It would be their first time fishing for peacock bass and Snook.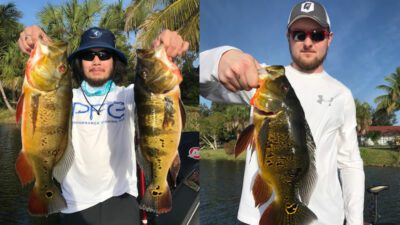 The fishing conditions were perfect for a fantastic day of fishing. It was an early morning start with a lot of success right off the bat. Noah and his friend caught several quality fish with live bait on this fishing trip. They caught 2 personal best peacock bass with both of them over 4 pounds. Also, they caught a Snook that was 5 pounds as well. Most of the fishing was in the long stretches of canals where it was sunny and beautiful. You can also fish near bridges to have some luck as well, according to Captain Mark.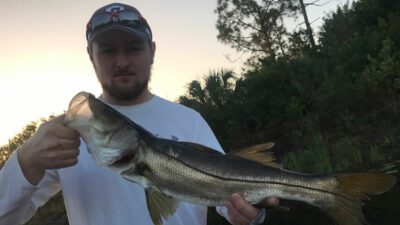 Noah and his friend had a blast checking some things off their list. They will be back for more of this incredible fishing action. Captain Mark is looking forward to their next adventure!
That afternoon, Captain Mark went out again on the canals in search for more quality fish. This time, he had the pleasure of fishing with John, along with his mom and dad. It was a beautiful afternoon with a lot of great action from peacock bass and largemouth bass.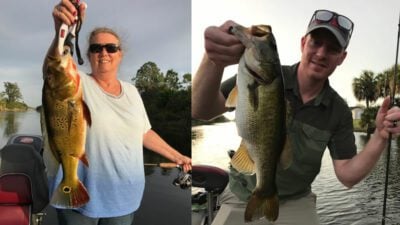 If you are looking for a multi-species fishing trip, the Golden Gate Canal is your fishing destination. This trip was another bucket list trip for this family. They all wanted to catch a peacock bass and the canals came through for them.
John and his parents caught over 15 bass on their quick 4-hour fishing adventure. The biggest peacock bass weighed 3 pounds. Also, the biggest largemouth bass weighed 3 pounds. You can't beat the constant and steady action while fishing in Naples.
This family had a blast on their fishing trip. Captain Mark is looking forward to getting back on the water with them again soon.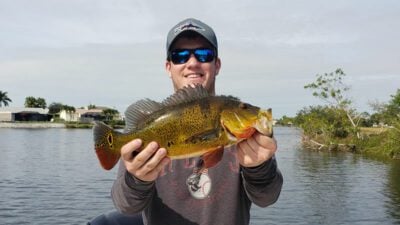 Just shortly after this awesome charter, Captain Nick Pasquarello and Captain Rick Mitchell adventured out in the canals. They were on a two boat fishing adventure with Alexa and her family. Each boat had two family members. All they were looking for was some rod bending action and quality bass and the Golden Gate delivered.
Captain Nick caught 10 quality fish on their quick afternoon fishing trip. It was a mix between peacock bass and largemouth bass with the biggest fish ranging from 2-3 pounds. Captain Rick had the same luck putting Alex and Aaron on 10 quality fish with 2 being peacock bass and 8 being largemouth bass. The biggest fish ranged also between 2-3 pounds.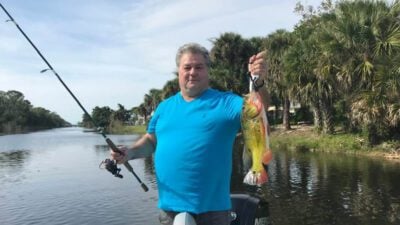 Captain Rick and Nick are looking forward to getting this awesome family and friends out on the water in the near future. They will be back for more action!
Don't miss out on your adventure here in Naples. A Naples Bass Fishing Adventure is a great way to spend some time in the outdoors with your family or friends. Hop on board with one of our local experts and they will get you on quality fish all trip long. You never know what will bite, so book your trip today to find out. We look forward to seeing you on the water next time!
Come Visit Paradise Coast and Catch Yours Today
[fusion_button link="http://bassonline.com/trips/city/naples/golden-gate/" title="BOOK YOUR GOLDEN GATE FISHING TRIP ONLINE NOW!" target="_self" alignment="center" modal="" hide_on_mobile="small-visibility,medium-visibility,large-visibility" class="" id="" color="default" button_gradient_top_color="" button_gradient_bottom_color="" button_gradient_top_color_hover="" button_gradient_bottom_color_hover="" accent_color="" accent_hover_color="" type="" bevel_color="" border_width="" size="" stretch="default" shape="pill" icon="" icon_position="left" icon_divider="no" animation_type="" animation_direction="left" animation_speed="0.3″ animation_offset=""]BOOK YOUR GOLDEN GATE FISHING TRIP ONLINE NOW![/fusion_button]
If you enjoyed this post about South Florida Fishing, you might also enjoy this fishing report from the same area.
Don't forget to follow us on Facebook, YouTube, Twitter and Instagram.
Learn More about Naples Bass Fishing