Stick Marsh
Florida fishing Stick Marsh which is the St. Johns Water Management Area (SJWMA), known to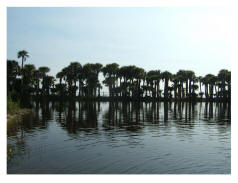 most anglers as the Farm 13/Stick Marsh, is a 6,500-acre impoundment located along the east coast of central Florida in northwest Indian River County. The Stick Marsh/Farm 13 was created in 1987 and opened to the public around 1991. Water depths range from 4 to 8 feet. Boaters unfamiliar with the area are heavily advised to navigate to fishing locations with extreme caution due to the number of man-made and natural hazards, like stumps that this place presents. Facilities include a double lane concrete boat ramp, air boat launch site, restroom and paved parking lot. Closest towns/cities are Melbourne, Palm Bay, Vero Beach, Sebastian and Fellsmere. No gas, food or bait available on site. Popular sport fish include largemouth bass, bluegill, redear sunfish, black crappie and several catfish species.
Stick Marsh fishing guides catch trophy largemouth bass still on in a hot weather pattern, meaning good catches are still possible for those who can adapt to the changing conditions. As most bass fisheries, the first light will likely have the most success before the morning sun intensifies. Many local anglers prefer the late evening bite, especially after the thunderstorms have dissipated, as the best time to fish for bass. As midsummer approaches, look for bass to be distributed widely throughout the reservoir, oriented to the shallow tops of underwater levees and woody structure along the western and southern shorelines. The intersections of the submerged north-south drainage canals in Farm 13 should also hold good numbers of bass. During the onset on the rainy season, anglers should also key in on water control structure outflows, as bass will school up in these areas to feed, often generating a strong bite.
Angler surveys conducted between January and April 2007 of this year did indicate a noticeable drop in effort, catch and success for all sport fish including bass. This time of year, the diet of largemouth bass typically consists of threadfin and gizzard shad. Artificial lures that imitate shad, including top-water, shallow-running, and deep-diving crankbait, should be angler's' best bets. As always, golden shiners are the live bait of choice for anglers searching for trophy bass, followed by plastic worms.
Black crappie (speckled perch) fishing can be rewarding this time of the year for those anglers willing to seek them out. Look for them in and around deep-water structure, such as in Ditch 7 or along the drop-offs of underwater levees and ditches. Small jigs (1/32 and 1/8 ounce) with twister-tail or tube style tails and minnows should be productive in deep water and along grass lines. Bluegill and redear sunfish (shellcracker) will be found feeding and spawning along the perimeter levees and tops of submerged levees. Live crickets, worms, and grass shrimp will be the baits of choice, followed by beetle spins, and small jigs. Catfishing on this reservoir is usually quite good, with traditional baits and methods all being productive.
The Marsh – Farm 13 Fishing Guides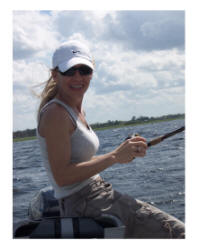 If you want to catch big fish and fish where big fish are! Stick Marsh – Farm 13 is prime waters for the trophy largemouth bass fishing. Many catches in the 10-pound range are taken each year. Come join us for the trip of a lifetime. You have earned it!
Our fishing guides are hand picked from the best in the area, so you don't have to. They have fished these Central Florida waters for no less then 20 years. During this time our team have developed there skills and experience necessary to provide you with that fishing trip of a life time. In order to insure your trip will be a safe and memorable trip, all of our guides are insured and US Coast Guard licensed captains.
Not only will you fish with a professional guide, all of our trips include: Fully equipped Bass boats, fuel and tackle. Everything you need for that trip you've been waiting for. The only thing you will need to have is a Florida fishing license.
Corporate trips are welcome and very common for us, because of our size. We can accommodate your fishing needs from one to hundred. We also can provide everything from breakfast and box lunches to a southern BBQ to end the day.
Stick Marsh Reviews
Stick Marsh
★★★★★
"
We had a great morning. We caught alot of fish. It was a little tough but Capt. Mike Groshon was a great guide and worked his hardest to put us on the fish. Couldnt ask for a better time or a better guide. Thank you very much!
"
Captain Turtle is a stud
★★★★★
"
We slayed them with captain turtle...great guy...high recommend...
"
Captain Mark
★★★★★
"
My buddies and I were on our annual fishing trip and stumbled upon the Stick Marsh. We had a trip scheduled with one guide but it was changed at the last minute. This was to our advantage. We went out with Captain Mark "Turtle" Hilles and had a fantastic trip. Captain Mark put us on so many bass, using live and artificial bait. Captain Mark has a great personality and gave us an experience that we'll remember for years to come. He's one of the best guides my buddies and I have had the pleasure to fish with. We all look forward to fishing with him again on our trip next year.
"
Stick – Farm 13 in a larger map View Larger Map