Snapper Creek Fishing Location
Snapper Creek in central Miami-Dade County in the cities of Sweetwater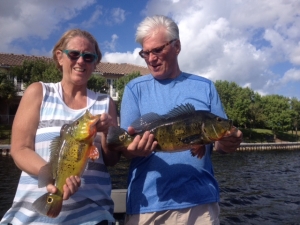 and Kendall. It begins near intersection of Hwy 836 and the Turnpike Extension and runs southeast to the S-22 salinity control structure near Parrot Jungle on SW 57th Avenue. The main canal is 12.3 miles long, averages 12 feet in-depth and ranges from 50 to over 100 feet in width. The north end of the canal is narrower and shallower than the southeast end. There are five boat accessible lateral canals and a small seven-acre lake that is up to 22 feet deep. The boat ramp is centrally located: heading east from the ramp it is 2.6 miles to Dade-land Mall, 3.2 miles to Dante Fascell Park, and 5.5 miles to the water control structure; and, heading north from the ramp it is 2.3 miles to the Turnpike Extension, 5.8 miles to the Tamiami Canal intersection, and 6.8 miles to the non-boatable culvert at Hwy 836 (Dolphin Expressway).
Snapper Creek fishing is popular destination for south Florida anglers. This canal consistently produced excellent catches of largemouth bass and butterfly peacock. Snapper Creek anglers may also encounter Snook moving inland Biscayne Bay. This large predator is found throughout the canal, but they tend to concentrate under bridges. Snapper Creek anglers can also catch jaguar guapotes, Oscars, or spotted tilapia. These non-native fishes were illegally released, pose a threat to native species, are good to eat, and you can keep every one you catch. Jaguar guapotes resemble a black crappie (speckled perch) with many small sharp teeth. Oscars are bream-shaped fish with red or orange circle at the base of the tail, and they have a thick coat of protective mucus on their bodies. Spotted tilapia is also bream-shaped, golden in color with black spots or bars, and some adults have red on their bodies.
Checkout more of our photos at "Peacock Pictures"
Read the latest Peacock bass fishing reports!
More great links to information on this location, http://en.wikipedia.org/wiki/Florida_State_Road_878