Orange Lake Fishing
★★★★★

based on

1

reviews.
Overall rating:
ORANGE LAKE (Alachua County): Orange Lake is the largest lake in the North Central Region at 12,550 acres. It is designated as a Fish Management Area and is located about 20 miles southeast of Gainesville. Orange Lake averages 5.5 feet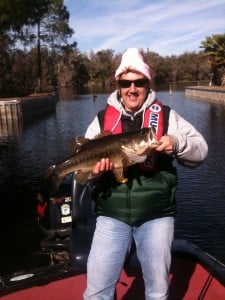 deep with a maximum depth of 12 feet. Water levels fluctuate an average of 2 feet, annually. A fixed-crest weir located at Highway 301 (southeast portion of lake) controls outflow. Orange Lake receives inflow from Newman's Lake through River Styx and from Lochloosa Lake through Cross Creek. Cross-Creek (1.8 miles) is navigable to most boats during normal water levels.
Orange lake has an extensive aquatic vegetation community, dominated by spatterdock (lily pads) and periodically hydrilla. Shallow marsh areas are inaccessible to anglers due to the dense growth of vegetation. Marion County and the Florida Fish and Wildlife Conservation Commission allocated funds to establish a fishing pier at Heagy-Burry Park (southwestern part of the lake). The pier is handicap-accessible. A fish attractor is located near the pier, which provides for good fishing.
Orange Lake anglers catch Bluegill, redear sunfish, black crappie and largemouth bass are generally caught in the deeper spatterdock, emergent grasses and hydrilla. Water levels continue to be low on Orange Lake. Consequently, the only public ramp available for conventional boat access is Heagy-Burry. Despite the low water levels, catches of largemouth bass, black crappie and bream have been outstanding over the last several months. The trend for bream and black crappie should continue until water temperatures start to decline, using grass shrimp and minnows as your best. As the water, temperature starts to cool down; black crappie anglers should drift or troll minnows and/or jigs along the emergent grass edges or pads. Largemouth bass anglers can currently enjoy catches of one to two pound fish around the majority of the Hydrilla edge, although catches of larger fish have become more common. Spinner baits, jerk worms and plastic worms will be the top baits.
Orange Lake Reviews
These days are good ones!
★★★★★
"
Captain Peter put us right on top of the boils of bass as the fish chased the shad to the surface. We spent three hours watching the bass jump and dance in the water. He also had us try different lures. Ask him about it, he knows the answer. What a blast Peter T was!!
"