Lake Rousseau Fishing
★★★★★

based on

1

reviews.
Overall rating: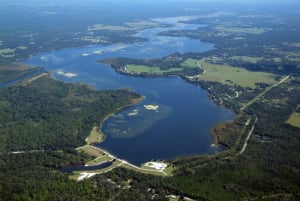 Lake Rousseau in West Central Florida is a man made 3,657-acre lake. Three counties surround Lake Rousseau. Levy County to the North. Citrus County to the South (Crystal River) and Marion County bounds the East. The Rainbow River and Withlacoochee Rivers feed Lake Rousseau. Lake Rousseau is primarily a bass fishing lake because of the abundance of vegetation and natural cover. Big Bass like this stumpy, grassy lake and so do a large variety of other fresh water species like catfish, specs, and stump knockers. The old river channel cuts through Lake Rousseau to the Inglis Dam and Cross Florida Barge Canal. Fishing is good year round on Lake Rousseau and the Withlacoochee River backwaters of Florida.
Rousseau was formed in the 1920's by the construction of a dam on the Withlacoochee River near Inglis. Later, it was selected to be a significant part of the ill-fated Cross-Florida Barge Canal, that political 'football' which showed the incompetence of Government to manage a program or cooperate among its elements. Like a monument, the idle barge lock stands as a symbol of Man's mockery of Man.
Lake Rousseau, although not physically a large body of water, takes on a relatively larger dimension due to the boating restrictions one must observe to safely navigate its timber-infested waters. Here's a small disciption of the lake we are going to provide you, which will help with your ability to identify the key areas. The lower portion of the impoundment is a whole different area to be familiar with.
In general, Lake Rousseau consists of two sections. The broad portion beginning at the Inglis Dam and extending some five miles eastward to the Pig Pen area (refer to on most Maps) is actually what is termed locally as 'Lake Rousseau' (use County Road 495 or river marker AR 13 West as a general dividing point). The remaining section, running about seven miles to Dunnellon, is called 'the Backwaters'. It is important that you understand this area, especially helpful to ask directions or advice from the local folks.
While visiting Lake Rousseau and for some strange reason you got tired of fishing, there are a lot of other activities to enjoy that are really close. The Rainbow River in Dunnellon Florida is great for canoeing or kayaking. Crystal River offers restaurants, shopping, Manatee tours, diving, snorkeling, boating and swimming. One of the most popular location on Lake Rousseau is Lake Rousseau Fishing Resort. The Hatton Family welcomes you to Lake Rousseau RV in sunny Citrus County, Florida.
If you love to catch fish (especially big bass) you've found an angler's heaven and a new place to call home. Lake Rousseau boasts largemouth bass catches in the 3- to 12-lb. range, and our Lake Rousseau fishing reports have recorded 90 bass over 10 pounds caught and released in these waters in recent times. From the Lake Rousseau our boat ramp can be accessed to prime fishing spots quickly, ensuring that you get more time on the water. We provide RV sites, a bait and tackle shop in our camp store, a boat launch, boat slip rentals, and canoe rentals for your convenience!
Lake Rousseau Reviews
Fun lake to Visit and Fish
★★★★★
"
Every year I come down and fish this lake, over the years have had some great success.
"