Lake Istokpoga Fishing
★★★☆☆

based on

6

reviews.
Overall rating:
Lake Istokpoga located in Highlands County Florida with the base City being Lake Placid. Lake Istokpoga is one of the biggest trophy bass fishing lakes in Florida and throughout the United States. This lake is beautiful, and designated as a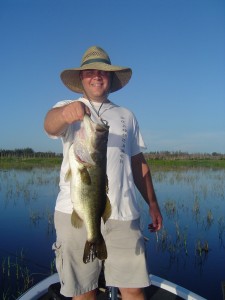 Fish Management Area by the Florida Fish & Wildlife Conservation Commission.
Largemouth bass are the fish of choice here, although fishing for black crappie (specks), bluegill (shell crackers) are very productive. You will see lots of wild alligators, birds like the osprey, snowy egret, bald eagles, and many others can be seen on a day's fishing trip. Wild ducks and frogs are also plentiful all over the lake and typically seen while fishing.
Largemouth bass fishing is very good during the spring and continues through early summer. Some customer is catching weights for five-fish of over 30 pounds, which is a six-pound per fish average. On this lake live wild shiners work about as well as artificial lures, so if you like fishing artificial this may be the lake for you. Bass generally finish spawning by the end of March to early April. Bass will begin schooling chasing threadfin and gizzard shad along weed lines in the open water.
Lake Istokpoga, is 27,692 acres, the fifth largest lake in the state of Florida. The lake is generally shallow like most other Florida lakes, averaging 4 to 8 feet in depth. The major tributaries to Lake Istokpoga are Josephine Creek and Arbuckle Creek, which are located in the northwest and north areas of the Lake, respectively. Water is discharged from the Lake through two major outlets, the Istokpoga canal that flows to the Kissimmee River and the S-68 Canal that flows through a series of canals to both Lake Okeechobee and the Kissimmee River. A reduction of high lake levels has provided the catalyst for development around shores of the Lake, including agriculture (citrus and caldium farms), pastureland, residential and commercial establishments. Many areas adjacent to the Lake that once flooded seasonally or infrequently are now drained. The lake is treasured by local residents for its recreational and scenic qualities. It is also an important regional resource that is being studied as part of the Kissimmee River Restoration Project.
What does Istokpoga mean? "People have died there" It was so named by the Seminole Indians because in the early 1900's, before they became a tribe, their people tried to cross the waters of Lake Istokpoga and were swallowed up by whirlpools.
Nearly 28,000 acres, Lake Istokpoga is one of the best fishing lakes in Central Florida. Our customers and Anglers have traveled from all over the state and nation to fish Istokpoga. The sunsets on Lake Istokpoga are unsurpassed.
Searching Availability...
LAKE ISTOKPOGA FISHING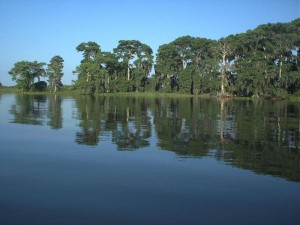 Lake Istokpoga is located five miles northeast of Lake Placid, Highlands County, this lake has quality fishing for black crappie (specks) and one of the highest catch ratios for largemouth bass in the state. The best speck fishing occurs during winter months drifting over open water, particularly in the northeast and southwest corners. Aquatic vegetation includes spadderdock (bonnets), bulrush (buggy whips), cattail, and pondweed (pepper grass). Kissimmee grass on the south end is particularly productive when there is flow into the Istokpoga Canal. This canal, located off County Highway 621, provides excellent largemouth bass fishing from the bank when the gates are open. Arbuckle and Josephine Creek mouths are also good areas when there is flow. The island areas and associated grass can hold bass any time of year and the deepest portion of the lake (10 ft) is in the southwest corner.
Public boat ramps are located on the north, northeast, and southwest shorelines off of U.S. Route 98, Lake Boulevard off Cow House Road, and Highland Lake Drive off of County Route 621, respectively. There are also six fish camps/resorts on the lake with various accommodations. (See the map below) SPECIAL REGULATIONS FOR LARGEMOUTH BASS ON LAKE ISTOKPOGA. A slot limit protects quality largemouth bass by requiring that all bass between 15 and 24 inches in length must be immediately released back into the lake. The daily bag limit is three fish per day. Only one of the three fish may be greater than 24 inches. This means you may keep three bass less than 15 inches, or two bass less than 15 inches and one bass greater than 24 inches. For more information on the special regulations or tournament exemptions, contact MyFWC.com.
Lake Istokpoga has several marinas for your convenience, Lake Istokpoga Marina fishing camp and RV park which is located on the South end of the lake. Henderson's Fish Camp is another great camp that has been around for what seems ever. Don't forget about Cypress Isle RV Park & Marina another location to get your fishing trip started from.
*****Lake Istokpoga Fishing Reviews*****
What was is now gone
★★☆☆☆
"
This lake WAS a great place to fish . Now they have sprayed it to death and all the beautiful water, submerged grass and arrowhead grass clumps are all gone. All that's left is now dirty water, dirty bottom, fish with sores on them and tough fishing.
"
Bucket mouth
★★★★★
"
Caught a few bucket mouths in this lake.
"
Detiorated
★☆☆☆☆
"
This lake used to be a wonder for fish and waterfowl. A decade of hydrilla spraying has ended that. Long time local residents report catch rates now one fifth of what they were a decade ago. Many have complained but the spraying continues.
"
View Istokpoga Fishing Map in a larger map