Weekly Kissimmee Fishing Report
Kissimmee, FL is one of the top destinations to explore when searching for largemouth bass. If you are looking for a big bass while visiting Central Florida, Lake Toho is your fishery. All trip long you can catch awesome fish while learning more about Kissimmee and Lake Toho. Enjoy this weekly Kissimmee fishing report on your next visit to Florida.
Our local experts have spent years on the water making sure they have extensive knowledge of Lake Toho. They want you to experience Central Florida and Kissimmee, FL the way you deserve. Big bass is one of the best ways to do that. Captain's John Leech, Steve Niemoeller and Brent Nelson are incredible fishing captains ready to put you on that fish of a lifetime.
Captain John Leech had the pleasure of fishing with Paul. Paul was traveling to Florida to escape the cold and wanted to enjoy a day on the water. Originally, this trip was scheduled for the Butler Chain of Lakes but fishing was much better on Lake Toho. It was an afternoon fishing trip that produced big time for Paul.
Paul had a blast while he was Lake Toho Bass Fishing. He caught over 30 Florida largemouth bass. The bass were schooling out on a sandbar. Schooling bass makes for a perfect day of artificial fishing. Paul wanted to use artificial baits instead of live and Captain John made it happen. The most effective baits on this trip were a Carolina Rig and a Fluke.
Paul is looking forward to his next adventure on Lake Toho with Captain John. He will be back for more of this awesome action!
Shortly after this awesome fishing trip, Captain Steve Niemoeller adventured out on Lake Toho. Captain Steve had the pleasure of fishing with Terry and Tyler. They were family members looking to spend some time on Lake Toho while traveling from Texas. While vacationing here in Central Florida, make sure you truly get the full experience.    
It was another action packed day on Captain Steve's boat. Terry and Tyler caught over 30 bass with several double hook ups. The sunshine fired the bass up and got them eating after a cooler morning. When you get to experience something like this and catching bass up to 3 pounds, you are hooked.
Terry and Tyler will be back for more action and Captain Steve is looking forward to adventuring back on the water with them.
On the same day, Captain Brent Nelson adventured out on Lake Toho with different results. He had the pleasure of fishing with Richard Sr, Jr and Richard Jr's wife Melissa. They were visiting Kissimmee looking for a big bass and big numbers. Lake Toho came in strong for this wonderful family.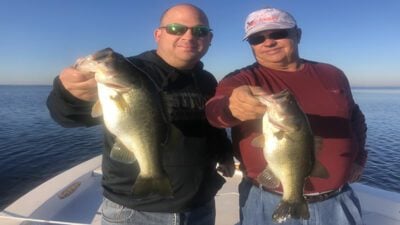 Sr, Jr and Melissa had a blast while Lake Toho Bass Fishing with wild caught live shiners. All trip long the bass were biting the bait. It is always an awesome experience to get someone on fish from the first cast. They caught over 40 largemouth bass. The biggest bass weighed 6.5 pounds. Now that is what you come to Lake Toho for.
They will be back for more of this action. Captain Brent is looking to get them on even bigger bass and see even bigger smiles.
One of the many blessings about being a fishing captain for all our local experts is the ability to make memories for our clients and anglers. Every time they step aboard, it is a chance for them to experience something new and unique. It is a chance to get them hooked on such a great sport.
We would never want you to miss out on an opportunity like such. Make sure you bring your family along for a fishing adventure of a lifetime. If you have any questions, feel free to reach out. We are always here to help! See you on the water next time.
Come Experience Kissimmee and Catch Yours Today…
[fusion_button link="http://bassonline.com/trips/city/kissimmee/lake-toho/" title="BOOK YOUR LAKE TOHO FISHING TRIP ONLINE NOW!" target="_self" alignment="center" modal="" hide_on_mobile="small-visibility,medium-visibility,large-visibility" class="" id="" color="default" button_gradient_top_color="" button_gradient_bottom_color="" button_gradient_top_color_hover="" button_gradient_bottom_color_hover="" accent_color="" accent_hover_color="" type="" bevel_color="" border_width="" size="" stretch="default" shape="pill" icon="" icon_position="left" icon_divider="no" animation_type="" animation_direction="left" animation_speed="0.3″ animation_offset=""]BOOK YOUR LAKE TOHO FISHING TRIP ONLINE NOW![/fusion_button]
If you enjoyed this post, you might also enjoy this fishing report from the same area.
Don't forget to follow us on Facebook, YouTube, Twitter and Instagram.