Lake Toho Artificial Bass Fishing
Florida Fishing can lead you to experience many aspects of the sport of Bass Fishing. Spend Two Days of Lake Toho Artificial Bass Fishing and you won't want to fish any other lake in the state.
I had the pleasure of fishing with Dr. Les and Dave. They were supposed to fish three days with us here at Bass Online but due to a Northeastern storm, they had to cancel the last day to get home.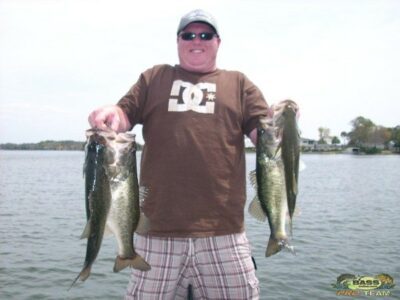 Both of our days were artificial trips. It was a tough bite since a cold front moved in that really slowed down the bite. When the bite slows down, you have to slow down your presentation to get the best bite.
Fishing really slow was something that had to get used to because up north the bass and fish love it fast. Texas-rigged worms and brush hogs were the most effective techniques. Dr. Les and Dave had to barely move it to entice the bite.
The bite turned on when the sun came up and warmed the water. Buggy whip heads were the structure that they were hanging around in. A drop in 6 degrees can really shut them off but they managed to catch over 20 largemouth bass on both days on the water. We could not find anything of size but most of the fish were in the 2 to 3-pound range.
It was a great time out on the water with these gentlemen and I am looking forward to fishing with them again in the future.
For everyone else out there for all your fresh and saltwater fishing needs, contact Bass Online today and we will be glad to help!
More About Capt Steve
Come Catch Yours with Captain Steve Niemoeller on Lake Toho.
If you enjoyed this Lake Toho artificial bass fishing post with Captain Steve, you might also enjoy this fishing report from the same area.
Don't forget to follow us on Facebook, YouTube, Twitter, and Instagram.
Discover More Orlando Bass Fishing.
Captain Steve Niemoeller is a full-time Professional fishing guide and Licensed Master Captain. Primarily servicing the freshwater lakes of the St Johns River, Lake George, and Lake Monroe. He also guides on Harris Chain and Lake Toho. He also has great success on Ponce Inlet and Mosquito Lagoon in saltwater catching Redfish and other species.