Fun Weekend Fishing Charter
Weekends are the perfect time to take a break and get in the outdoors. Whether you are visiting Central Florida or live there, take advantage of all it has to offer. Bass fishing is one of the best outdoor activities you can partake in. Take your family or loved ones on a fishing adventure of a lifetime with one of our local experts. Enjoy a Fun Weekend Fishing Charter next time visiting.
Our local experts are highly knowledgeable of the bass fishing in Central Florida. Lake Toho Bass Fishing has been extra special and is only going to get better. Every day is a good day to fish the lake but when you have time off especially on the weekend, you should get out. Captain Steve Niemoeller will teach you about Kissimmee fishing along with how to catch Central Florida largemouth bass.
Captain Steve had the pleasure of fishing with Chandler and his wife Stephanie. They were traveling from Kansas on vacation. The perfect way to take a break from the sights and theme parks in Central Florida is a bass fishing trip. They always wanted to catch bass and Captain Steve made that happen for them.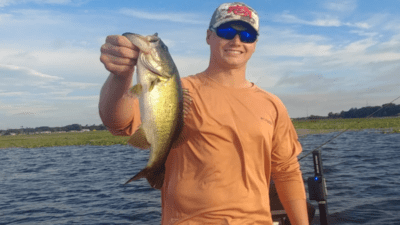 Most of the fishing was with artificial baits. They also trolled behind the boat some wild caught live shiners. It was a successful technique to put some extra fish in the boat. They had a great time on the water. Chandler and Captain Steve bonded over dirt track racing. It is always nice to have something to relate to when out on the water.
Captain Steve is looking forward to their next fishing adventure!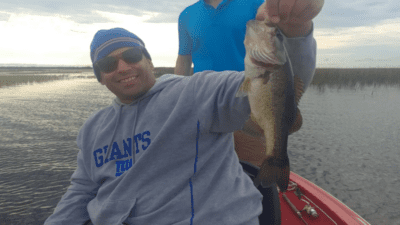 Just shortly after that this awesome fishing trip, Captain Steve adventured back out on Lake Toho. This time, he had the pleasure of fishing with Brandon, Jason, and Luke. They just recently moved to Central Florida from Brooklyn, NY. One of the things they wanted to do was get out on the water and go bass fishing.
Our trip was supposed to be on Lake Kissimmee. Due to weather and travel arrangements, it made more sense for them to fish on Lake Toho. The bass fishing has been great and is only going to get better. These gentlemen got into some nice bass on this trip. The best method was live wild-caught shiners.
Brandon, Jason, and Luke caught 12 largemouth bass on their short trip. It was a fun day for them. Along with the bass, they also caught 3 gar. There is a lot to catch when exploring Kissimmee. Luckily they stayed dry and are looking forward to their next adventure with Captain Steve!
Don't miss out on your fishing adventure in Kissimmee. Lake Toho is going to be one of the strongest lakes to go bass fishing this season. Holidays are right around the corner, so don't forget this amazing outdoor activity for your loved ones. Let's get you hooked up on a fishing adventure of a lifetime. We look forward to seeing you on the water next time!
For everyone else out there, for all your fishing and outdoor needs, contact us today and we will be glad to assist!!
Come Experience Kissimmee and Catch Yours Today…
[fusion_button link="http://bassonline.com/trips/city/kissimmee/lake-toho/" title="BOOK YOUR LAKE TOHO FISHING TRIP ONLINE NOW!" target="_self" alignment="center" modal="" hide_on_mobile="small-visibility,medium-visibility,large-visibility" class="" id="" color="default" button_gradient_top_color="" button_gradient_bottom_color="" button_gradient_top_color_hover="" button_gradient_bottom_color_hover="" accent_color="" accent_hover_color="" type="" bevel_color="" border_width="" size="" stretch="default" shape="pill" icon="" icon_position="left" icon_divider="no" animation_type="" animation_direction="left" animation_speed="0.3″ animation_offset=""]BOOK YOUR LAKE TOHO FISHING TRIP ONLINE NOW![/fusion_button]
If you enjoyed this post, you might also enjoy this fishing report from the same area.
Don't forget to follow us on Facebook, YouTube, Twitter and Instagram.