Slims Fish Camp Fishing Report
Lake Okeechobee is a Florida bass fishing destination worth experiencing when traveling to the sunshine state. Each location across the lake will provide a unique opportunity to catch largemouth bass. The South end of Lake Okeechobee was very productive throughout our season. As the water warmed and the cold spells passed, the bite got stronger. Enjoy this Slims Fish Camp Fishing Report out of Belle Glade, Florida.
Slims Fish Camp is located on Tory Island. The Island is located on the Southeast side of the lake. It is the perfect location if you are traveling from West Palm Beach, Fort Lauderdale, Miami, and the many other cities in South Florida. When visiting, make sure you explore what the island truly has to offer. Enjoy the scenic trail around Lake Okeechobee along with grabbing a cold beverage from the wonder tackle shop. If you forgot any bait or need live bait from wild caught live shiners to crickets or worms, Slims Fish Camp tackle shop has it all. The warm and welcoming staff will be glad to assist you with any of your needs.
Captain Mark Rose spent a lot of time here at our camp fishing the famous waters of Lake Okeechobee. Each time of the day will provide awesome fishing, especially during the early mornings and late afternoon. One of the best aspects of being a fishing Captain is the ability to have customers that travel around the nation come to experience this wonderful Lake.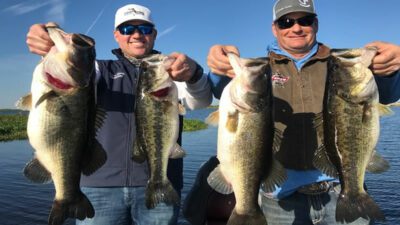 Then the Morning Started
Maverick and Evan were traveling from New York to come to fish Lake Okeechobee. They adventured out on an afternoon fishing trip out of Belle Glade, Florida. It is awesome to have great friends on the boat. Fishing can be a great way to bond with those that are close to you. They always wanted to go fishing out of Slims Fish Camp where they can enjoy the wonderful hospitality of Torry Island.
After picking up 4 dozen wild-caught live shiners from the tackle shop, we cruised out to a local fishing spot where the fish were biting. Maverick and Evan had a fishing trip of a lifetime catching some of their personal best largemouth bass. They put 30 bass in the boat on this memorable day. The biggest fish weighed 7.9 pounds. Everything was perfect along with amazing weather. Captain Mark is looking forward to the next opportunity to catch bass with them again.
According to Captain Mark, the fish are on the move. The next trip out of Belle Glade proved this to be true. Frank, Brian, Dave, and Curt were traveling to the south end of Lake Okeechobee to enjoy catching Florida largemouth bass from West Virginia. Captain Mark pulled up to a very productive mat and the action was red hot from there using another 4 dozen shiners from Slims Fish Camp.
The Adventure Continues
Frank, Brian, Dave, and Curt also caught 30-35 largemouth bass on another gorgeous day on the water. Wild caught live shiners were the most productive bait to use on this fishing trip. In order to entice the bass, anchor rigs along the mat edge drew the fish to the bait. They truly enjoyed catching several-quality bass weighing up to 7.94 pounds. It was a blast putting these great gentlemen on fish that they will remember for a lifetime.
After our trip, we went back to Slims to get an official weight on the big bass we caught as seen in our cover photo. Check out our video either on our Facebook or YouTube Page. Each Slims Fish Camp Fishing Report will provide an exceptional new look at how the fishing is on Lake Okeechobee.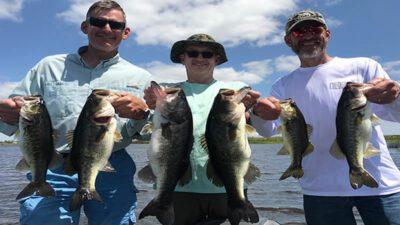 Captain Mark adventured out on two more excellent fishing trips out of Slims Fish Camp the following days. Three brothers, Mitch, Todd, and Greg were traveling from Ohio to crush some Florida largemouth bass. Over the course of two days, these awesome brothers landed 80 bass.
The main bait of choice on Lake Okeechobee if you are in search of trophy bass using wild caught live shiners. Mitch, Todd, and Greg caught several quality largemouths weighing up to 6.8 pounds! I am looking forward to fishing with these amazing brothers again in the future.
And it Only Gets Better
Lake Okeechobee Bass Fishing is on fire! It will continue to get better as the water warms and the bass continues to move. You can't beat the action the lake is putting out. If you want to catch trophy bass here in Florida, now is the time to do so. Slims Fish Camp is the perfect destination to make this happen. It is also one of the Top Florida Bass Fishing Destinations in Florida. We have excellent and professional captains that know the water. Don't miss out on your adventure and the endless possibilities to catch a Florida Lake Okeechobee Trophy, Largemouth Bass! Stay tuned for our next Slims Fish Camp Fishing Report.
Come Catch Yours Today on Lake Okeechobee.
If you enjoyed this Slims Fish Camp Fishing Report, you might also enjoy this fishing report from the same area.
Don't forget to follow us on Twitter and Instagram

Capt. Mark Rose
hometown is Pittsburgh PA. Mark has been fishing
Lake Erie
and Lake Okeechobee since 1999. He fishes Lake Erie in the spring for smallmouth. He runs a detail shop in his hometown during the summer, spring, and fall and heads to Florida during the winter months to do what he loves, guide on Lake Okeechobee.