Weekend Artificial Fishing Charters
The weekend is the perfect time to get out in the outdoors. One of the best ways to do that is to get on the boat and enjoy a day on the water. If you are in Central Florida, bass fishing happens to be one of the best outdoors activities you can partake in. This time of year is a great time to come catch numbers of largemouth bass. Enjoy a weekend artificial fishing charter next time you are visiting Central Florida.
Our local experts have years of knowledge and experience fishing these lakes. You can literally fish a different lake every time you come. Each trip and outdoor adventure will be uniquely different. Several methods including artificial and live bait are effective in Central Florida. Captain Mike Morse is knowledgeable of numbers of amazing lakes right here in Central Florida.
Captain Mike had the pleasure of fishing with John and his wife Cathy. They were traveling to Florida looking to get themselves onto some quality largemouth bass. While visiting Lakeland, FL they adventured out onto Lake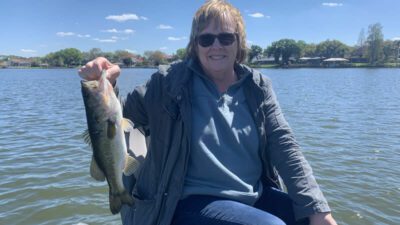 Gibson with Captain Mike.
John and Cathy enjoyed a nice afternoon on the water. The bite did not start to get good until 11 am. Kathy caught several bass on wild caught shiners and John caught several bass on a burner worm made by Gambler. The action was great and they just enjoyed a peaceful day on the water. John and Cathy are looking forward to their next day of fishing on the water with Captain Mike!
It was not long after this fishing trip that Captain Mike was back on the water. This time he had the pleasure of fishing with Bill who was traveling from Illinois. Bill wanted to take an adventure out on the Butler Chain of Lakes. He was an avid fisherman that wanted to catch some bass on artificial lures.
Captain Mike advised starting the day with a Bass Assassin Candy Bug Tap Out. Bill's first fish was caught in 14 foot of water. After catching several bass in deeper water, Captain Mike moved them into 8 foot of water. The main structure that was fished was submerged pepper grass and hydrilla. These structures always hold bass. Bill caught numbers of bass on jerk bait for the first time.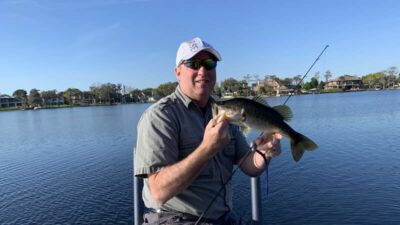 As the bite slowed, they switched to flipping Kissimmee grass catching a bass over 4 pounds. The action was great and Bill loved every second of it. Captain Mike is looking forward to seeing Bill on the water again next time!
Just shortly after this fishing trip, Captain Mike had the pleasure of fishing with Joe, his wife Mary and their daughter Brittany. They wanted to explore what Central Florida had to offer. While visiting, they adventured out on Tenoroc Lake for a quick morning fishing charter. Artificial baits were yet again used helping them catch over 15 largemouth bass. Pitching and flipping was the main tactic to get the bass to the boat. Brittany caught a beautiful bass weighing over 5 pounds.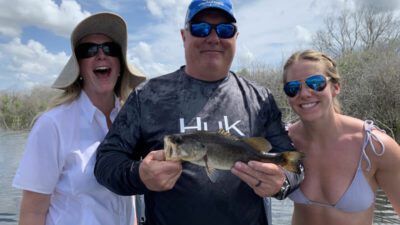 Joe, Mary, and Brittany had a fantastic time on the water. They are looking forward to their next adventure in Central Florida in the near future!
Now is the time to come catch some quality bass in Florida. Don't miss out on your adventure to catch big numbers of bass. Our local experts will do everything they can to show you a trip of a lifetime. We look forward to seeing you on the water next time!
Come Visit Central Florida and Catch Yours Today…
[fusion_button link="http://bassonline.com/florida-fishing/orlando/" title="BOOK YOUR CENTRAL FLORIDA FISHING TRIP ONLINE NOW!" target="_self" alignment="center" modal="" hide_on_mobile="small-visibility,medium-visibility,large-visibility" class="" id="" color="default" button_gradient_top_color="" button_gradient_bottom_color="" button_gradient_top_color_hover="" button_gradient_bottom_color_hover="" accent_color="" accent_hover_color="" type="" bevel_color="" border_width="" size="" stretch="default" shape="pill" icon="" icon_position="left" icon_divider="no" animation_type="" animation_direction="left" animation_speed="0.3″ animation_offset=""]BOOK YOUR CENTRAL FLORIDA FISHING TRIP ONLINE NOW![/fusion_button]
If you enjoyed this post, you might also enjoy this fishing report from the same area.
Don't forget to follow us on Facebook, YouTube, Twitter and Instagram.