★★★★★

based on

1

reviews.
Overall rating:
Alligator Alley Mile Marker 35 Fishing
When you think of an outdoor fishing experience in South Florida, the Florida Everglades comes to mind. The Everglades is one of the most unbelievable untouched destinations for Florida Fishing. An Alligator Alley Mile Marker 35 freshwater fishing adventure for largemouth bass is a must experience when traveling to South Florida. Every destination of the Everglades will give you a completely unique experience.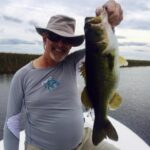 Mile Marker 35 is truly amazing because of all it has to offer. It is by far the biggest rest and recreation area on the Alligator Alley. Whether you are coming from the east or the west, both sides have an incredible area that you can experience. Due to its size, you are able to encounter the most fishing distractions and attractions. You can't miss this area of the Everglades as it is well identified with signs two miles before the exit. Make sure you stop in for a true outdoor adventure next time traveling across the alley!
Alligator Alley or interstate 75 stretches from Fort Lauderdale on the east coast to Naples on the west coast. It is home to some of the best bass fishing in the state of Florida. Largemouth bass along with alligators reign supreme through the waterways so be careful when on your fishing adventures. Expert Fishing Captains or Guides are the best to adventure these waters with since they know the best locations to throw your line. There is nothing like catching large numbers of bass while watching the birds, alligators and array of other wildlife around you while out on the water.
Another incredible aspect to this fishing destination is that it has very low pressure. Most of your locations are only accessible by bass boat or air boat. Also, it is not uncommon to get to these areas and have 100 plus fish days when using an expert and fishing guide along the Alligator Alley.
The main species of choice is largemouth bass but you can also experience the exotic peacock bass, oscars, redear sunfish, bluegill and many other pan fish. When the moon is just right, Alligator Alley and the Everglades is an incredible Night Fishery. Whether you want to catch your incredible numbers of largemouth bass and other species in the beauitful Florida sunshine or when it is cool, a Alligator Alley Mile Marker 35 Fishing trip can satisfy all your needs.
Mile Marker 35 may be one of the only locations with restroom facilities, snack machines and boat ramps. It also provides an amazing viewing area of the marshland that makes up Water Conservation Area 3. Get out and stretch your legs, take some pictures with your family and refresh either on a road trip or on one of the best fishing trips of your life!
*****Mile Marker 35 Reviews*****
Great tour, great guide
★★★★★
"
I go twice a year for some good bass fishing. It's a catch and release many and we have a great time. You have to know where to go, that why I hire a guide. Bring along someone who enjoys fishing, they will have a blast!
"
For more information on Mile Marker 35 Fishing
For more information on Everglades Fishing Guides