Lake Marian Fishing
★★★★★

based on

1

reviews.
Overall rating:
An 8 mile long beautiful Lake Marian has a big park situated on the Lake. It's secluded and other than a few private residences, most of lake Marian is a nature preserve, and a cattle ranch, the lake is yours most of the time.
Conveniently on the lake is the Lake Marian RV Park & Marina Resort,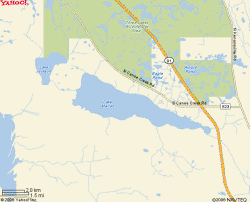 it has 6 Motel Efficiencies, 4 cabins, (all fully equipped with dishes, cookware, and linens). There are 57 full hookup for RV sites, and 69 Mobile Homes.
Lake Marian is in Kenansville, Florida (south central Florida; 1 hour south of Orlando), it's only a short drive to Florida's tourist attractions and Disney World, and only minutes to 5 other popular fishing lakes.
Kenansville's population is about 450 year round residents, increasing to 750 in winter months. The vast ranch lands and state-owned preserves protect the area from becoming congested and commercialized.
Whether you are a novice or professional angler, fishing our famous lake for crappie, trophy bass, blue gill it's a quiet place to get away, it offers a friendly park for you to socialize, relax, and enjoy life.
THE FISHING
With 5,800 acres, Lake Marian is a FISHERMAN'S PARADISE!! It's been featured in many outdoor and sports magazines all over the country. It's considered one of the best speck/crappie lakes in the country. The bass fishing is very good at times. There's plenty of bluegill and shellcracker and it's only a short drive to 5 other popular fishing lakes: Lake Kenansville, Stick Marsh, Lake Kissimmee, Lake Jackson and Lake Cypress.
HUNTING
Three Lakes Wildlife Management Area has two locations. The main area has 52,976 acres on 523(Canoe Creek Road) and is only 15 minutes from the Park. It is also known for it's deer, turkey and hog hunting.
Three Lakes Prairie Lake Unit Wildlife Management Area is just a few minutes away on route 441. There are 8,859 acres well-known for it's excellent deer, turkey, and hog hunting.
Bull Creek Wildlife Management Area is a remote natural area about 25 miles away on U.S. Highway 192, and is for fishing, seasonal hunting, hiking, wildlife observation, and a variety of other recreational uses. It has 23,485 acres in Osceola County and is known for its deer, hog, turkey, and small game hunting.
Triple 'N Ranch Wildlife Management Area has 15,391 acres in Osceola County. It is known for its excellent deer and turkey hunting an is on 192 just east of Holopaw.
Fort Drum Wildlife Management Area has 20,858 acres in Indian River County. Excellent Deer, Hog, and Turkey hunting. It is on route 60.
For more information:
Florida Game and Fresh Water Fish Commission
(407) 846-5275 or (352) 732-1225
www.floridaconservation.org
wld.fwc.state.fl.us/hunting/wma/NorthEast.htm
Marina
Every Park guest has easy lake access to our protected canals, boat ramp and easy access to parking for your trailer.
FACILITIES
On the Water gasoline
Wet and Dry Cover sied Storage
Launch Ramp
General Store: Ice, Live Bait, Gas, Beer, Fishing, & Boating Supplies, Tools, Hardware & limited Grocery/Toiletry items
2 Fish Cleaning Stations /li>
Long term boat & trailer storage available
Our marina has been completely renovated. Construction began in March 2007 with dredging of our canals, installation of seawalls, new finger docks, and covered boat slips.
Forever Florida Nature Preserve has horseback riding or buggy tours, and a petting zoo. There are 4,700 acres of wilderness preserve and a working cattle ranch with many educational opportunities to view native animals and birds. North on 441. www.foreverflorida.org or 866-854-EVER
Osceola Wildlife Tours has a 7,000 acres of privately owned property including a real working cattle ranch. They have various wildlife and birds that frequent the area including the endangered Whooping Crane. North on 523. www.osceolawildlifetours.com or 407-436-1081
Prairie Lakes Wildlife Management Area has over 30,000 acres with 3 separate unspoiled nature areas with various trails and wildlife observation through all the wildlife management areas.
Bull Creek Wildlife Management Area is a remote natural area with hiking, wildlife observation, and a variety of other recreational uses including an 18-mile loop of the Florida National Scenic Trail.
SHOPPING
Orlando Florida's Malls including:
Kissimmee Manufacturers' Mall, Mall at the Millenia, Lake Buena Vista Factory Stores, and many more.
Vero Beach Florida's Malls: Indian River Mall and Prime Outlets at Vero Beach.
Walmart & Home Depot are an easy drive into St. Cloud.
ATTRACTIONS(click links in green)
Kenansville is within an hour drive to many popular locations. We do not have to endure traffic jams and long lines. We can probably travel quicker to town than most residents living on the coast can get to a convenience store.
Orlando International Airport – 55 minutes
Disney, MGM, Sea World, Universal Studios – less than 1 hour
Cape Canaveral – 55 minutes
Orlando – 1 hour
Melbourne – 55 minutes
Vero Beach – 60 minutes
Lake Wales – 50 minutes
Okeechobee – 55 minutes
St. Cloud – 35 minutes
Kissimmee – 45 minutes
Lake Marian Reviews
Fishing trip was a success
★★★★★
"
I was traveling to Central Florida with my family and we went out fishing for bass. Captain made a last minute decision to take us here. It was the right choice cause my kids and I were on the bass all trip. Looking forward to getting back out on the water with Bass Online again next time
"
View Larger Map