★★★★★

based on

1

reviews.
Overall rating:
Kingsley Lake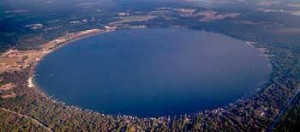 Kingsley Lake is an almost circular lake of about 2,000 acres in North Central Florida, about six miles east of Starke, Florida. According to some sources, it is the oldest and highest lake in Florida, located on the edge of the Trail Ridge formation. The lake is a very stable lake with a sandy bottom. Its deepest part is about 90 feet. Kingsley lake is so nearly circular that pilots call it the Silver Dollar lake. There are several hundred docks on the north and west sides of the lake and a Camp Blandings are on the East and South sides (Florida National Guard). The lake is famous for its clear waters, water skiing, fishing, and its stability. It forms the headwaters for the North Fork of Black Creek (Florida).
Kingsley Lake is located six miles east of Starke, Florida, is steeped in history and geological significance, as well as being one of the most popular recreational spots in Northeast Florida.
According to an engineering study for Clay County, it is the oldest and highest lake in Florida, being perched on the eastern slope of Trail Ridge, which was the first part of the Florida peninsula to emerge above sea level in the Pleistocene era. Geologists also believe that it was formed as a giant sinkhole (over 90 feet deep at its deepest point).
It is also the most stable lake in the North Central Florida area, according to U.S. Geological Survey data, seldom fluctuating more than 16 to 18 inches in measurements above sea level. The water remains delightfully cool during the summer months since it is fed by countless underground springs around the shore, as well as in the lake itself.
Kingsley Lake is 5.5 miles around the shoreline and 2 miles across in all directions. It covers approximately 2,000 acres, according to Starke surveyor M. G. McMillan.
The lake is about one mile east of historic Alachua Trail which followed Trail Ridge from the Georgia line into this area and was the favorite "highway" used by Indians in their travels back and forth. Old military maps show Fort Van Cortlandt positioned near Alachua Trail about two miles southwest of "Kingsley Pond", as it was called by early surveyors. Alachua Trail was the scene of many Indian incidents during the 1830s and '40s. According to the legends, one of these encounters occurred when a young Cavalry officer, Captain Kingsley, was surrounded by Indians on a trail south of the lake and his only way of escape was to swim his horse across the lake to the west shore. The horse was said to have dropped dead from exhaustion, and the lake has been called Kingsley ever since.
In the 1870s, '80s, and '90s, early settlers were mostly small farmers and fruit growers, engaged in the culture of oranges, strawberries, grapes, and naval stores products derived from native pines. At one time there was a tramroad from the mainline of the railroad north of Lawtey to haul lumber from the sawmills near Kingsley.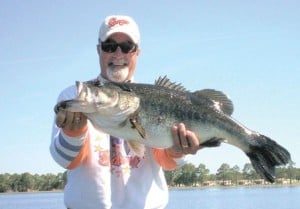 In the early 1900s, Col. Comer L. Peek, a Starke realtor and developer subdivided a large tract of land on the west side of the lake and sold 60-foot lots for $50 to residents of Starke for summer cottages. Roads to the lake were hardly more than sand trails at that time, but many Starke businessmen commuted the six miles daily in horse-drawn buggies to reach the lake after a hot day in town. Their wives and children usually stayed the entire summer at the lake without coming into town at all. This type of summer residence continued for the next 20 years or more, but with the coming of paved roads and automobiles, the summer colonists were joined by more and more permanent residents who built modern, weather-proofed homes that would also be comfortable for year-round living.
Kingsley Lake is the source of the North Prong of Black Creek and converges with the South Prong at Middleburg to become a tributary to the St. Johns River. During the 1930s an extensive study was made of the Black Creek Basin with the intent to use Kingsley Lake as a source of water supply for Jacksonville, due to the excellence of its water quality. However, this project was never carried out.
With the outbreak of World War II in the 1940s, a Florida National Guard Camp on the east side of the lake (an area not yet developed by residents), was taken over by the U.S. Army for a huge Infantry Replacement Training Center named Camp Blanding in honor of General Albert Blanding.
The north side of the lake, where the old Kingsley post office had been located, became a "boom town" with small businesses and entertainment spots catering to servicemen. This atmosphere continued on that part of the lake until the end of the war, then gradually disappeared.
Kingsley Lake is almost unique in that it is totally free of water hyacinths, hydrilla, and other obnoxious growth. Its only major threats are from trash brought into the lake by stormwater runoff, and a few sub-standard septic tanks. We would hope, however, that these conditions could be improved and future possible pollution prevented should we receive recognition as an Outstanding Florida Water. We also hope, at a later date, to be allowed to tie in with Camp Blanding's sewer system which has the excessive capacity for their present needs. OFW status should also be helpful to us in this instance.
In 1978 residents of Kingsley Lake organized and chartered the Kingsley Lake Property Owners Association, which now includes some 150 member families. It has established a Kingsley Lake Civic Center where meetings and social events are held. Although Kingsley Lake is not incorporated as a municipality, it has a well-organized and equipped fire department.
The National Guard organization at Camp Blanding is also very supportive of the effort to have Kingsley Lake declared an Outstanding Florida Water.
Kingsley Lake Reviews
Best fishing trip ever
★★★★★
"
Went out with Captain John and man can I tell you he had us laughing and catching fish all trip long. Took my buddies out for a day on the water and we could have had a better time. 5-star for sure!
"
For additional information on Kingsley Lake and it surroundings click here!