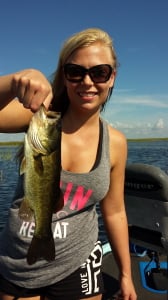 Turkey Lake
in the City of Orlando is just minutes from
Bass Pro Shops Outdoor World
and Universal Studios. Anglers and Sportman can rent a BASS TRACKER boat at the City of Orlando's Bill Frederick Park at Turkey Lake, for just $15 now $32 boat/day! The boats are equipped with live wells, trolling motors, anchors, depth finders, and park radios. Due to deed restrictions, these loaner boats are the only way the public can legally fish Turkey Lake from a watercraft. The City's boat concession area also has some loaner fishing poles equipped with a limited selection of bait and tackle.
Five fishing piers (one fixed, four floating) help improve the bank fisherman's odds. Shoreline fishing is available anytime the park is open or 24 hours/day for those camping. The fixed pier has fish feeders to attract fish as well as lights and a fish cleaning station. The three floating docks in the primitive camping area have two oak-brush fish attractors within casting distance. Three additional oak-brush fish attractors (for boat anglers) and a park shoreline enhanced to maximize fisheries production round off the list of angler amenities.
About the Park and Fishing
Bill Frederick Park at Turkey Lake, this beautifully landscaped and maintained park offers picnicking, hiking along seven miles of nature trails, biking along a three-mile bike path, and several other diversions. The picnic areas are close to the lake with beautiful shaded tables and "picnic pavilions" (additional charge). There are play areas and sandy "beaches" but no lake swimming. Instead, there is a large pool overlooking the lovely lake. A fishing pier lets you test your angling skills against largemouth bass and other species. If you prefer to fish from a boat, you can rent one. Across the park, an "all children's" playground offers an enormous wood and car-tire wonderland that will provide little one's hours of exploration and fun. Campgrounds are available for trailers and RVs for rent, including electricity, water, and sewer hookup. Camping requires reservations.
 Turkey Lake fishing during stable weather, the bass will be active, most likely along the grass edges or schooling out in the open water. Soft jerk baits, lipless crankbaits, and top-waters will all work well under these stable conditions. The black crappie (speck) can usually be reliable. Trolling or drift jigs or jig/minnow combinations in the south lobe for best success. The crappie schools are relatively concentrated, so do not give up if the first hour or so produces nothing. When trolling, vary the depth and speed until a successful depth is determined. Due to deed restrictions, there is no public boat access on the lake. But the FWC, the City of Orlando, and Bass Pro Shops have teamed together to provide a rental boat loaner program where four Bass Tracker Boats.
Location & Questions
Turkey Lake Park is located at 3401 South Hiawassee Road, Orlando, Florida – Call for rentals and questions 407.246.4486
More great links to information about this lake,
City of Orlando Parks Dept.

An Actual Fishing Review!
★★★★★
"
After seeing the other negative reviews that have nothing to do with the actual fishing experience, having rented these bass boats for $32 which is still an absolute amazing deal to fish a lake that sees minimal pressure, you can't beat that price! I've been a few times and I still have so much of the lake I need to fish! You have to strategize how you want to fish the lake beforehand because the 7am-11am window goes by fast…especially when you're at the mercy of only using the trolling motor. So many different ways to fish it…top water along the pads, crank baits in open water through schools, or slow fishing deep over the fish attractor brush piles. Caught a bunch of medium sized healthy bass, with some bigger 6-7 pounders. They are known to have double digit bass in there too…half the fun is knowing they're out there. Crappie and Bluegill get bitting as well if you like to fish light tackle. Overall I absolutely think this is a great program and a MUST if you love fishing.
"
Access to Turkey Lake
★★☆☆☆
"
We came to camp and brought our inflatable kayak to enjoy the lake to find out there are deed restrictions making impossible to enjoy the lake peacefully. Unless we rent a motor boat we are not allowed to use it. They should allow campers the use of kayaks and canoes only. We saw sculling groups using the lake. I guess if you are a higher up you get special privileges. Us, who are nature enthusiasts don't count for anything. Very upsetting that we have to drive miles to enjoy the abundance of waters all around us.
"
Boat Rental Price Raised
★★★☆☆
"
The boat rental raised from $15 and are now actually $32 a day on Turkey Lake
"
CLICK HERE TO WRITE A REVIEW
Top Targeted Fish Species
We also have great available lakes in the following areas that match your search criteria.