We put up this web page to promote Clear Lake in Northern Orlando and other Central lakes in Orange County, Florida, which we dearly love. Several anglers have lived on Clear lake since 1994 and will never leave the paradise and all it has to offer.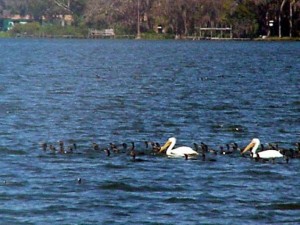 Clear Lake Fishing
The lake's predominant fish species are Largemouth Bass; Catfish; Crappie; Bluegill, and the ever-popular fishing species.
The Clear Lake fishing enjoyment and fishing activity are second to none; there are over 3300 lakes in the Central Florida area. The City maintains high fishing ethics standards and insists on its anglers comply with all state and local fishing regulations. The County is also dedicated to service in the community and supports several fishing-related projects, thereby enhancing the quality of fishing in Clear Lake for all.
Largemouth Bass
Largemouth Bass are the most popular species pursued by anglers at Clear Lake. Minnow, cricket, and worm fishing are primary for panfish in December, January, and February. Fish minnows with a split shot on the bottom or under slip bobbers.
The pre-spawn bite begins in late February or early March. Plastic worms, swimbaits, crankbaits, and spinnerbaits will all work. When the fish go on the beds in the spring, anglers toss out Senkos and various plastics. Summer is the time to fish frogs and topwater lures early and late in the day and jigs deep during the day. When the fall arrives, the bass becomes aggressive, and anglers can fool them with spinnerbaits, rip baits, and various plastics.
Panfish
Black Crappie provides year-round action at Clear Lake. Fish mini-jigs and small minnows around brush and rock piles throughout the year. Use your electronics for fishing bait and schools of crappie.
The added Catfish provide a fun time fishing at the lake. Late spring, summer, and fall, when water temperatures are warm, give the most consistent action. Use live minnows, crayfish, and cut bait along the shoreline.
Bluegill offers excellent fishing in the spring and summer. Toss worms, redworms, and jigs around docks for the panfish.
Summary
We hope you enjoy viewing the entire website. It is primarily about fishing for bass, bluegill, crappie, snakehead, peacock bass, and catfish in Clear Lake, located in Northern Orlando, about 6 miles from the Bass Pro Shops.
Clear Lake in Orange County, Florida, Latitude: 29.42278 : Longitude: -81.55583
Orlando fishing to remember
★★★★★
"
Went out fishing near Orlando with my family and I will always remember this fishing trip. Captain Devin took us out on the water and was really kind to all of us. Most importantly, we caught a lot of bass. Will be back!
"
CLICK HERE TO WRITE A LAKE REVIEW