Central Florida Native Fishing
Have you ever wondered how to enhance a weekend or day of your life? Bass fishing can be the answer. When you are visiting or live in Florida, you have to experience catching a Florida bass. A Central Florida native fishing experience is all you need to get you hooked for life. Let our local professionals show you the best techniques and ways to catch largemouth bass.
Lake Toho Bass Fishing is a great place to start. This highly productive fishery can give you access to some of the best fishing in Central Florida. The bass is biting strong this time of year. Captain Steve Niemoeller is a local expert and professional that can guide you to some quality species. You never know what will bite the end of the line!
Captain Steve had the pleasure of fishing with Bill and his brother Ken. They live in Central Florida and wanted to get a true taste of what the outdoors is all about. A Lake Toho fishing trip for 6 hours can most certainly show them the way. This was the first time they were fishing for a while. Also, this was their first time fishing with wild-caught live shiners.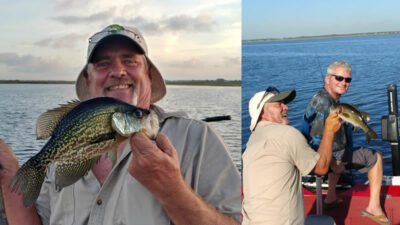 One of the best parts about fishing with these guys was the banter. As captains, we love the competition and when family members and friends are having a great time fishing. Bill and Ken caught some quality largemouth bass. Also, they brought a nice crappie or speck. It is always great to see brothers bond and laugh over our outdoor activities.
Captain Steve had a great time fishing with these gentlemen and is looking forward to their next adventure!
Just shortly after this fishing charter, Captain Steve adventured out on Lake Toho again. This time, Captain Steve had the pleasure of fishing with Tim and his son Robert. They were traveling from Texas looking to hook into some Central Florida bass. It was a great day on the water.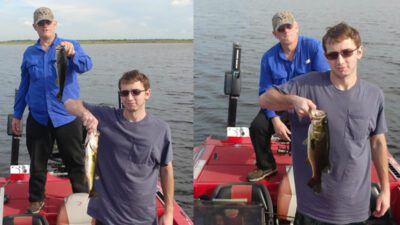 Tim and Robert were patient to start and then they started to catch some quality bass. Wild-caught shiners were the most effective method on this fishing trip. They had a lot of fun fishing with Captain Steve. Catching largemouth bass on Lake Toho is a great time, especially for bonding with family. Tim needed a break from the trucking industry and this was the perfect way to get it.
Captain Steve is looking forward to fishing with Tim and Robert again in the future!
If you are looking for some excellent bass fishing, make sure to visit Central Florida. It can provide you will all your outdoor needs. The bass fishing is going to get better as the water and air begin to cool. We look forward to seeing you on the water next time!
For everyone else out there, for all your fresh and saltwater fishing needs, contact us today and we will be glad to set up an adventure of a lifetime!
Come Experience Kissimmee and Catch Yours Today…
If you enjoyed this post on Central Florida native fishing, you might also enjoy this fishing report from the same area.
Don't forget to follow us on Facebook, YouTube, Twitter, and Instagram.
Discover More Lake Toho Bass Fishing!!