Lake Toho Fishing Charter Report
Central Florida is an amazing destination when traveling with families or friends. It has so much to offer from the abundance of tourist attractions to outdoor activities. Experiencing Kissimmee is important while visiting. One of the best ways to do so is on a Lake Toho Bass Fishing Trip. Largemouth Bass can be caught all year long and leave you with a thrill. Enjoy this Lake Toho Fishing Charter Report!
Lake Tohopekaliga or Lake Toho for short is located in Kissimmee, Florida. It is one of the largest lakes in Central Florida and by far one of the BEST. The amount of grass structure allows bass to grow healthy and stay hidden. Each year our professional and local charter captains produce trophy fish and quality bass every day.
Captain Steve Niemoeller has a long history of fishing this incredible fishery. Years of experience has led him to excellent fishing spots across the whole lake. The amount of largemouth bass this lakes hold is mind-blowing along with the quality of catches. You can target these bass in two ways: artificial or live baits. Artificial baits especially this time of year can be very productive. The best method to catch them is on wild caught live shiners.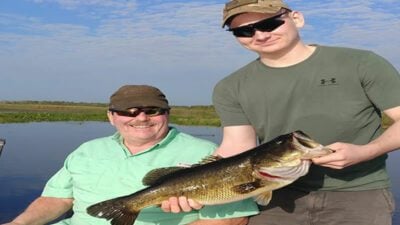 Steve and his nephew Colton were traveling from Vermont and wanted to explore Lake Toho Bass Fishing. Steve has a business partner that informed him about Captain Steve. They told him great things which made Steve and Colton want to go fishing on Lake Toho with Captain Steve. This was Steve's second time bass fishing ever and he was in-store for an amazing fishing trip.
The bass fishing was really great on this fishing trip. Florida Largemouth bass were schooling up and eating heavily. This allowed Steve and Colton to land over 45 largemouth bass weighing up to 5 pounds. You can't beat the action on Lake Toho. When it produces, it produces quality numbers and bass.
Steve and Colton are looking forward to their next trip down with Captain Steve!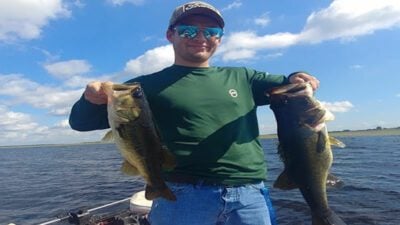 On Captain Steve's next adventure out on Lake Toho, it was slightly slower but still productive. Daniel and his son Kyle were looking to get a feel for what Kissimmee had to offer them while traveling from New Orleans. Daniel bought his son Kyle a graduation gift and that was this fishing charter. Spending 4 hours on the water with your dad was the best way to get some bonding in.
Daniel and Kyle had a great day on the water. Windy conditions made it slightly more interesting of a trip. They landed 15 largemouth up to 4 pounds. They will be back soon for more action especially looking for that trophy bass.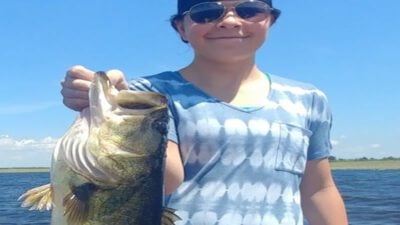 The afternoon brought a whole different experience for Jason, Gabe and Sarah. They were adventuring out on a two boat fishing adventure with Captain John Leech and Captain Steve while visiting from Washington State. It was supposed to be a 6 hour fishing trip but it was cut short to 4 hours due to incoming storms.
They had a great day on the water with a heavy start. Sarah caught a 6.25 pound largemouth bass. Captain John had some of their friends and caught a 5.12 pound largemouth bass. These were two great catches especially with the wind blowing like it was. They will be returning soon for more of this incredible bass fishing action.
Captain Steve will be looking forward to their next adventure out on one of our Central Florida Bass Fishing lakes.
Lake Toho Fishing Charter Report- Family Style
Family vacations are the perfect time to get away and explore a fishing charter. Jason, Mike and the future son-in-law Alex adventured out Lake Toho Bass Fishing with Captain Steve. They were traveling from West Virginia to Disney. Needing a break, they knew bass fishing was going to be an excellent choice.
One of the luxuries of Florida bass fishing is that you can catch numbers of quality largemouth bass all year long. They never caught a bass over 3 pounds before and Lake Toho had something special to offer them on this fishing trip.
Lake Toho produced an amazing fishing trip for this family. They caught over 20 largemouth bass in 4 hours with most in the 3-4 pound range. Mike landed the biggest bass weighed 5.5 pounds. Free lining and corking wild caught live shiners was the most effective way to land these bass.
When you catch big bass like this, you will shortly be making future plans for coming back. Captain Steve will be looking forward to fishing with them again soon on their next visit.
Whether you are here with family, friends or a solo get-away, the outdoors is truly something you should experience. Kissimmee is a beautiful place with lots to do. Add fishing and especially bass fishing to the agenda. Bass fishing and getting out in the natural wild of Central Florida is the perfect way to soak up some Florida Sunshine.
Grab your favorite lunch, cold refreshment and your favorite people and get on board one of our fishing charters in the Greater Orlando region. From Fresh to Salt, we can assist you with all your needs. Don't be afraid to contact us with any questions you have. We are here to help and most certainly assist you on a Florida Fishing Adventure of a Lifetime!
For everyone else out there, for your fresh or saltwater fishing needs, Contact Bass Online or iOutdoor and we will be glad to help. Our professional captains and local experts will be glad to put you on a fish of a lifetime! We hope you enjoyed this Lake Toho Fishing Charter Report!
Come Experience Kissimmee and Catch Yours Today…
[fusion_button link="http://bassonline.com/trips/city/kissimmee/lake-toho/" title="BOOK YOUR LAKE TOHO FISHING TRIP ONLINE NOW!" target="_self" alignment="center" modal="" hide_on_mobile="small-visibility,medium-visibility,large-visibility" class="" id="" color="default" button_gradient_top_color="" button_gradient_bottom_color="" button_gradient_top_color_hover="" button_gradient_bottom_color_hover="" accent_color="" accent_hover_color="" type="" bevel_color="" border_width="" size="" stretch="default" shape="pill" icon="" icon_position="left" icon_divider="no" animation_type="" animation_direction="left" animation_speed="0.3″ animation_offset=""]BOOK YOUR LAKE TOHO FISHING TRIP ONLINE NOW![/fusion_button]
If you enjoyed this post about Lake Toho Fishing Charter Report, you might also enjoy this fishing report from the same area.
Don't forget to follow us on Facebook, YouTube, Twitter and Instagram.