Eagle Picks up Dinner on Lake Toho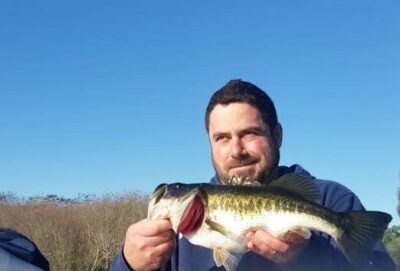 Hi this is Capt John Leech with your Lake Toho fishing report.
We had a great trip with James, his brother and one real good friend of his. We went out and caught a bunch of pre-stage spawning fish up in the shallows. We targeted spawning areas with Kissimmee grass and lily pads throwing plastic lures.
One the artificial lure bite slowed down , we also went shiner fishing. We had to target pre-spawning bass on the the break lines of the underwater vegetation by trolling shiners.
During the trip we actually had an Eagle come swoop down near us, it came real close to the boat. The bird dove down to pick up a fish that had a bad day, by swimming to close to the surface out in the open water. It was a really neat experience to see this bird come within 30 yards of the boat and pickup this fish. We tried to get it on video, but the bird was much to fast and I guess camera shy.
Anyway, just a another really neat experience on the water of Lake Toho, so that's it for now this is Captain John Leech signing off.
[fusion_accordion]
[fusion_toggle title="CLICK HERE TO WRITE A REVIEW" open="no"]

[/fusion_toggle]
[/fusion_accordion]
[fusion_builder_column type="1_1″ background_position="left top" background_color="" border_size="" border_color="" border_style="solid" spacing="yes" background_image="" background_repeat="no-repeat" padding="" margin_top="0px" margin_bottom="0px" class="" id="" animation_type="" animation_speed="0.3″ animation_direction="left" hide_on_mobile="no" center_content="no" min_height="none"]
[fusion_content_boxes layout="icon-boxed" columns="1″ class="" id=""]
[fusion_content_box title="About Capt John Leech" backgroundcolor="#b2ce96″ icon="fa-user" iconcolor="#3bbf4a" circlecolor="#ffffff" circlebordercolor="#oooooo" iconflip="yes" iconrotate="" iconspin="" image="/wp-content/uploads/2014/10/john_leech-50x50color.jpg" image_width="50″ image_height="50″ link="/fishing-guides/central-florida-fishing-guides/" linktarget="_self" linktext="" animation_type="0″ animation_direction="down" animation_speed="0.1″]Captain John Leech is a full-time guide for over 20 year in Central Florida. He specializing in Central Florida bass fishing and is one of the best at targeting big trophy size large-mouth bass in the Orlando area. His first guide trip was in Leesburg, Florida on the Harris Chain of Lakes. By 1983 I was fortunate to be able to do the one thing I loved the most FISH and make a living doing it. That is what I call a dream job Central Florida Bass Fishing Guide no doubt that fishing in Orlando is one of the best in the world.[/fusion_content_box][/fusion_content_boxes][/fusion_builder_column]