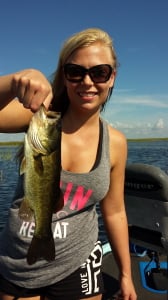 About 
Lake Ivanhoe, visible through the International Drive Exit, is made up of a series of man-made lakes located in the center of downtown Orlando. Lake Ivanhoe is a member of the FAB 5 because of its consistent and healthy-sized fish. The fishing opportunities that the lake offers make it one of the most sought-after destinations. This area is full of campers and various outdoor activities to enjoy the beautiful view of the lake and its enamoring surroundings. Its located near a Village and College Park, which offers plenty to do for everyone aside from fishing.
Fishing The FAB 5
This urban lake is part of Florida's FAB 5 fishing lakes because of its ability to hold 3-5 pound fish consistently. The other members of the FAB 5 are Clear, Starke, Turkey, and Lake Underhill. Every lake has its specialty but this area, in particular, is a largemouth bass factory because of its abundant amounts of plant food and enough cover for them to hide. The largemouth bass is undoubtedly the most sought after gamefish in these waters, occasionally caught in the 8-9 pound range. Lake Ivanhoe is also full of black crappie, bluegill, sunfish, and warmouth.
Standard lures used here are Jerkbaits, Spinnerbaits, Crankbaits, and worms. A tip from the local experts is to use a light line of 10-12 pound test.
Bass always try to find cover, so look for any obstructions where they can be hiding. They can often be found under the bridge on this lake. Also, try to find drop-offs with submerged vegetation.
This lake holds plenty of nice fish of good size but navigating this area and finding the best fishing spots can be difficult without a guide or someone who knows when and where to go. Orlando fishing charters provide everything you need to catch the Florida fish you are targeting
Top Targeted Fish Species
Bank Fishing in Orlando
This lake is known for its accessible bank fishing spots. There is plenty of access to the lake from its surrounding areas to fish from the land. You can find various fishes near the bank throughout the year. Find a spot along the shoreline or on the dock, and you will have a decent chance at catching bass here.
Things to do near Ivanhoe Village, Orlando
This Orlando area is most known for its outdoor activities and watersports, but there is a lot of fun in College Park and Ivanhoe Village. These parts of Orlando have plenty to do, such as unique cafes, bars, restaurants, stores, walking trails, and art. The village is primarily known for its artistic vibe filled with renegade retro retailers, novel restaurants, and districts full of history. Besides exploring the places on the street or partaking in active watersports, a popular site here is Lake Ivanhoe Park near Orlando.
Lake Ivanhoe Park Orlando, Fl
If you would like to get back to nature, make sure you visit Lake Ivanhoe Park. It is the perfect place to relax in the Florida sun. The lake surrounds the park, and it is the ideal place for dog walkers, joggers, and families. There is a boat ramp for visitors with public access. Running, rollerblading, and biking on the tracks are some of the other popular activities you can be a part of. Birdwatchers are also going to have a great time watching the beautiful local birds. The park offers plenty of scope for a picnic and scenic photos.
Boat Ramp
The Lake Ivanhoe Boat Ramp is well maintained and set up for ease and convenience regardless of the activity you plan on doing. There is a dock separate from the boat ramp for kayaks, paddleboards, and canoes.
During the peak boating season, the boat ramps at Lake Ivanhoe might be crowded. Here are some tips and information to keep in mind before you access the Orlando ramp.
Make use of the staging area. The ideal way to avoid congestion at the ramp is to be prepared before entering the ramp. 

Mount the navigation lamps prior to approaching the ramp. 

In the peak season, popular boat ramps tend to fill up pretty quickly. So, make sure that you approach the ramp with caution and respect the other boater's flow as they make their way to the ramp. 

Take your friend with you. Having a friend who is familiar with the process to launch a boat can easily make a great difference at the boat ramp. One of you can stay with the boat while the other stays with the vehicle.
Pretty at sunset
★★★★★
"
After doing some fishing, we took a stroll around the lake in the Park. It was very nice with the sun reflection. There were many ducks and gorgeous palm trees along the lake. We caught a few fish as well!
"
Nice, Big Lake But
★★★★★
"
This is a nice lake but heavy construction congenitally has cut-off access to part of it so you can't walk all the way around. Parts of it are also close to heavy traffic so it's not very serene. Other than that, it's an opportunity for a short walk on the parts that are open.
"
CLICK HERE TO WRITE A REVIEW
We also have great available lakes in the following areas that match your search criteria.