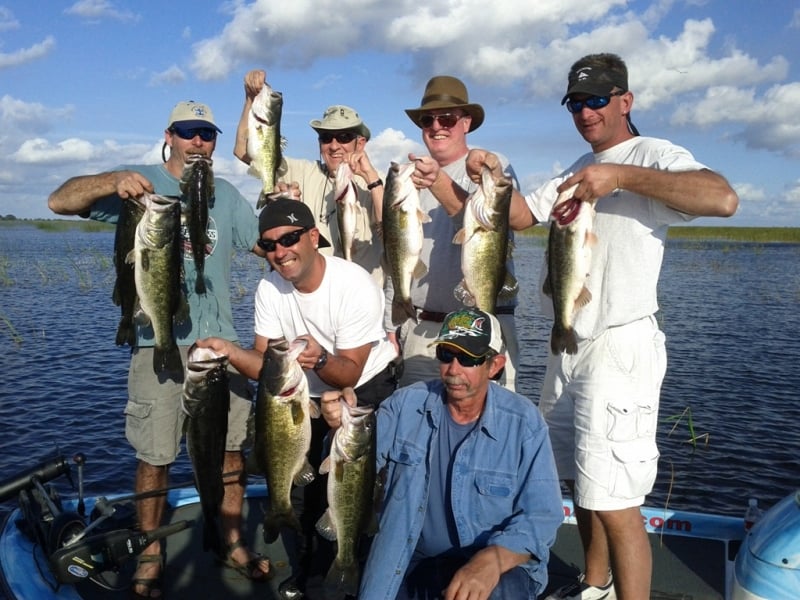 Group Fishing Trips – Corporate Fishing Trips
BASS Online Fishing Outfitters is capable of any size group, and very experienced in servicing large family reunions, industry groups, and corporate fishing trip excursions. We have handled many successful group fishing trips as large as 500 anglers.
Arrange everything you need is what we do, no need to hire additional event planner but if you already have one we work with them to make the process seamless. We handle everything from video, photographing, transportation, to trophies for your event. The additional of competition is always fun, if your group would like to set up the corporate fishing trip like a tournament we use official weigh-in scales supply and award trophies to the winners.
Planning a Group Fishing Trips
If you are going to be coming to Florida on business, or a family reunion, why not go fishing? Maybe even enjoy a day relaxing in Florida's wonderful scenery. Instead of rushing off to a theme park or some event where you will end up standing in line. We can put it in print and make it easy, we have taken more group fishing trips for families and different corporations then we care to name. All with great success, and we have references. So before you settle for a fishing guide service, consider hiring a company that specializies in groups. We are Florida's largest outfitter and largest provider of fishing services in the country. What we offer, and what we do to guarantee you a hassle free fishing trip has been experienced by Anheuser Busch, Disney, ESPN, Pfizer, IBM, Burger King, Office Depot, Microsoft among others. Here's list of past Fishing clients and Corporate trips.


Things we can do for your group trip:
These are just a few of the Group fishing options we can provide for you. Call us today and discuss setting up your family reunion, group or Corporate fishing trip.
1. Bus Transportation – We can arrange for a bus transportation for the day, including to pick your group up at your hotel and bring you to the lake and take you back to your hotel.
2. Boats – We offer the latest in bass boats, complete with a professional guide, safety gear, licensed, insured and quality tackle.
3. Catering – We arrange to have a caterer bring out sit down lunch, we also have a great barbecue lunch, or arrange to have a restaurant host you on way back to your hotel after your fishing trip.
4. Tournament Trips – We set up your group trip like a tournament with a weigh-in station. Each boat with a guide can fish, option of fishing with live bait, or artificial lures. This function is a great way to promote TEAM work between groups and friends.
5. Trophies – We can also have your Group trip set up to present trophies. First place, second place and anything else you need. All trophies can have your company logo, or family name, date and a photo of the winner holding their trophy fish.
6. Full Day, Super-Half and Half Day Trips – We can arrange the trip to fit into your meeting schedule. We are also available to fish a half day in the morning or afternoon, or a full day trip with a break for lunch, the option is yours.
7. Accommodations – We can also set up accommodations. We have corporate rates at over 100 hotels in Florida. Rates that are very competitive and will safe you money.
8. Photo's and Video – We can additionlly arrange for your trip to be video taped and photographed. Providing you memories that will last a lifetime.
Call us today and let us help you set up your next group fishing trip. Addition corporate fishing trips, family reunions or company getaways. GO GREEN, it will be a great experience for everyone!
We offer group fishing trips in over a hundred locations, some of which are the St Johns River, Harris Chain of Lakes, Lake Toho, Lake Okeechobee, Everglades and Miami South Beach area for Peacock bass.
Professional Fishing Guide services, Corporate fishing trips, Group fishing trips and charters. Serving North, South and Central Florida for guided bass fishing fishing trips. Perfect for large corporate outings or larger family fishing trips.
Check out our updated Audio Fishing Reports, Florida Fishing Blog and Bass Fishing Photo Gallery or feel free to give us a call anytime to discuss all of our options, locations, to book your trip or answer any questions you may have.
For additional needs in Group Saltwater Fishing Trips contact our sister company at iOutdoor.com