Lake Winder Fishing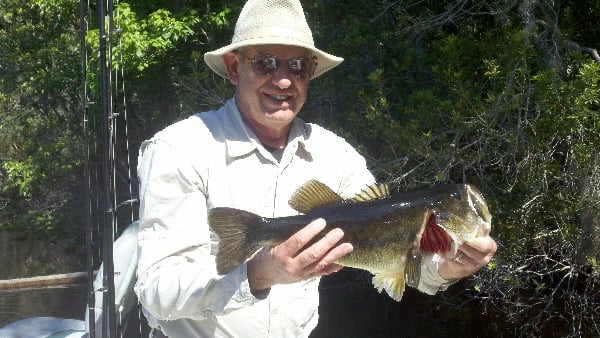 Lake Winder is usually not considered a good speckled perch lake and the other members of the 'brim'-type clans are often difficult to find. As we will find later, most anglers find more than their share of these fishes in Lake Poinsett.

The main concentrations of open water vegetation in Lake Winder are found on the western half of the lake and, particularly, along its southern end. The south part is where the entrance point of the St. Johns River lies the concentration of water-borne nutrients maybe a factor causing the growth. Normally, it is possible to find the entrance of the north-flowing main river, but the heavy growth on Lake Winder often makes it a difficult process. Some good fishing is found in the southern stretch of river, but it is usually shallow and vegetation-choked. Only anglers with an 'explorer' attitude and a large gas tank (it is at the extreme distance from the nearest launch, as we will cover later) normally venture into this section of water.

The bottom contours of Lake Winder have very little variation and, other than vegetation, there is little true 'structure'. We do find a few open-water shell beds along the eastern side of the lake and these are excellent in the early summer and during the winter months. The way to find these shells is to find the two and three-foot depths along the eastern side. Then, try due west until the water begins to drop into four and six feet. The shells will be on small rises, or high spots, that either lie just along or jut out from the trace of the falling contour. Shallow crank plugs, such as the Rat-L-Trap or Bagley Killer B One, will produce in the warm months, especially after the spawn and when the bass are inclined to chase bait fish on the surface. During the colder months, the plastic worm is best.

Possibly the western half of the lake holds the most potential for the newcomer to Lake Winder. In general, this part of the lake is part a collection of large open-water grass beds, with some intertwined stretches of hard sandy bottom. Experience has shown that most spawning appears to take place on the western side and, especially, in the northwest corner. During the later winter and early spring, when the peppergrass, hydrilla and milfoil beds are most thin, the spinner bait is an exceptional lure. Additionally, the Devil's Horse and Bang-O-Lure top-water action is astounding. With the coming of the spawn, it is often the plastic worm, which must be used to entice the fickle fish to strike.
For additional information on Lake Winder try these links