Weekend Everglades Bass Fishing
Are you a weekend warrior or avid angler? Do you like to catch big numbers of bass? Are you Anti-Live bait? Well, if you answered yes to all of these questions, we have the perfect bass fishing location for you. The Florida Everglades is absolutely on fire this season with great fishing every day. Water conditions have been fantastic to promote excellent weekend Everglades bass fishing.
One of the most essential ingredients is our local experts. They know all the hotspots and canals that will put you on bass all trip long. Throw out your lines and catch fish on almost every cast. Captain Joe Gruny and Captain Mark Rose are your local experts this weekend!
Two locations have been very productive this month. Alligator Alley at Mile Marker 41 and Sawgrass Recreational Park is the perfect destination for the family and avid anglers. Alligator Alley can be accessed by both South Florida and Southwest Florida. Sawgrass is closest to South Florida or Fort Lauderdale, FL.
Captain Joe Gruny had the pleasure of fishing with Steve and Tonya. They were traveling from St. Louis on vacation and wanted to spend some time in the outdoors. One of the best ways to do so is an Everglades Bass Fishing trip along Alligator Alley.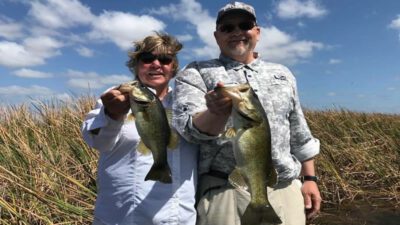 The bass were biting well with numbers that you can't keep track of. When you adventure out here, you are just so excited to be catching bass that you forget about how many fish you have caught. Steve and Tonya caught bass up to 3 pounds.
The most productive baits on this fishing trip were a shakey head worm along with a wacky worm. They also caught bass throwing topwater baits. Cold front temperatures rolled in later in the afternoon just as the trip was being completed.
Good Things happen on the Water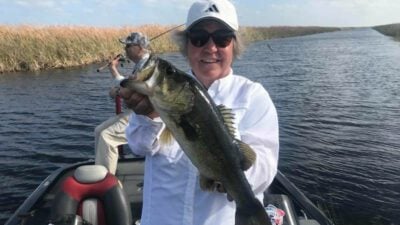 It was a fantastic day on the water. Steve and Tonya are looking forward to their next Florida fishing adventure next time visiting. Captain Joe can't wait to show them around to more action in the Everglades or to another South Florida destination.
Just shortly after this awesome fishing trip, Captain Mark Rose adventure out of Sawgrass Recreational Park. He had the pleasure of fishing with Bruce and Tyler. They wanted to explore some different water throwing artificial baits, so off they went to the river of grass.
Most of the action and bites came on a topwater popper and a fluke. The hot color was a watermelon seed or magic. Bruce and Tyler had a blast catching fish in the Everglades bringing in over 75 bass.
Water temperatures were sitting at 72 degrees which was perfect for a strong bite. Recent conditions are promoting a spawn in the upcoming weeks which should bring bigger bass out to play. This was an excellent 6-hour fishing trip and they will be back for more action soon!
Captain Mark is looking forward to getting them out on the water in the future!
Don't miss out on your adventure. If you are looking for a great way to soak in the sun and enjoy the outdoors, bass fishing is a great option. Bring your family aboard for a fishing adventure of a lifetime. We look forward to seeing you on the water next time!
Come Visit Florida and Catch Yours today if you enjoyed this post about South Florida Fishing, you might also enjoy this fishing report from the same area.
Don't forget to follow us on Facebook, YouTube, Twitter, and Instagram.