Holiday Everglades Fishing Charter
MERRY CHRISTMAS AND HAPPY HOLIDAYS to all our readers and fisherman!
The Holidays are a great reason to travel to warm and sunny South Florida. When you are all done enjoying time with your family, opening presents and eating your face off, get out in the outdoors. If you are looking for the ULTIMATE outdoor adventure, bass fishing in the Everglades will give you that experience. Come enjoy a Holiday Everglades fishing charter with a local expert while visiting!
The Everglades is a bass fishing haven. One of the best parts is that you have the opportunity to not only catch the most bass you ever will, but you also get to enjoy the wildlife. The abundance of birds, alligators and other critters make for an awesome day on the water. Our local expert, Capt George Mrozinski can show you what Everglades bass fishing is all about.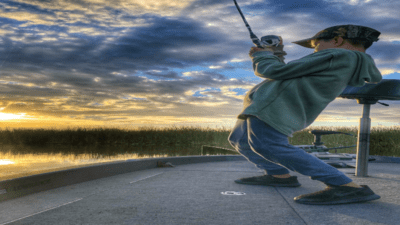 Captain George had the pleasure of fishing with a wonderful family out of Everglades Holiday Park. Lisa, Barb, 8-year-old Jacob and Granddad Ron all enjoyed a cruise out to their fishing spot. This was a birthday and holiday fishing adventure for young Jacob and Granddad Ron.
Captain George is honored to be part of this amazing day for this amazing family. The fishing was spectacular all day long. It was a quick 6-hour fishing trip that allowed everyone to land numbers of largemouth bass.
One of the best parts about fishing in the Everglades is the ability to throw artificial lures. Gambler soft plastics like the Ace or Fat Job are really effective. You can also throw topwater baits to get them to bust on the surface. If you are looking for the most exciting bites, this is the way to go.
Your first thought may not to come out on a fishing adventure when visiting Florida, but it is one of the best ways to experience all that there is to offer. This incredible family can most certainly attest to this. They loved being out on the water getting to see the birds fly, the bass eats and the alligators swim.
Everglades Bass Fishing in Fort Lauderdale, FL is a great way to spend time with the family. We hope that one day we can share this experience with you. The holiday time is the perfect time to get out on the water. We look forward to setting the hook with you soon!
Come Visit Florida and Catch Yours Today
[fusion_button link="http://bassonline.com/florida-lakes/everglades-holiday-park/" title="BOOK YOUR EVERGLADES FISHING TRIP ONLINE NOW!" target="_self" alignment="center" modal="" hide_on_mobile="small-visibility,medium-visibility,large-visibility" class="" id="" color="default" button_gradient_top_color="" button_gradient_bottom_color="" button_gradient_top_color_hover="" button_gradient_bottom_color_hover="" accent_color="" accent_hover_color="" type="" bevel_color="" border_width="" size="" stretch="default" shape="pill" icon="" icon_position="left" icon_divider="no" animation_type="" animation_direction="left" animation_speed="0.3″ animation_offset=""]BOOK YOUR EVERGLADES FISHING TRIP ONLINE NOW![/fusion_button]
If you enjoyed this post about South Florida Fishing, you might also enjoy this fishing report from the same area.
Don't forget to follow us on Facebook, YouTube, Twitter and Instagram.