September Kissimmee Fishing
If there is one place in the United States to travel and explore for largemouth bass, Kissimmee, FL is it. The massive abundance of hard-fighting largemouth bass in the freshwater systems can really make for an awesome time. Freshwater fishing is a great way to introduce your family and friends into fishing. You have so many different options and fisheries you can explore. Our local experts will help you get on the fishing experience you are after. Hop on board for a September Kissimmee Fishing Trip for an adventure you will never forget!
Our local experts are true professionals that work hard to show you an amazing time. From the time you step aboard to the time you get off, you will be learning something magical about Kissimmee, FL. The rich history of this destination as well as productive fishing makes it a world-class place. If you love to catch largemouth bass, Lake Toho is the place for you. Our local experts can show you an amazing time.
Below you will read customers experiences while Lake Toho Bass Fishing with one of our local experts!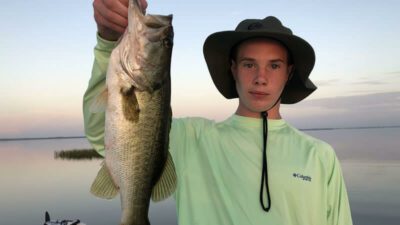 Scott, John, and Greg were traveling to Kissimmee, FL looking to cash in on some Florida Bass Fishing. They heard that the summertime bass fishing on Lake Toho has been fantastic. Captain Brent Nelson had the pleasure of taking them out on the water. It was a true adventure getting to see several parts of Lake Toho. The action was hot and heavy right from the start.
These gentlemen caught over 24 Florida largemouth bass on this fishing trip. The biggest fisher weighed 4.5 pounds. This fish was a solid summertime catch. Scott, John, and Greg had a blast catching all these fish. The most productive method for them was wild-caught live shiners as well as artificial baits. They caught them on a variety of baits including swim jigs, speed worms, spinnerbaits, and sencos. Most of the live bait bite was in 3-5 foot of water.
Captain Brent is looking forward to fishing with Scott, John, and Greg again in the near future!
Just shortly after this fishing trip, Captain Steve Niemoeller had the pleasure of fishing with a return client, Mike, and Mason. They were good friends traveling to Central Florida for a wedding. Mason was traveling from Texas and Mike was coming from Alabama. While doing so, Lake Toho bass fishing called their name.
It was a quick and great trip on the water. The fish were biting with over 20 in the boat on their quick 4-hour adventure. Mike caught the biggest fish on this trip with a Florida largemouth bass weighing 3.5 pounds. Live bait was the most productive method on this fishing trip. Mike and Mason both enjoyed just relaxing while catching bass on this fishing trip.
Captain Steve is looking forward to getting back out on the water with these two awesome guys again soon!
Many travelers come to this beautiful destination every year with their families. They flood to the parks while never knowing the true potential of Kissimmee, FL. On your next visit, get in on this action. You can bring up to 6 people on the boat. Everyone can enjoy a nice cruise on the water getting to see wildlife and catch Florida's number one game fish. The Largemouth bass can get you addicted to fishing, positive activity for people of all ages.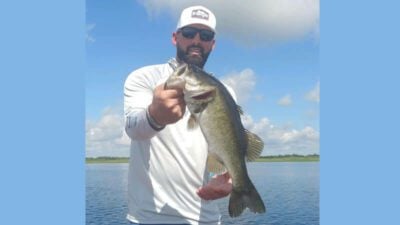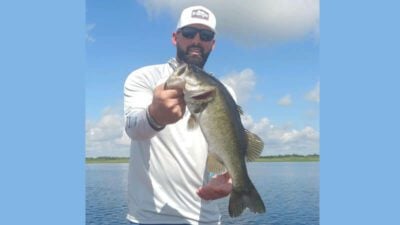 Kissimmee, FL awaits you and we hope that you get the chance to bring your family and friends fishing. If you are reading this, we thank you for your attention and time. It means a lot. We hope to get the chance to see you on the water next time. Until then, tight lines and continue to get out on the water and in the outdoors as it can transform your life.
Come Experience Kissimmee and Catch Yours Today…
[fusion_button link="http://bassonline.com/trips/city/kissimmee/lake-toho/" title="BOOK YOUR LAKE TOHO FISHING TRIP ONLINE NOW!" target="_self" alignment="center" modal="" hide_on_mobile="small-visibility,medium-visibility,large-visibility" class="" id="" color="default" button_gradient_top_color="" button_gradient_bottom_color="" button_gradient_top_color_hover="" button_gradient_bottom_color_hover="" accent_color="" accent_hover_color="" type="" bevel_color="" border_width="" size="" stretch="default" shape="pill" icon="" icon_position="left" icon_divider="no" animation_type="" animation_direction="left" animation_speed="0.3″ animation_offset=""]BOOK YOUR LAKE TOHO FISHING TRIP ONLINE NOW![/fusion_button]
If you enjoyed this post, you might also enjoy this fishing report from the same area.
Don't forget to follow us on Facebook, YouTube, Twitter and Instagram.