November Everglades Bass Fishing
The Florida Everglades is back on and the bass fishing is beyond good. If you are a largemouth bass fisherman, you have to adventure out in the Everglades while the conditions are great. You will put more bass in the boat than you can fathom. South Florida is the perfect destination whether on the east or west coast to access the Everglades. Come enjoy a November Everglades bass fishing charter in South Florida today!
Our local experts have years of experience fishing the Everglades and can put you on fish all day long. Fishing here is non-stop. You can decide when you want to stop catching fish. Your local expert will take you to his local honey holes and from there the fishing is wide open. Captain Mike Groshon is your east coast local expert for the Everglades. Captain Mark Rogers is your west coast Everglades expert.
Captain Mike Groshon had the pleasure of fishing with the Peacemaker family. This was a two boat fishing charter with Captain Wayne Fellows. They adventured out of Holiday Park. If you have never been to Holiday Park, it is an awesome place to go on a boat ride or watch an alligator show. Captain Mike fished with the siblings Crystal, Bruce and Calvin.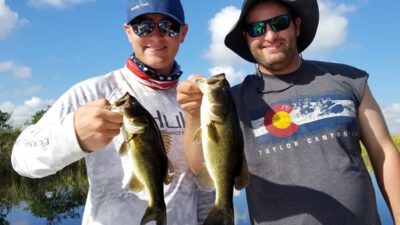 One of the great things about fishing the Everglades is that you get the opportunity to learn new techniques and skills. All the fishing in the Glades is artificial baits. Whether you want to throw soft plastic flukes, sencos or swim baits, you can put big numbers in the boat.
You can also have a lot of success with top water baits like a zara spook, poppers or any bait that throws water.
Crystal, Bruce and Calvin caught over 100 largemouth combined. It was a fish after fish kind of day. Most of the fish were in the 1-3 pound range. The action was amazing for this awesome group. It was a trip they will never forget and will be back for more action.
Captain Mike is looking forward to fishing with these fantastic folks again in the future!
Just shortly after this fishing trip, Captain Mark Rogers adventured out into the Everglades. Alligator Alley or Mile Marker 41 is a great location to experience bass fishing when you are visiting the west coast of Florida. Captain Mark had the pleasure of fishing with Andy and his son Andrew. They had a great day of fishing with a lot of action.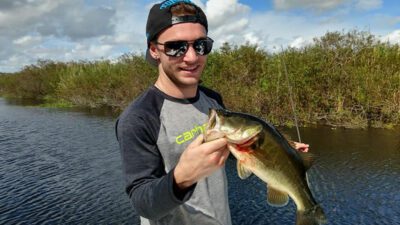 Andy and Andrew got to experience fishing for largemouth bass catching big numbers. When you fish the Everglades, you can count on catching 50-100 bass. Most of the bass on this fishing trip came on top waters and slow sinking soft plastics. The action was strong all trip long. You don't have to worry about waking up early when it comes to fishing in the Everglades.
Perfect conditions with a light wind made for a beautiful day on the water. The biggest bass caught weighed 3.5 pounds. That is a nice fish for the Everglades and the bite is only getting better. Captain Mark is looking forward to their next adventure on the water!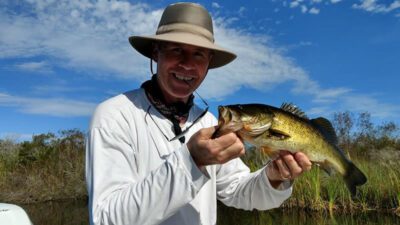 Don't miss out on your Everglades Fishing Charter. The holidays will be a perfect time to come fishing here in South Florida. Hop on board with one of our experts and let them take you on an adventure of a lifetime. We look forward to seeing you on the water next time!
Come Visit Florida and Catch Yours Today
If you enjoyed this post about South Florida Fishing, you might also enjoy this fishing report from the same area.
Don't forget to follow us on Facebook, YouTube, Twitter and Instagram.
[fusion_button link="http://bassonline.com/trips/city/fort-lauderdale/holiday-park/" title="BOOK YOUR HOLIDAY PARK FISHING TRIP ONLINE NOW!" target="_self" alignment="center" modal="" hide_on_mobile="small-visibility,medium-visibility,large-visibility" class="" id="" color="default" button_gradient_top_color="" button_gradient_bottom_color="" button_gradient_top_color_hover="" button_gradient_bottom_color_hover="" accent_color="" accent_hover_color="" type="" bevel_color="" border_width="" size="" stretch="default" shape="pill" icon="" icon_position="left" icon_divider="no" animation_type="" animation_direction="left" animation_speed="0.3″ animation_offset=""]BOOK YOUR HOLIDAY PARK FISHING TRIP ONLINE NOW![/fusion_button]
[fusion_button link="http://bassonline.com/trips/city/naples/alligator-alley/" title="BOOK YOUR ALLIGATOR ALLEY FISHING TRIP ONLINE NOW!" target="_self" alignment="center" modal="" hide_on_mobile="small-visibility,medium-visibility,large-visibility" class="" id="" color="default" button_gradient_top_color="" button_gradient_bottom_color="" button_gradient_top_color_hover="" button_gradient_bottom_color_hover="" accent_color="" accent_hover_color="" type="" bevel_color="" border_width="" size="" stretch="default" shape="pill" icon="" icon_position="left" icon_divider="no" animation_type="" animation_direction="left" animation_speed="0.3″ animation_offset=""]BOOK YOUR ALLIGATOR ALLEY FISHING TRIP ONLINE NOW![/fusion_button]