Lake Disston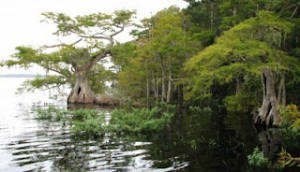 Enjoy a fishing vacation on pristine Lake Disston. Explore this 1,844-acre lake where largemouth bass, bluegill, black crappie, bream, and shell cracker are around incredible cypress trees surround the entire shore of this remote lake, Lake Disston providing habitat for many types of Florida birds, including ospreys, eagles, ibises, herons, egrets, cranes, coots, anhingas and a variety of other native birds.
Our guided fishing trips offer the perfect natural getaway for a relaxing fishing vacation. For river fishing enthusiasts, the St. Johns River is 20 minutes to the west of Lake Disston.
Lake Disston, designated as an "Outstanding Florida Water" by the Florida Department of Environmental Protection Agency is in its natural state, leaving the land surrounding the lake sparsely populated with homes and with very few boats on the waterway. It is a beautiful location for photographers, art enthusiasts, and nature lovers.
Located roughly forty-five minutes northwest of Daytona Beach and an hour and a half from the Orlando attractions, Disston is an excellent fishing lake for visitors seeking easy access to the beaches, NASCAR races, and motorcycle races, as well as the Disney World resorts without the hustle and bustle of the bigger more popular lakes.
Lake Disston Stats
Closest Town: Seville
Lake Size: 1,844 Acres
Public Boat Access: Located off Co Rd 2009
Lake Notes: Specializing in Largemouth Bass, Bluegill, and Black Crappie. Bream and
Shellcracker
also caught.
Lake Disston Flagler County Fishing
The land located on one of the most beautiful lakes in Florida. Lake Disston is located in the southwestern corner of Flagler County in northeastern Florida, approximately 13 miles southwest of the city of Bunnell. It has been designated one of the "Outstanding Florida Waters" and is well worthy of the title.
Lake Disston has a public boat ramp on the eastern side of the lake. It is an undeveloped ramp and caution should be used. There is really not much room to turn around at the boat ramp, so you must back down the dirt road to the water's edge. A four-wheel-drive vehicle is sometimes recommended for launching and loading your boat. A day on the lake is well worth the effort for fun, fishing, kayaking, or canoeing
Little Haw Creek begins on the north side of the lake and flows north to Haw Creek. The southern shore has citrus groves visible from parts of the lake.
The Lake can be found on the Seville USGS quad topo map. Lake Disston is a lake in Flagler County in the state of Florida. The latitude and longitude coordinates for this lake are 29.2861, -81.3909 and the altitude is 13 feet (4 meters).
Anyone interested in fishing Lake Disston should consult with local guides and resources before heading out to fish.
Lake Disston Map