Daughter Peacock Bass Fishing
Naples, Florida is one amazing place and travel destination. The abundance of outdoor activities from sandy beaches to fishing adventures along with excellent shopping and nightlife make this place the perfect vacation spot. When you are visiting Naples, make sure to get in the outdoors in any way you can. If you don't want to travel far and want to bring your family along with you, enjoy some daughter peacock bass fishing right here in Naples, Florida.
Our local expert and professional fishing Captain Mark Rose has figured this fishery out. Every trip may be unique and you can catch a variety of species but you will have a blast with each catch. If you are looking to catch peacock bass, largemouth bass, freshwater Snook, and more, the Golden Gate Canal System is your fishery.
Here is your Naples Bass Fishing Update: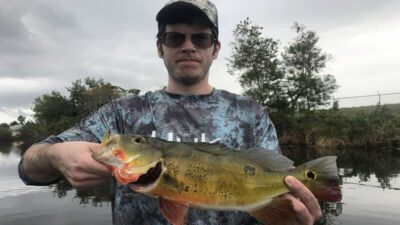 Captain Mark Rose had the pleasure of fishing with Tom who was traveling to Naples on vacation. While doing so, bass fishing was on the list of outdoor activities. The conditions were overcast but that did not stop the bass from biting. Most of the fishing was done by sight and Tom caught several-quality fish. Tom hooked into two really big peacock bass that looked like they came from the Amazon but they came unbuttoned before they could get in the net. Most of the fish were caught weighing in at 2-3 pounds on live bait.
Tom will be back for more action right here in Naples. Captain Mark Rose is looking forward to their next fishing trip!
But the Fishing Continues
Just shortly after this fishing trip, Captain Mark explored Naples with a repeat client Jim who brought along his daughter and her husband, Brian. They were looking for some bonding time in the great outdoors. This urban fishery was the perfect place to do so. It was a great day on the water and everyone caught peacock bass along with some nice largemouth. Most of the fish were caught on drop shots with live bait. The action is still hot and heavy with warming water trends. The biggest peacock bass weighed in close to 4.5 pounds.
Captain Mark is looking forward to fishing with Jim and his family again on their next family vacation!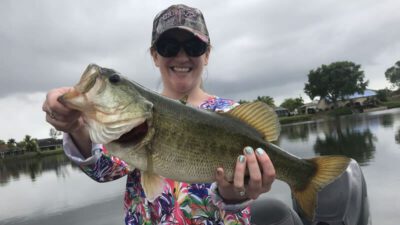 It was not long after this fishing trip that Captain Mark had the pleasure of fishing with Tony and his wife. They were traveling from Illinois looking to catch some peacock bass. They are avid fishermen but never caught a peacock bass before. Luckily, the Golden Gate Canal System blessed them with an excellent fishing adventure. Tony caught his first peacock bass within 15 minutes of fishing. He loved the fight these peacock bass put up. His wife caught her first one soon to follow with most of the fish in the 2-3 pound range.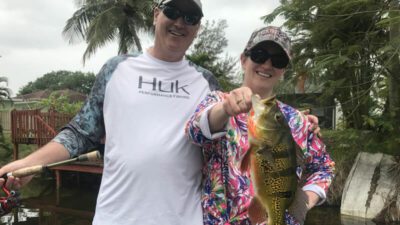 Tony and his wife had a great time on the water catching their first peacock bass. So many more adventures to come for them in the near future!
Guess what? it still Continued to get better
Shortly after this fishing trip, Captain Mark had the pleasure of fishing with Tom, who also never caught a peacock bass before. He was in for a treat on this fishing trip right here in Naples, FL. The peacock bass was hitting hard and he even got a bonus largemouth bass. The biggest peacock bass weighed in at 3.5 pounds and he ended the day catching over 15 bass. Weather conditions were calm and warm promoting great action. The main technique was a drop shot with live bait. Action is picking up and Tom is looking forward to catching an even bigger bass next time!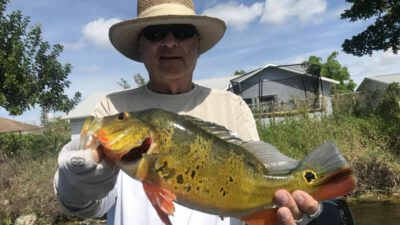 Don't miss out on your Naples Bass Fishing Adventure. The action is starting to pick up and you never know what you are going to catch when fishing these urban canals. Bass fishing is a great way to bond with your family in the outdoors. We look forward to seeing you on the water next time!
Come Visit Florida and Catch Yours Today
If you enjoyed this post about South Florida Fishing, you might also enjoy this fishing report from the same area.
Don't forget to follow us on Facebook, YouTube, Twitter, and Instagram.
Learn More about Naples Bass Fishing