Chasing Brown Smallmouth Bass
Have you ever caught a smallmouth bass before? Chasing brown smallmouth bass can ultimately change your life. You never know what the rush can do for you. Erie, Pennsylvania happens to be one of the best locations to catch smallmouth bass in the United States. Our local experts are on the fish and continue to catch really beautiful fish. Here at Bass Online, we are all about the experience that helps create a memory worth a lifetime.
Smallmouth bass fishing, especially on Lake Erie, can provide this experience for you. One of the most important parts of it all is a local expert. A local expert is one that has spent many hours and days on the water. They dial in on the action and adjust when the fish do. Captain Mark Rose is an exceptional guide when looking to catch smallmouth bass on Lake Erie.
Check out this Lake Erie Bass Fishing Update with our Local Expert:
Alex was traveling to Erie, PA from the middle of the state. He was traveling around catching smallmouth bass and had to give Erie a shot. After spending some time in Michigan catching smallies, Lake Erie was the next stop. Captain Mark showed him an amazing time catching numbers of bass.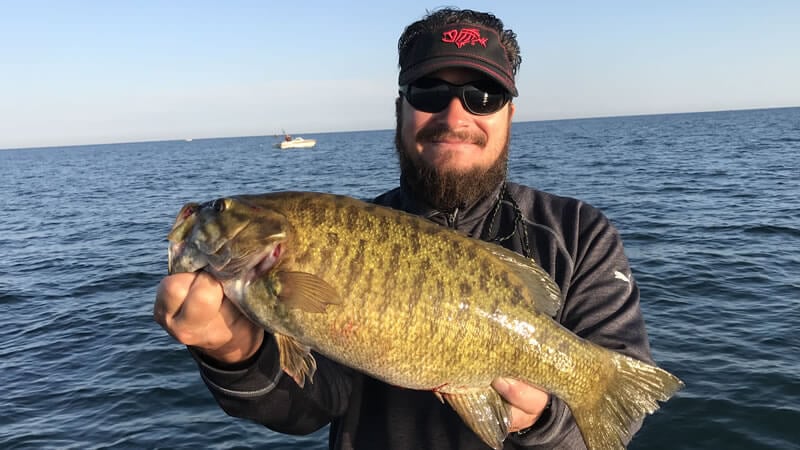 Late summer is a great time to fish Lake Erie. For the next several months the smallmouth bass begins to feed heavily in prep for the winter months. If you are looking to have a blast, now is the time to come. Alex sure can agree to that.
Alex had a great time catching over 20 smallmouth bass on this fishing trip. The biggest weighed in at 4.9 pounds. This time of year the smallmouth bass run deep. As a result, drop shot rigs were the most effective method of catching fish. They were in the depth range of 35-40 feet.
Captain Mark is looking forward to getting back out on the water soon with Alex again!
Just shortly after this fishing trip, Captain Mark was back out on the water. This time, he had the pleasure of fishing with Tim and his son Andrew. They were traveling from West Virginia looking to spend some time bass fishing on Lake Erie. Every trip is unique and this one surely was.
Tim and Andrew's trip started out dodging thunderstorms and lots of thoughts about catching big smallmouth bass. They came to the right place and this trip was a dream turned reality. The trip did start out slow with the bass not eating strong but as the day went on so did the bite.
All of a sudden, Andrew gets a bite. It's digging and trying to resist coming up 40 feet. After taking Captain Mark's instructions to fight it slowly, Andrew's fish surfaces. When it came to the net, excitement ran through everyone on the boat. This fish weighed in at 6-pounds 21 inches making a new personal best.
Andrew and Tim also caught several smallmouth bass in the 3-4 pound range. Summer Lake Erie fishing also produced some nice walleye as well with one weighing in at 8 pounds. The action is red hot and is only going to get better. This father-son duo could not have had a better experience while fishing with Captain Mark!


Captain Mark is looking forward to catching more big bass with them again in the near future!
Don't miss out on your fishing adventure on Lake Erie in the next couple of months. Before the winter comes, the smallmouth bass comes alive. We are on the fish and will continue to stay on them. Big smallmouth bass will continue to be caught. We hope to share this experience with you, especially if you want to catch the smallmouth bass of your dreams.
Come Visit Lake Erie and Catch Yours Today…
If you enjoyed this post, you might also enjoy this fishing report from the same area.
Don't forget to follow us on Facebook, YouTube, Twitter and Instagram.

About Captain Mark Rose hometown is Pittsburgh PA. Mark has been fishing Lake Erie and Lake Okeechobee since 1999. He fishes Lake Erie in the spring for smallmouth. He runs a detail shop in his hometown during the summer, spring and fall and heads to Florida during the winter months to do what he loves, guide on Lake Okeechobee. Learn More About Lake Erie or Capt. Mark Rose