You Choose the Guide, leave the Fishing Experience to US
Featured Local Erie Fishing Guides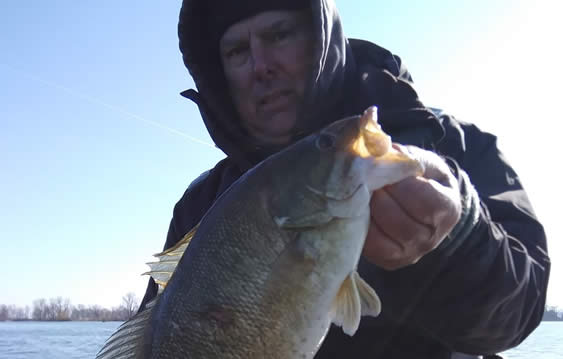 Capt John Miller is a full-time smallmouth bass fishing guide out of Erie, PA with 15+ years of a professional angler with incredible experience and knowledge to share with all  [Read More]
Capt Jonathan Polanco is a full-time smallmouth bass fishing guide out of Erie, PA with 15+ years of local experience as a native angler with incredible knowledge to share with all of his clients [Read More]
Capt Tom Goodrich a local fishing charter captain in Erie, PA area and surrounding water. Specialize in Walleye fishing, but well versus in catching smallmouth bass, Lake Trout, and more. [Read More]
Local PA Conventional & Fly Fishing Guides Needed
BassOnline the world's largest online bass fishing company!
Based on the Overall Satisfaction rating from Actual Customers!
4.95 Overall Satisfaction rating
Interested in a Career as a Fishing Captain?
We have a 98% Success Record
PA FISHING GUIDES REVIEWS
Buchholtz
★★★★★
"
I fish for smallies all over the Great Lakes. Did an evening trip with Capt Johnathan while traveling for a buisness trip to Erie PA. We battled wind and summertime patterns and still managed to boat both smallmouth and largemouth. By the end of the trip I felt like I was fishing with a fishing buddy vs a fishing guide. Bonus sunset while ramping out over the bay!! Awesome evening on the water. I will book with Captain Johnathan again.
"
Great Day on Lake Erie!
★★★★★
"
My daughter and I had an awesome time on the water with Captain Jonathan. We caught some really nice largemouth. My daughter caught a 3.5lb on top water! Looking forward to going back out soon when the small mouth are hitting!
"
Super day on Presque Isle Bay
★★★★★
"
What a day of fishing on Presque Isle Bay yesterday. On his maiden voyage as a full-time guide, Jonathan Polanco and the Erie smallmouth did not disappoint. Despite not being peak season, some rain and the 2-3 ft rolllers we dealt with most of the day (and could have used some Dramamine) we caught approximately 30 smallmouth and one surprise largemouth. best 5 smallmouth went 24.20 as shown on scale and I'd say the next best 5 would have been 22+. Nat and I both had our PB smallmouth on lures and a great father-daughter dance on the water. I'd highly recommend Jonathan, who grew up in Erie and who's first language is bass - just like mine. When he hands me a rod with an Architect reel…that's catering to your clients!!! #ioutdoor #Bassonline.Com #ErieFishing
"
Mark Rose
★★★★★
"
Mark came through again. I needed to end the year with a picture worthy fish. The fishing gods were not kind to me this year with big fish. A 25 pound lake trout did the trick. Last year Mark helped me finish the year with a 5 pound smallie. Plus you always learn something spending time with him on the water. Thanks Mark.
"
Big Lake Erie Bass in the rain
★★★★★
"
I was scheduled to fish Lake Erie with Captain Mark Rose on 11/11 but the remnants of hurricane Nicole was moving through the area with heavy record setting rainfall. After debating if we should go out in that weather we decided to give it a shot, I'm glad we did. I had a great morning of fishing. I caught a personal best 6 pound small mouth and quite a few 4 to 5 pounders. Captain Mark is an awesome guide and will put you on the fish regardless of conditions.
"
Great Father and Son trip
★★★★★
"
My son and I went bass fishing with Captain Mark and had a great time. What a beautiful boat, quality gear and great advice. We were challenged by the unpredictable Lake Erie weather but Captain Mark really put in the extra effort to put us on the fish. We both had a fun and productive trip. In fact, we're already looking forward to our next trip to Erie PA!
"
CLICK HERE TO WRITE A FISHING GUIDE REVIEW
Pennsylvania Fishing License Regulations
All anglers 16+ need a valid PA fishing license. The license can be purchased online or at License Outdoor Retailer, County Treasurer offices, or Fish & Boat Commission office.
All fishing on Lake Erie requires an additional Erie stamp, even when using Lake Erie fishing charters.
Some target species require their own stamp. For example, if fishing for Trout species, it's necessary to get a Trout stamp.
Whether you fishing in a tributary of the lake, Pennsylvania is one great place to fish, pick a fishing charter, and get ready for an amazing freshwater adventure!
How to Become a Licensed Fishing Guide in Pennsylvania
​Having a bass boat, angling skills, and a desire to share those skills with other fishermen can become licensed Pennsylvania fishing guides. To perform guide fishing trips commercially, you must become a registered Pennsylvania fishing guide. Guide services are regulated by the Pennsylvania Fish and Boat Commission. There are some basic Pennsylvania fishing guide requirements to become licensed to have the right to make guide fishing trips in the state.
Required Steps for Pennsylvania Fishing Guides
​You are required to apply for a charter boat operator and fishing guide in PA.
USCG license and Boater safety if using a boat
General liability insurance with $250,000 coverage
CPR and first aid certification
Valid fishing licenses
​Resident Lake Erie fishing guides fees are $100, and nonresident fees are $400 annually to be licensed as a Pennsylvania fishing guide. To consider becoming a licensed guide service, review the required charter boat operators' information sheet. When ready, apply at the Pennsylvania Fish and Boat Commission website.
Lake Erie Fishing Charters
We are not a booking service where no one fishes…but the complete opposite. A group of Lake Erie fishing guides that have gotten together as a TEAM, under the best conditions to provide you with the finest service the Lake Erie fishing charters industry has ever seen. We specialize in working with experienced bass anglers, who are looking for prime waters and new techniques but also cater to novice bass anglers who are out for a true fun learning experience.
We will provide everything you need for your big day, reliable equipment, and the finest boats on the water for your enjoyment. The elite bass fishing guides in the country on "Lake Erie," you have come to the right place, Lake Erie largest and #1 rated guide service in PA…, so why shouldn't you…let's go fishing!
More on Our Lake Erie Fishing Charters Captains
Capt Mark Rose hometown is Pittsburgh PA. Mark has been fishing Lake Erie and Lake Okeechobee since 1999. He fishes Lake Erie in the spring and summer for smallmouth. He runs a detail shop in his hometown during the summer, spring, and fall and heads to Florida during the winter months to do what he loves, guides on Lake Okeechobee. Mark has had a passion for fishing since he was 11 and his passion and love for the sport have grown over the years. As a Lake Erie fishing guide, he can make a bad day of fishing still be an awesome day out on the boat!
Mark guides out of Erie PA, in Presque Isle Bay of Lake Erie. Mark's biggest bass was 12 lbs 11 oz. it was caught on Okeechobee in Feb of 2012. Mark's biggest smallmouth bass is 7.2 lbs caught on Lake Erie. Whichever you choose, he will get the job done for you.
When not guiding, Mark fishes FLW, RAYOVAC series, BFL, and Presque isle Bassmasters. He also participates in Fishes Fishers Of men.
Mark is sponsored by the following- McEllwains Motors, Ranger Boats, Bass Online, Bass Assassin lures, Berkley, Abu Garcia, Spiderwire, Columbia sportswear, Minnkota, and Hummingbird.
Captain Mark is 30 years old and is married to a wonderfully supportive wife. The two have a baby on the way and have a loving and strong-willed beautiful black lab!
Want a great day on the lake? Mark Rose is your guy!
To fish with Capt Mark Rose, fill out the request form!, book online, or call (888) 629-2277 and request him!