California is a fly fisherman's dreamland! In southern and northern California, you can discover numerous lakes, streams, and rivers. With abundant water resources, California provides fly fishermen with an exclusive opportunity to fish in freshwater and saltwater environments.
The name "Golden State of Fishing" is befitting, as California offers a wide variety of fishing opportunities and unparalleled landscapes. Keep reading to learn more about fly fishing and the best spots to do so! 
Fly Fishing in California
: Is It Really That Good?
Millions of people worldwide enjoy the popular trend of fishing. Casting a fly into the water and waiting for a fish to bite can be both a peaceful and exciting experience, whether fishing in freshwater or saltwater. A rush and sense of accomplishment follow you after a successful catch.
As opposed to regular bait fishing, fly fishing offers an entirely different feeling. Some consider fly fishing the most effective way, especially for those who prefer rivers to lakes. Trout, Bass, Salmon, and Pike are only some of the fish you can catch with this method. Although a bit more complicated to learn, once you get the hang of it, you'll find it more lightweight, flexible, and fun overall.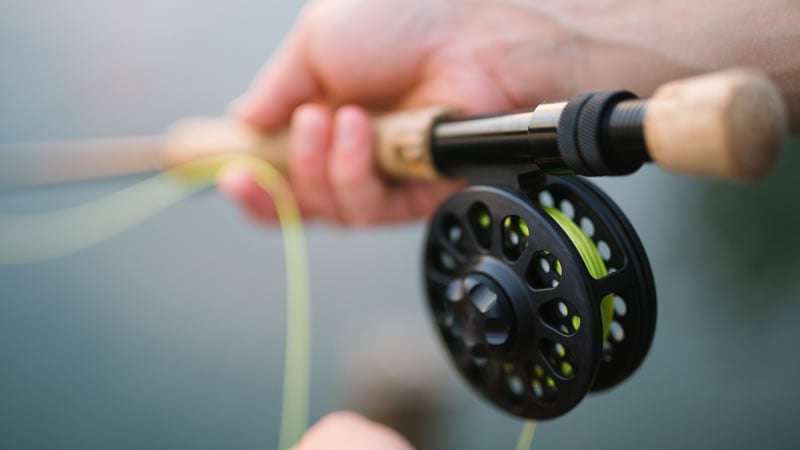 Fly Fishing in Southern California
: The Best Spots
If you prefer warmer weather, then Southern California is your location. The region is rich in freshwater lakes, rivers, and kilometers of the Pacific Ocean shoreline.
Here are some of the best spots for fly Fishing in Southern California.
The Kern River
Heavily-stocked trout fishing location in the Sequoia National Forest, this river is famous for its California golden trout and wild rainbow trout. The upper Kern River features steep gorges, granite cliffs, and whitewater rapids, whereas the lower Kern River is larger and more gently sloping.
Piru Creek and Deep Creek
If you want to relax in a peaceful fishing site, this is the place for you. In Piru Creek and Deep Creek, you can find wild trout with stunning views of the wilderness of the San Bernardino Mountains.
Owens River
A year-round favorite fly fishing spot for rainbow, brown, and cutthroat trout in Southern California. The Owens River runs for about 183 miles (295 kilometers) from the Sierra Nevada mountains to Owens Lake in the Owens Valley. The upper segment of the river is marked by small gorges and steep terrain, but the lower section is larger and has more moderate slopes. 
Los Angeles River
If you want an adventure while fly fishing in southern California, this is the place for you. This river can definitely be challenging! 
The river flow may be irregular, and certain parts might be difficult to access due to heavy vegetation and steep banks. However, persistent anglers can be rewarded with good catches like carp, bass, catfish, and tilapia.
West Fork San Gabriel River
It is a popular fishing location because of the wild trout, carp, bass, and panfish, which can be caught in the river from mid-April to mid-November. The river provides a gorgeous environment and the opportunity to capture trophy-sized fish.
Note that the rocky terrain and fast-flowing water make fishing in the West Fork San Gabriel River tough.
Lake Cuyamaca
Bass is a popular fish in Lake Cuyamaca, with largemouth and smallmouth bass present.
The 110-acre stocked lake with pure blue waters is home to various fish species, such as rainbow trout, catfish, bass, and bluegill. Lake Cuyamaca is open all year. The lake is stocked with rainbow trout during the winter and spring months, making it a popular site for trout fishing.
Fly Fishing in Northern California
: Top Spots
Fly fishing is a popular sport in Northern California, mainly by the region's numerous rivers and variety of fish populations. Anglers can choose between fly fishing in the various rivers and streams and deep-sea fishing in the Pacific Ocean. Northern California offers stunningly beautiful scenery and world-class fishing chances.
Here are some of the best fly fishing spots in Northern California.
The Delta River
The Delta is home to a wide variety of fish species, including striped bass, largemouth and smallmouth bass, channel and blue catfish, sturgeon, salmon, steelhead, and many more.
The East Fork of the Carson River
The East Fork is a peaceful mountain river ideal for fly fishing in northern California. The river is mainly known for its large brown trout. Beautiful mountain whitefish, cutthroat, rainbow, brown, and brook trout are available all year round.
Pillar Point Harbor
The harbor is well-known for its sport fishing, which includes rockfish, lingcod, salmon, halibut, and Dungeness crab. Fly fishing is possible from late fall to early spring.
Pacifica Pier
If you're new to fly fishing in California, this is the place to go. Pacifica Pier is a famous fishing spot for several fish species, such as striped bass, kingfish, perch, and salmon.
Lake Mamie
Popular for trout fishing, Lake Mamie is a high-altitude lake in the Mammoth Lakes area of California.
McCloud River
The McCloud River, which is located near Algoma, is surrounded by nature. If you have intermediate ability level fishing for brook, brown, and rainbow trout, you may find it ideal for you. The fishing season runs from April until mid-November.
Hat Creek
Hat Creek is full of rainbow and brown trout. It's a challenging spot for fishing, which makes it all the more exciting to visit.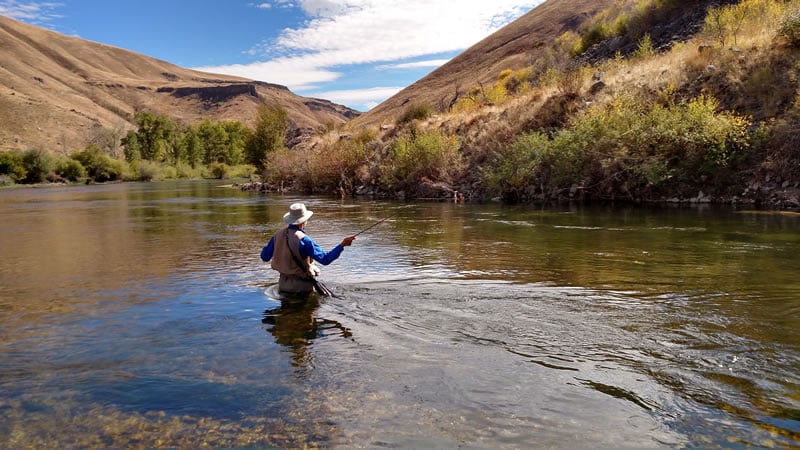 Fishing for Bass: the
Best Fly Fishing in California
California can be a great place to try fly fishing, and there are a few good reasons why you should try it:
The bright and sunny atmosphere allows for year-round fishing opportunities.

The state's commitment to conservation and sustainability, and environmental awareness

California's natural beauty and breathtaking scenery create an unforgettable setting for fly fishing.

 

Diverse fish populations

Wide range of accessible fishing spots.
Anglers that enjoy bass fly fishing will find it both exhilarating and challenging. Bass are aggressive fish, and understanding their behavior and environment is one of the keys to effective bass fly fishing. If you want to go bass fly fishing, it's best done at dawn and in the evening.
California Fly Fishing: Final Words
California is, overall, a fly-fishing nirvana. Its diverse water sources, diverse fish species, and breathtaking natural settings provide a spectacular fly fishing experience that every fisherman should have at least once.
FAQs
Where is the best fly fishing in California?
California's most significant fly fishing spots may differ based on the type of fish you want to catch and the time of year. Lake Cuyamaca, the Delta River, the Los Angeles River, the Owens River, and Hat Creek are all notable fly fishing destinations in California for the next trout or bass fishing trip.
What is the best time of year to fly fish in California?
The best fly fishing in California is in the spring and fall when water temperatures are colder, and fish are much more lively. During this period, you can fish for striped bass, trout, largemouth bass, and halibut.
People Also Ask
Is there a fly season in California?
Flies prefer warm temperatures and are most active from the end of the spring season through the beginning of fall.
Where is the best fly fishing in the world?
Alaska is, without a doubt, the best fly fishing place in the world. Other top fly fishing destinations are Russia, Brazil, New Zealand, Cuba, Florida, Montana, Argentina, and Scotland.