Outside Edge Fishing Charters
Wondering how Lake Okeechobee Bass Fishing is? Are you traveling to Florida in the near future?? Lake Okeechobee is doing well. Constant changes in temperatures have caused it to fluctuate but during times, you can experience some excellent fishing. The spawn is going to occur for the next couple of months leading to schools of bass to come into the shallows. Be patient and let our local experts take you on an adventure you may never forget. Enjoy our Outside Edge Fishing Charters on your next visit for Florida largemouth bass!
Our local experts work very hard to make your experience memorable. They also want to make sure that you get on the fish you are hoping for. Be prepared to fish and explore with them along the way. Enjoy seeing different locations on the lake and setting the hook into some quality largemouth bass.
Here is your Lake Okeechobee Bass Fishing Update:
Captain Brian Brown had the pleasure of fishing with Pat and his buddy Kevin. They were traveling from New Jersey to stay in Jupiter, FL for 6 months while the winter blows by. While doing so, bass fishing on Lake Okeechobee is a must out of Okeechobee City, FL. Most of their time is spent golfing and saltwater fishing so now they wanted to change it up. Fortunately, the weather was beautiful on this fishing trip but water temperatures were lower.
The action was strong right off the bat. Pat and Kevin put several quality largemouth bass in the boat. Wild caught live shiners did their magic on this fishing trip. These gentlemen caught 25 bass weighing up to 5 pounds. In order to get around some of these better bass, you have to move around and find them.
Pat and Kevin are looking forward to getting back out there on the water. They shared a lot of laughs and jokes. Captain Brian is looking forward to showing them around next time!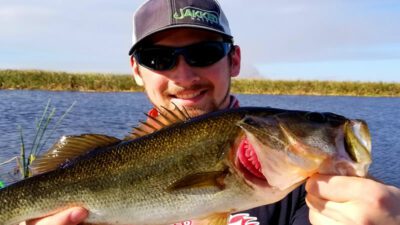 Just shortly after this fishing trip, Captain Robert Alfano adventured out with long-time repeat client Ron Powers. Ron was traveling to Florida to get out on Lake Okeechobee. The conditions were tricky on this fishing trip. Water temperatures were refusing to rise but Ron and his friend managed to land several nice largemouth bass.
Ron loves to use live bait on Lake Okeechobee. It is one of the most productive methods especially when conditions rapidly change. Ron and his friend caught 10 decent keeper bass and had a lot of fun with each one. It was a quick 4-hour fishing trip and Ron will be back for more. Captain Rob is looking forward to getting them back on the water.
It was not long after this fishing trip that Captain Mark Rogers adventured out on Lake Okeechobee. He had the pleasure of fishing with Norm and his son Pruitt. When Norm and Pruitt adventured out, the conditions were fantastic. The bass were biting all trip long making for some excellent action.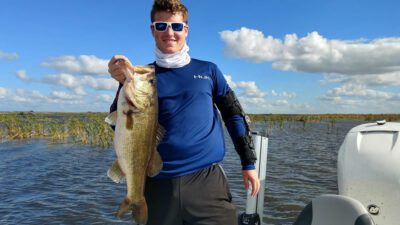 This father-son duo made it happen with great numbers to the boat. More importantly, they caught some quality largemouth bass. Pruitt caught the biggest bass weighing 6 pounds. Several other bass weighing between 3-4 pounds also were caught.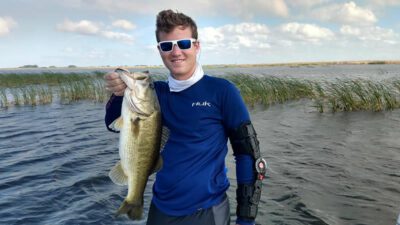 The outside edge was the main focus on this fishing trip. Wild caught live shiners produced big time on wind-blown spots. Most of these fish were waves of bass moving in to spawn in the shallows. If you time Lake Okeechobee right, you can get around some quality bass. Norm and Pruitt are looking forward to their next opportunity to get back on the Big O with Captain Mark Rogers.
Just shortly after this awesome fishing trip, Captain Brian adventured back out on Lake Okeechobee out of Clewiston, FL. This time, he had the pleasure of fishing with Martin and his wife Renee. They were originally looking to catch crappie on Lake Okeechobee but the crappies just haven't moved in quite yet. After informing them of this, Lake Okeechobee Bass Fishing was their next best option.
We grabbed several dozen wild caught shiners and made this trip happen. The bite was slower than Captain Brian hoped for but sporadic flurries made for an interesting fishing experience. Weather conditions were nice and calm. It was the perfect opportunity for Martin and Renee to enjoy Lake Okeechobee and all it had to offer. They put several nice largemouth bass in the boat.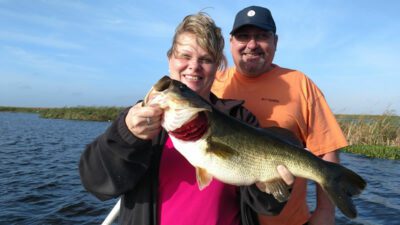 While doing so, they also got to enjoy the wildlife, birds, and reptiles of Lake Okeechobee. Martin and Renee will be back for more action in the near future. Captain Brian Brown is looking forward to another great adventure on the Big O!
Fishing conditions are constantly changing on Lake Okeechobee. The bass are biting though and you can still encounter some excellent days on the lake. If you are visiting and want to get out on the Big O, we can make it happen for you. We look forward to seeing you on the water next time!
Come Visit Florida and Catch Yours Today..
[fusion_button link="http://bassonline.com/trips/city/clewiston/" title="BOOK YOUR LAKE OKEECHOBEE FISHING TRIP ONLINE NOW!" target="_self" alignment="center" modal="" hide_on_mobile="small-visibility,medium-visibility,large-visibility" class="" id="" color="default" button_gradient_top_color="" button_gradient_bottom_color="" button_gradient_top_color_hover="" button_gradient_bottom_color_hover="" accent_color="" accent_hover_color="" type="" bevel_color="" border_width="" size="" stretch="default" shape="pill" icon="" icon_position="left" icon_divider="no" animation_type="" animation_direction="left" animation_speed="0.3″ animation_offset=""]BOOK YOUR LAKE OKEECHOBEE FISHING TRIP ONLINE NOW![/fusion_button]
If you enjoyed this post about Okeechobee Fishing, you might also enjoy this fishing report from the same area.
Don't forget to follow us on Facebook, YouTube, Twitter and Instagram.