January Lake Okeechobee Fishing
January brings about a fantastic time to explore Lake Okeechobee. Cooler temperatures get the bass active and wanting to spawn. If you are wondering when the best time to catch big bass in these upcoming months are prime time. Get out on the water and bring your family along for a January Lake Okeechobee Fishing experience next time you are visiting Florida.
One of the most important parts about fishing on Lake Okeechobee is adventuring out with a local expert. These experts have years of experience catching largemouth bass on Lake Okeechobee. Captain Brian Brown has expert knowledge on how to fish all the locations here on Lake Okeechobee. You can also have a blast with local expert Captain Robert Alfano as well.
Captain Brian Brown had the pleasure of fishing with a friend and repeat client Ed Reed along with his brother-in-law Mike. Ed and Mike were searching for some quality time on the water on this quick 4-hour fishing adventure. Fishing with Ed is always a great time with a lot of laughs and jokes.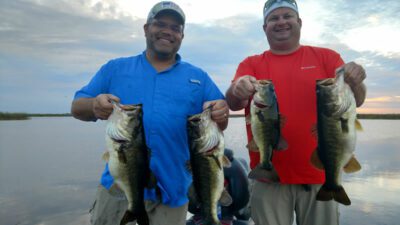 The North end of Lake Okeechobee presented a tougher bite on this fishing trip. Colder weather slowed the bite but did not stop the big bass from coming out to play. When the sun got strong in the sky, watching wildlife also added to the experience.
It's always on Okeechobee
Ed and Mike caught several-quality largemouth bass weighing up to 6 pounds. You can't beat the action right now and it is only going to get better. Captain Brian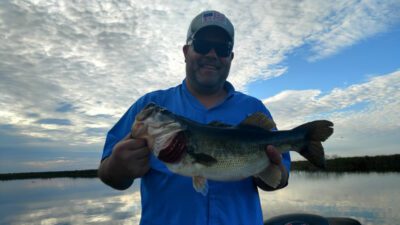 is looking forward to getting back out on the water again with these gentlemen in the future.
Just shortly after this awesome fishing trip, Captain Robert Alfano adventured out of Belle Glade, Florida. He had the pleasure of fishing with long-time repeat client Dickey Turner. Dickey was traveling from Iowa looking to cash in on some Lake Okeechobee Bass Fishing.
Colder weather snaps and constant changes made fishing quite interesting. One of the most fascinating parts about fishing is that somedays weather will not affect the bite while others times it completely shuts it down. The bite was strong on this fishing trip.
Dickey landed approximately 20 Florida largemouth bass in his short 4-hour fishing excursion. It was anchored by a quality bass weighing close to 5 pounds. Dickey and Captain Rob always have a blast together. They share a lot of great laughs and memories from past trips.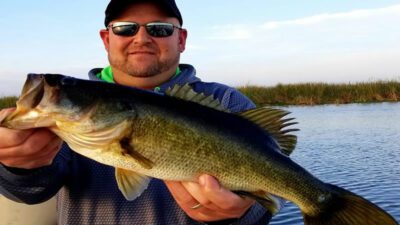 Captain Rob will be looking forward to fishing with Dickey again in the future!
It was not long after this trip that Captain Brian adventured out of the last destination on our stop, Clewiston, FL. Clewiston is such a unique place with a lot to offer. The highlight of this destination is Lake Okeechobee and the incredible bass fishing that goes with it. Captain Brian had the pleasure of fishing with Farron, a repeat client, and friend.
Farron wanted to explore Lake Okeechobee for 6-hours. The west side of the lake has been producing very well this time of year. Harney Pond, which is not far from Clewiston, produced an excellent fishing adventure for Farron.
You name it, you can fish it
Wild-caught live shiners were the most effective method of catching quality bass on this fishing trip. Fishing may have been slow but stories and laughs kept us busy until the big girls arrived. After picking away at smaller fish, Farron found the bass he was after. It weighed 8 pounds, a true Okeechobee special and Trophy largemouth bass. The excitement on his face was priceless, according to Captain Brian.
Farron will be back for more of this action shortly and Captain Brian will be glad to show him another awesome trip. You never know what will bite and when. Stay patient and your dreams will come true.
Lake Okeechobee is looking absolutely fantastic. The water is getting lower, cleaner and colder making for a prime spawning season ahead. If you are looking for that giant bass, now is the time to come. Get your trips booked while we have openings still left. Bring your family out on the water with one of our local experts for a trip of a lifetime!
Come Visit Florida and Catch Yours Today.
If you enjoyed this post about Okeechobee Fishing, you might also enjoy this fishing report from the same area.
Don't forget to follow us on Facebook, YouTube, Twitter, and Instagram.