Tamiami Canal (Airport Lakes)

Tamiami Canal is located in Miami-Dade County. It drains eastward from Water Conservation Area III past Miami International Airport to a non-navigable salinity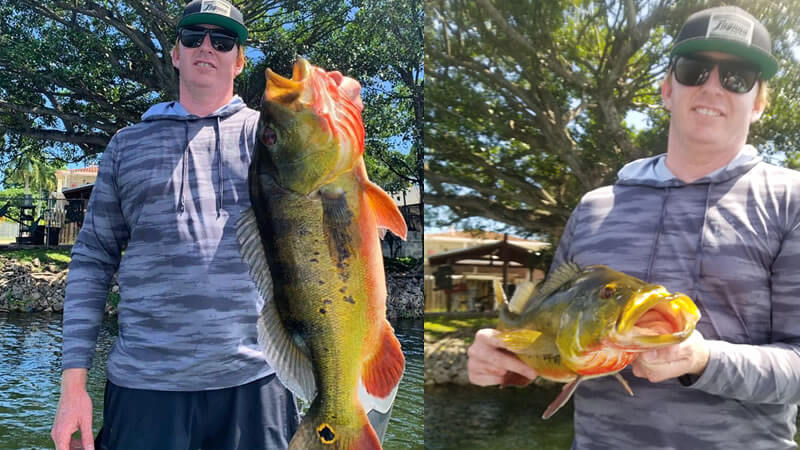 control structure that prevents saltwater intrusion from the Atlantic Ocean. Tamiami Canal provides excellent freshwater fishing in more than 27 miles of boat accessible canals and small lakes. The canal ranges from 40 to over 100 feet in width, averages about eight feet deep, and some lakes are more than 50 feet deep.
The lakes near Miami International Airport are often noisy and congested on weekends, but this area can be avoided by traveling west. From the boat ramp, it is 3.0 miles to the entrance of the Coral Gables Canal, 4.8 miles to the lateral canal connecting to McDonald Lake, and 7.6 miles to the intersection with Snapper Creek, immediately east of the Turnpike Extension. The non-navigable flood control structure on Tamiami Canal near Krome Avenue is approximately 13 miles from the boat ramp. The combination of Tamiami and Snapper Creek canal systems provide urban anglers more than 43 miles of exciting fishing opportunities.
FISHING INFORMATION–Tamiami Canal offers some of the most exciting and varied canal fishing in all of southeast Florida. Most anglers have report canal 'trifecta' or 'grand slam' catches of butterfly peacock and largemouth bass topped-off with a snook or even a tarpon. The butterfly peacock is a world-renown gamefish that was successfully introduced in the mid-1980s by the Florida Fish and Wildlife Conservation Commission to eat undesirable exotic fishes and to provide more sportfishing for anglers in the metropolitan Miami-Ft. Lauderdale area.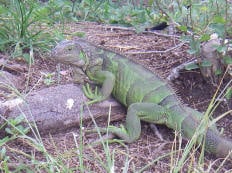 There are fallen trees throughout Tamiami Canal, many canal intersections, tons of sharp bends, and dead ends that are generally productive areas for catching most species of fish especially the peacock bass. The Florida Peacock Bass also congregate in the shade of bridges, culverts, and other structures. Shoreline vegetation, rip-rap, and even some residential seawalls (particularly in lateral canals) also provide good fishing opportunities. If there is a strong current in the main canal, spend more time fishing lateral canals, small lakes, and other areas that offer refuge from the current (e.g., cut-outs, bridge pilings, and the downstream side of spillways).
Tamiami Canal supports excellent populations of butterfly peacock and largemouth bass that average about 14 inches (1.5 pounds), and nearly 50% of the harvest-able butterfly peacock and 40% of the largemouth bass are larger than this. The biggest butterfly peacock (10 pounds) ever confirmed in Florida came from this canal. The bag limit for butterfly peacock is two fish per day, only one of which can be greater than 17 inches; up to five largemouth bass can be kept, but only one of these can be greater than 14 inches.
Tamiami Canal Fishing for butterfly peacock is usually best from March through May, but they are caught consistently throughout the year. Butterfly peacock feeds only during daylight and normally close to shore, although schooling peacocks will sometimes feed aggressively in open water. Tamiami canal largemouth bass fishing tends to be best during the winter when the water cools, and early in the morning, evenings, and even at night during the summer.
Butterfly peacock is more likely to be caught using live fish for bait than are largemouth bass, which makes them an excellent fish for younger anglers, as well as those just learning to bass fish. Live fish such as small golden shiners purchased at local tackle shops are the best overall bait for both butterfly peacock and largemouth bass. It is illegal to use goldfish or any other non-native fish for bait, except those legally caught from and immediately used in the same canal. For those who enjoy fishing with artificial lures, just about any fast-moving minnow imitating plug or fly can be used to entice a peacock.
Early in the morning look for tarpon rolling at the surface, especially in the area just east of Red Road. Snook can be found throughout the canal system but tend to concentrate along vegetated shorelines and under bridges close to lake areas. Another species anglers might catch resembles a walleye; this fish is the brackish water bigmouth sleeper which is a long, cylindrical fish with many small sharp teeth.
The number and quality of panfish over six inches in the Tamiami Canal are about average for area canals. Live worms and crickets are the choice baits for many panfish anglers, although fresh bread or bread dough works well, is readily available, and it costs less. Shoreline anglers will need to do some exploring to find the best locations for shoreline fishing, and always be sure to park cars safely on public right of ways.
Tamiami Canal anglers might also catch a jaguar guapote from Central America, Oscars from South America, or spotted tilapia from Africa. These exotic fishes were illegally released, and pose a threat to native species. Jaguar guapotes resemble black crappie (speckled perch) with many small, sharp teeth. Oscars are a bream-shaped fish with a red or orange circle at the base of the tail, and they have a thick coat of protective mucus on their bodies. Spotted tilapia are also bream-shaped, golden in color with black spots or bars, and some adults have red on them. These exotic fishes are good to eat, and you can keep every one you catch.
Tamiami and other area canals cannot handle a great deal of fishing pressure so we encourage anglers to release most, if not all of the butterfly peacock, largemouth bass, snook, and tarpon they catch. If anglers don't release a majority of the sportfish they catch, these high-quality fisheries will deteriorate rapidly.
If you want to catch big fish and fish where big Peacock bass is! South Florida, Tamiami canal is prime waters for the elusive Florida Peacock bass. Many catches in the 4 to 7lb range with the state record being just short of 10-pounds. Come join us for the trip of a lifetime. You have earned it!
Our fishing guides are handpicked from the best in the area, so you don't have to. They have fished these Tamiami canals in Florida for more years than any fishing guide service in the state. No less than 20 years of combined experience at catch trophy peacock bass for our clients. During this time our team has developed there skills and experience necessary to provide you with that fishing trip of a lifetime no matter what the conditions are. In order to insure your trip will be a safe and memorable trip, all of our guides are insured and US Coast Guard licensed captains.
Not only will you fish with a professional guide, all of our Tamiami canal trips include Fully equipped Bass boats, fuel, and tackle. Everything you need for that trip you've been waiting for. The only thing you will need to have is a Florida fishing license.
Corporate trips are welcome and very common for us, because of our size. We can accommodate your fishing needs from one to a hundred. We also can provide everything from breakfast and box lunches to a southern BBQ to end the day.
BOAT RAMP DIRECTIONS–The only public Tamiami canal boat ramp is located in Antonio Maceo Park. This park is open from dawn to dusk and is operated by the City of Miami Parks and Recreation Department. The two-lane ramp is paved and in excellent condition. The park has picnic tables, grills, a playground, and a paved parking area, but there are no restrooms. Note: Manatees are quite common, so be careful boating and watch for posted regulations.
To reach the boat ramp, take the Turnpike Extension or I-95 to Hwy 836 (Dolphin Expressway). Take Hwy 836 east from the Turnpike or west from I-95 to Red Road (NW 57th Avenue). Go south on Red Road about 0.5 miles to NW 7th Street, east (left) 0.6 miles to NW 51st Avenue, and Antonio Maceo Park is on the left side just before NW 51st Avenue.
View Larger Map
More great links to information on this lake,
http://myfwc.com/fishing/docum/tamiami.html
Miami Peacock bass Fishing
Florida Peacock Bass