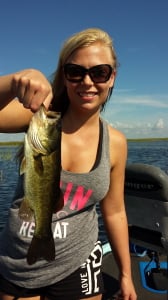 About Henderson Lake
Henderson Lake Fl is situated near Inverness and around 5 miles from Hernando in Citrus County, FL. Henderson Lake covers 422 acres at an above-sea-level elevation of 39 feet and a depth of 12 feet at its deepest point. Henderson Lake is part of the Tsala Apopka Chain of lakes and is located east of downtown Inverness. The 44 East boat ramp has two ramps with access to the Tsala Apopka Lake Chain.
Lake Henderson is the largest lake next to Inverness city in Florida; it's a popular destination with many fishing charters available for anglers looking to go after bluegill, largemouth bass, and crappie. You'll find anglers fly fishing, drift trolling, or still fishing here using the only allowed watercraft on the lake or camped along its shores. 
The Lake Henderson Inverness, Fl Area
Inverness is a city surrounded by beautiful citrus groves, tranquil lakes, verdant forests, and a rich landscape with outdoor activities. 
The all year round Withlacoochee River Trail runs along with the Wallace Brooks and Liberty Parks. The Whispering Pines Park offers three walking trails, after which you can flop around their Olympic swimming pool. The area is known for its incredible fishing spots inside the chain and surrounding areas, such as Lake Rousseau.
Top Targeted Fish Species
Fishing Henderson Lake
At Henderson Lake, you can find various catches, including largemouth bass, crappie, catfish, bowfin, and bluegill. Be prepared for a possible showdown with sturgeons on Lake Henderson. There's also an exciting newcomer who is part of the bream family found in the area, the gar.
Henderson lake is often grouped with the other productive largemouth bass fisheries in Citrus County. The top lakes of Citrus county include Little Lake Henderson, Big Lake Henderson, the Withlacoochee River, Lake Hernando, Lake Rousseau, Lake Tsala Apopka, and Lake Holathlikaha.
The water is warm, in the lower 70s most of the year, making the fishery prevalent with specks and white bass. You can find an abundance of minnows or crickets to drift with or use artificials when deep trolling to draw strikes.
In Henderson Lake, you can also stay off the deep by targeting the streams, inflow, and canals surrounding this vast water body. You can jig with tipped minnows in depths of five to eight feet, where slip bobbing with topwater lures is sure to result in catches.
Fishing With a Guide
Henderson lake is a trophy bass destination. Catches here have exceeded the scales of six or seven pounds and see largemouth bass as heavy as 10 pounds every year. Your guide is a local expert who knows the fishery like the back of his hand; this means safely heading directly to all the best fishing spots.
Throughout the fishing charter, you will be blown away by the beautiful views of Henderson Lake, with its weedy shorelines, cypress trees, and any wildlife that calls those areas home. There's no need to travel with your equipment or worry about what lures to use; your professional guide will have everything you need for a successful day on the water.
Many boat ramps in the area charge a fee or are privately owned and managed by the Florida fish and wildlife conservation commission; fishing with a guide is the best way to avoid breaking local restrictions.
Inverness FL Things to Do
Inverness is a 40-minute drive from Ocala with various recreation options; often a popular day trip stop from nearby cities. This city's proximity to state and national parks makes it an ideal place to visit, especially for those who are outdoorsy. You can indulge in fishing, camping, canoeing, swimming, and hiking at the pet-friendly Fort Cooper State Park near Henderson Lake Fl. 
You can see the most extensive occurrence of manatees in Florida at the crystal river, as they move here when the coastal waterways are more relaxed during the winter. Besides swimming with these gentle aquatic giants, there's fishing and hiking to a nearby historic plantation. 
You can also fill your need for speed at the citrus county speedway, a figure-8 racetrack venue for many famous races every season. This unique speedway is home to local upcoming and pro drivers, an eclectic mix of loud engines, an exhilarating atmosphere, and enthusiastic fans.
Campgrounds
Henderson Lake Fl is home to numerous attractions, including state parks, beautiful beaches, fishing spots, and amusement parks, with campgrounds befitting the number of visitors this city sees annually. Top campgrounds in the area include Lake Pan RV Village, Ocala Sun RV Resort, and Belle Parc Rv Resort.
Pan RV Village has a boat ramp and a dock for this centrally located campground right on Lake Pan. 
This Ocala Park is at the center of the Daytona Beach, Orlando, Crystal River, and Gainesville destinations called the 'winners circle.' 
Belle Parc RV Resort: 
Pet-friendly and suitable for big rigs. It is on a lake with a heated pool, gym, and ball courts.
Henderson Lake, Fl Reviews
★☆☆☆☆
"
Way to much fishing pressure bass population is dropping and a lot of grass that will clog your intake on your motor used to be a good place to fish but not anymore (Mike, thanks for the review. But understand why the fishery is good is because of all the grass. Most lakes need grass)
"
Great Lake, Low Pressure
★★★★★
"
I enjoy fishing this lake, I don't see many boats and seem to catch a consistent number of fish!
"
CLICK HERE TO WRITE A REVIEW
We also have great lakes in the Henderson Lake Fl areas that match your search criteria.