February Lake Toho Fishing Report
February has been a fantastic month to explore and go fishing in Central Florida. The largemouth bass have been feeding strong and several waves of spawning fish have been seen in the shallows. Now is most certainly the time to come out and explore what Kissimmee Bass Fishing on Lake Toho has to offer. Big bass can be caught all month long and this February Lake Toho Fishing Report can most certainly show you what it is all about.
Lake Toho is located in Kissimmee, FL in Central Florida right near all the major theme parks. While you are on your family winter vacation, be sure to escape from the chaos and sit back and relax on the water. Bring the whole family along for a fishing adventure that you surely will not forget. Each trip is customized to your fishing needs.
Our local experts have years of experience making sure that when you do come aboard, you have an exceptional time. Whatever the conditions that day throws at them, they have the ability to adjust and locate fish. You are in good hands when you decide to explore what Central Florida has to offer with our local experts. We hope to have the chance to show you around this amazing destination on your next visit.
Enjoy this Lake Toho Bass Fishing Report and update with our Local Experts:
Fishing with Captain John Leech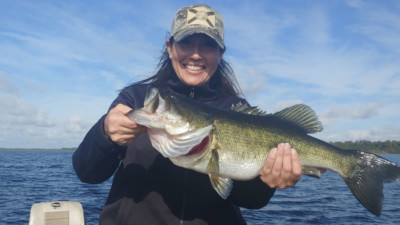 "What a day on the water! Some days are just magical and a lot of fun to experience. I had the pleasure of fishing with a young lady, Katrina. She is in the Army and while taking a break wanted to go bass fishing. Lake Toho Bass Fishing was the perfect fit for her and we went out to see how the fish were biting.
Luckily, the bass fishing was on fire and Katrina caught fish all trip long. It was really nice to see someone have so much excitement when reeling in largemouth bass. We most certainly lost count of the number of bass we caught on this trip. The biggest fish weighed in at 5 pounds, which happened to be her biggest fish ever.
Most of the additional fish caught weighed in the 3-4 pound range. The quality of bass is most certainly going up. Katrina was a wonderful person to fish with and is looking forward to spending another day on the water soon!" – Capt John Leech
Fishing with Captain Steve Niemoeller
"There is something magical that happens when you get a young man on some big Florida largemouth bass. Watching them reel in big fish with a big smiles on their face most certainly makes my day. It was a pleasure to get the opportunity to fish with Ameer and Ali who were traveling from New York.
Kissimmee, Florida is the destination to visit when looking to help your family experience something new. Whether you are spending days at the endless parks or looking to go out bass fishing, it has it all. Lake Toho is a perfect spot to hop on the boat and go explore.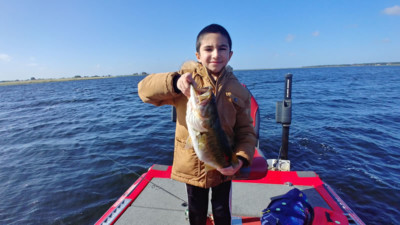 Lake Toho was on fire on this fishing trip. Ameer caught 32 largemouth bass on this fishing trip with the biggest weighing over 5 pounds. Ali landed 10 bass and had a blast with every one of them. It was a great day for this family and these young anglers.
Sunny and Breezy conditions really helped produce some exceptional fishing all trip long. I really enjoyed fishing with this family and I am looking forward to getting back out on the water with them again soon!" – Captain Steve Niemoeller
Fishing with Captain Brent Nelson
"Several places in the United States can produce exceptional fishing all year long. Lake Toho in Kissimmee, FL is most certainly one of them. One of my greatest pleasures in life is getting people on fish at this beautiful location.
I had the pleasure of fishing with Ed on a Lake Toho Bass Fishing charter. He was traveling from Pennsylvania looking to cash in on some Florida largemouth bass. Sunny and calm conditions made for a fantastic day on the water.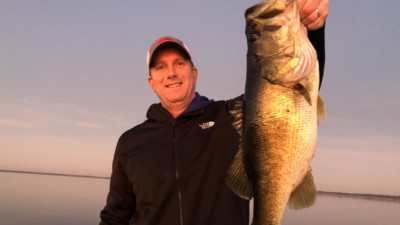 Submerged vegetation was the main focus of this fishing trip. Wild-caught lives shiners produced the best bite all trip long on the main lake. It surely was a productive day on the water for Ed for more than just largemouth bass. Ed caught largemouth, gar, chain pickerel, and bowfin. It was a blast to watch him reel in all these different species.
Ed also enjoyed catching a big beautiful female largemouth bass weighing in at 6 pounds. You truly can't beat the action on Lake Toho on some trips. He put 47 bass in the boat on his 8-hour fishing charter and enjoyed every moment.
I am looking forward to fishing with him again in the near future!" – Capt Brent Nelson
Fishing with Captain Devin Dickerson
"One of the best parts about being a guide is getting out on the water with young kids. They soak up all the knowledge and experience that I can give them. I had the pleasure of fishing with two brothers, Ryder and Brenner. They were 12 and 14 years old looking to get out on Lake Toho.
Lake Toho Bass Fishing is starting to pick up strong during these prime months. Whether you want to throw artificial baits or live bait, you can really have a wonderful time outdoors. These brothers were traveling from San Diego looking to cash in on some Florida bass fishing.
Ryder and Brenner really knew how to fish. On their quick 4-hour fishing charter, they landed over 15 largemouth bass. The biggest bass weighed in close to 4 pounds which was a solid fish for the conditions presented to us.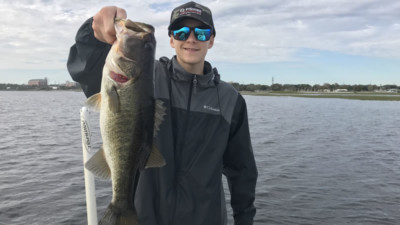 Windy and cloudy conditions can most certainly slow the bite when combined with cooler morning temperatures. Even with all this, these boys had a fantastic time setting the hook into the bass all trip long.
I am looking forward to seeing the best February Lake Toho fishing next chance I get to explore what Kissimmee has to offer them next time!" – Capt Devin Dickerson
It is not every day that you have the luxury to travel to Florida. When you do so, be sure to get out on the water and get the full experience. Largemouth Bass is our state fish and we know the power that it can have for young and old anglers. Bring the whole family out and catch the fish of a lifetime with our local experts.
We hope to see you on the water next time!
Don't forget to follow us on Facebook, YouTube, Twitter, and Instagram.