Weekend Lake Toho Update
One of the BEST ways to spend your time in Central Florida is largemouth bass fishing. When you are visiting this beautiful destination, don't overlook the outdoor activities you can embark on. All our local experts are highly knowledgeable of the fisheries here near Kissimmee, FL and can get you on some excellent fish. Bring your families and friends along for a fishing adventure of a lifetime. Enjoy this Weekend Lake Toho Update for Bass Fishing in Florida.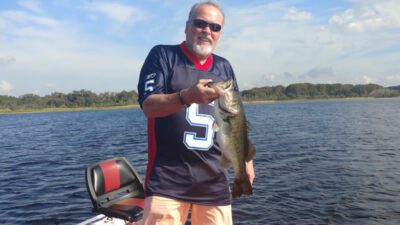 Local Expert and Professional Captain Steve Niemoeller had the pleasure of fishing with Daniel on Lake Toho. Daniel was traveling from upstate NY looking to escape the wintertime weather. They adventured out with wild-caught live shiners and had a blast on their quick 4-hour fishing trip. The bite was strong from the start with over 24 bass in the boat weighing up to 4 pounds. Daniel had a great day of fishing along outside hydrilla edges. Along with the wild caught live shiners, Daniel landed several largemouth bass on artificial worms.
Captain Steve is looking forward to fishing with Daniel on his next trip already in planning for the spring.
Just shortly after this fishing trip, Captain Steve adventured back out for another excellent trip. Lake Toho Bass Fishing has been spectacular and the bite is strong. This time, Captain Steve had the pleasure of fishing with Dennis and his son Nate. They were traveling from Chicago to play a PAL football tournament. Once the tournament was over, they wanted to spend a day filled with bass fishing. Morning temperatures were chilly but as the day rolled on it got warm. The largemouth bass was biting well with over 15 bass in the boat weighing up to 4-pounds. Good rain gear was needed as occasional showers came their way. Captain Steve is looking forward to getting back on the water next time with Dennis and Nate in search for a double digit bass on Kenansville Lake.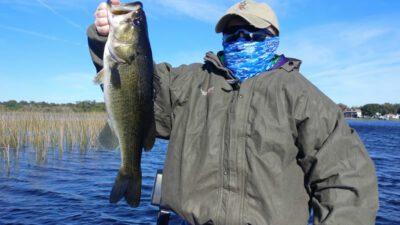 It was not long after this trip that Captain Steve was fishing Lake Toho again. Captain Steve had the pleasure of fishing with Tim and Steve along with Steve's son Robert. They were traveling from the Chicago area. Robert was playing and part of that football tournament in the previous trip. The start was slower but the action picked up. Several quality bass were caught early in the trip. After that, they caught 12 largemouth bass with the biggest weighing 5 pounds. It was a great time for them and they are looking forward to coming back. One of the best parts about fishing with father and son is a lot of them like to play around, pick and laugh with each other. Robert caught the first fish and Steve caught the biggest making for an awesome end of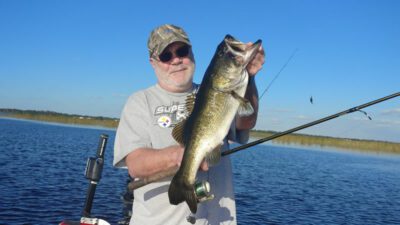 the day.
Finally, we come to the last trip Captain Steve had the pleasure to embark on during this time. Lee was traveling from Atlanta with his friend Jerry traveling from Wisconsin. They were looking to get on some Central Florida largemouth bass. It was an afternoon trip after they worked a convention. One of the great things about bass fishing is that it is super flexible to your schedule. The bass fishing was steady with several nice fish in the boat. Wild caught shiners was the most effective method landing over 20 bass. Jerry landed the biggest bass of the day just shy of 5 pounds. Jerry and Lee was another group of guys that loved to pick and joke with each other. Captain Steve is looking forward to getting back on the water with them in the near future!
Lake Toho in Kissimmee, FL is a fantastic destination to come explore. The Bass Fishing is most certainly a highlight. You never know how the fishing is going to be and your next trip you can land the fish of your lifetime. Now is the time to come fishing here in Central Florida. Weather conditions are getting the bass ready to spawn. Let's get you out on the water for a fishing trip worthwhile. We look forward to seeing you on the water next time!
Come Experience Kissimmee and Catch Yours Today…
[fusion_button link="http://bassonline.com/trips/city/kissimmee/lake-toho/" title="BOOK YOUR LAKE TOHO FISHING TRIP ONLINE NOW!" target="_self" alignment="center" modal="" hide_on_mobile="small-visibility,medium-visibility,large-visibility" class="" id="" color="default" button_gradient_top_color="" button_gradient_bottom_color="" button_gradient_top_color_hover="" button_gradient_bottom_color_hover="" accent_color="" accent_hover_color="" type="" bevel_color="" border_width="" size="" stretch="default" shape="pill" icon="" icon_position="left" icon_divider="no" animation_type="" animation_direction="left" animation_speed="0.3″ animation_offset=""]BOOK YOUR LAKE TOHO FISHING TRIP ONLINE NOW![/fusion_button]
If you enjoyed this post, you might also enjoy this fishing report from the same area.
Don't forget to follow us on Facebook, YouTube, Twitter and Instagram.
[fusion_text]

About Captain Steve Niemoeller is a full-time Professional fishing guide and Licensed Master Captain. Primarily servicing the fresh water lakes of the St Johns River, Lake George, and Lake Monroe. He also guides on Harris Chain and Lake Toho. He also has great success on Ponce Inlet and Mosquito Lagoon in saltwater catching Redfish and other species. Learn more at
Central Florida Fishing[/fusion_text]