Everglades Artificial Fishing Charters
Are you an avid bass fishing angler? Do you love to catch big numbers of largemouth bass? An Everglades Artificial Fishing Charter will allow you to enjoy some time in the outdoors while catch bass all trip long. The Florida Everglades is one of the BEST fisheries for largemouth bass this time of year. Conditions are just right for the action to be steady and the bass to bite. You may not find a trophy but you will be so busy catching bass, you will forget all about that big one.
One of the advantages of fishing with our local experts and professionals is that they will put you on the fish. The Everglades is a destination that you only throw artificial baits. You can throw live bait but that will attract a wide variety of species you may not be looking for. Our captains will get you on fish using artificial baits from hard topwater presentations to soft plastic baits.
Here is an update from the Florida Everglades from several locations with Local Expert Captain Joe Gruny:
Captain Joe had the pleasure of fishing with Jake and Evan. They were two best friends as well as fishing buddies. While traveling from Kingston, New York, they wanted to explore what Florida Bass Fishing was all about. There was no better place to do it then in the Everglades out of Holiday Park.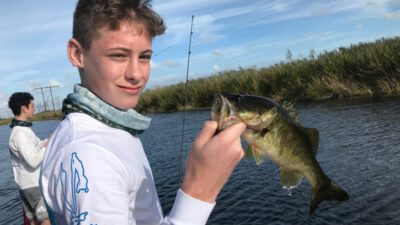 The action has been hot and heavy with artificial baits. You can throw topwater poppers, spooks, soft plastic worms, flukes, frogs and much more to put the bass in the boat. Jake and Evan landed over 50 largemouth bass between 1-3 pounds.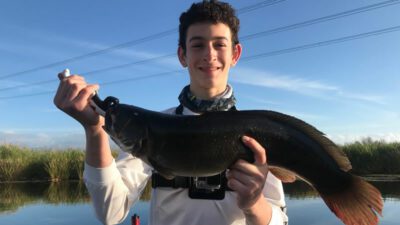 They had a great time with a lot of laughs. This is what fishing is all about. Jake and Evan will be back for more action on their next visit. Captain Joe is looking forward to showing them around and getting them on the bass again.
Just shortly after this fishing trip, Captain Joe adventured back out in Holiday Park. This time, Captain Joe had the pleasure of fishing with Jarrod and Jet. It was an afternoon fishing adventure with great people. They knew how to have fun while catching largemouth bass.
During this quick 4-hour fishing adventure, Jarrod and Jet slammed over 35 largemouth bass. They did not get to catch a giant but they enjoyed landing the big numbers. It was amazing to be able to watch this father-son duo laugh the entire fishing trip while catching bass.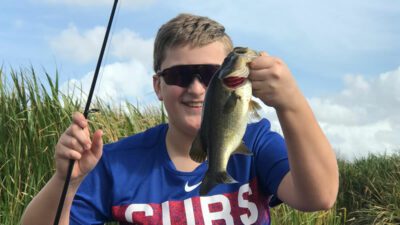 It was not long after this trip that Captain Joe was back at it again at a different location along Alligator Alley. This time, he had the pleasure of fishing with Jim on a solo fishing adventure deep in the Florida Everglades. Jim loves to fish and literally could not stop fishing the whole 4 hours on his trip. If he could cast while we were running to the destination, he would.
Jim crushed over 40 largemouth bass on whacky worms. Depending on the sun, you can fish several different colors but black and blue or watermelon reds are very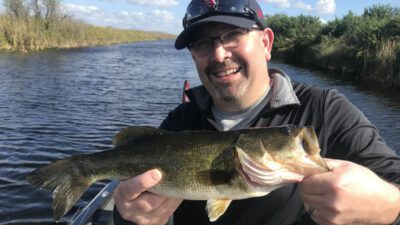 effective. Jim enjoyed every moment of his fishing trip and caught numbers of 1-3 pound bass. According to Jim, this was his best trip he has ever had.
Captain Joe is looking forward to their next adventure on the water in the near future!
Don't miss out on your fishing adventure on your next visit to South Florida. While you are here either soaking up the sun or visiting family, you can't go wrong with a fishing charter in the Everglades. Get your hands full of largemouth bass on a trip you will never forget. Bring your family along for great memories and a lot of laughs. We look forward to seeing you on the water next time!
Come Visit Florida and Catch Yours Today
[fusion_button link="http://bassonline.com/florida-lakes/everglades-holiday-park/" title="BOOK YOUR EVERGLADES FISHING TRIP ONLINE NOW!" target="_self" alignment="center" modal="" hide_on_mobile="small-visibility,medium-visibility,large-visibility" class="" id="" color="default" button_gradient_top_color="" button_gradient_bottom_color="" button_gradient_top_color_hover="" button_gradient_bottom_color_hover="" accent_color="" accent_hover_color="" type="" bevel_color="" border_width="" size="" stretch="default" shape="pill" icon="" icon_position="left" icon_divider="no" animation_type="" animation_direction="left" animation_speed="0.3″ animation_offset=""]BOOK YOUR EVERGLADES FISHING TRIP ONLINE NOW![/fusion_button]
If you enjoyed this post about South Florida Fishing, you might also enjoy this fishing report from the same area.
Don't forget to follow us on Facebook, YouTube, Twitter and Instagram.
[fusion_text]

About Capt Joe Gruny is a fishing guide in South Florida, but grew up in Medford, New York. He found a passion for fishing at a very young age for salt and freshwater. Now he lives in Lake Worth, Florida where he gets to fish his favorite fisheries including Lake Okeechobee, the Everglades, Lake Ida and Miami Canal Systems. [/fusion_text]