Florida Everglades Canal Fishing
Wondering where the bass are biting the best in 2019? Florida Everglades Canal Fishing is one of the best outdoor activities that have been producing some excellent fishing. If you are looking for big numbers of largemouth bass, this is your destination. Every Southeast and Southwest destination has access to this incredible fishing.
One essential ingredient to having success on the water is a local expert. They know what canals are productive and which are not. Many days consecutively on the water allows for this to occur. Captain Mark Rose and Captain Joe Gruny are your local experts on this fishing adventure. They will give you an insight look at two different Everglades locations.
Captain Mark Rose had the pleasure of fishing with Thomas and his good friend. They were traveling from Texas looking to enjoy a day filled with largemouth bass. Captain Mark took them on an adventure into the Everglades out of Sawgrass Recreational Park.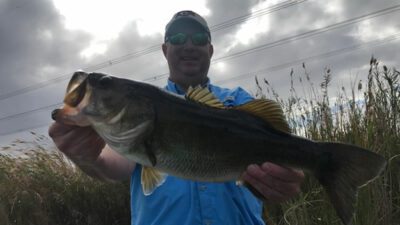 If you love to throw artificial baits, this is your fishery. All our trips consist of catching bass on artificial baits. The most effective baits on this trip were watermelon red flukes and topwater baits. Several other baits including senkos, worms, crankbaits and spinner baits will be effective depending on the conditions.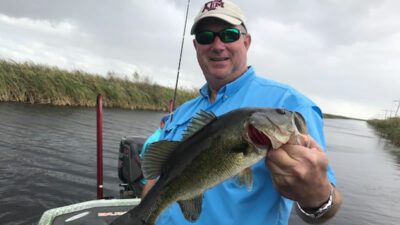 Thomas and his friend landed over 100 largemouth bass. The biggest bass weighed over 5 pounds. You can't beat that action here in Florida. They will be back for more of this action and Captain Mark is looking forward to putting them on more and bigger fish.
Just shortly after this awesome fishing adventure, Captain Joe Gruny explored Sawgrass as well. He had the pleasure of fishing with Ted and his sons Barron and Roman looking to crush some largemouth bass on artificial baits. It was a fantastic day with perfect conditions for Everglades bass fishing. This is the perfect outdoor activity for family bonding.
These gentlemen caught over 30 bass in their quick 4-hour fishing trip. All the bass came on artificial baits including topwater poppers, flukes, and sencos. Another bonus was that they got to experience fishing besides the natural wildlife.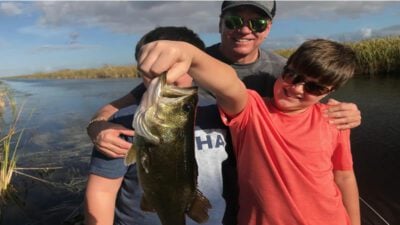 You get a true fishing outdoor experience when exploring the Everglades. Alligators, birds and much more are out sunbathing and searching for food. Enjoy your view from our safe fishing vessels and catch up more bass than you can handle.
Ted, Barron and Roman will be back for more of this awesome action. Captain Joe is looking forward to their next adventure!
Everglades bass fishing is absolutely fantastic this time of year. Conditions are just right and continue to get better. Water levels keep getting lower making for great fishing. Don't miss out on your adventure next time you are visiting the southern region of Florida. Bring your whole family along for a trip of a lifetime. We look forward to seeing you on the water!!
Come Visit Florida and Catch Yours Today
[fusion_button link="http://bassonline.com/trips/city/fort-lauderdale/sawgrass-park/" title="BOOK YOUR EVERGLADES FISHING TRIP ONLINE NOW!" target="_self" alignment="center" modal="" hide_on_mobile="small-visibility,medium-visibility,large-visibility" class="" id="" color="default" button_gradient_top_color="" button_gradient_bottom_color="" button_gradient_top_color_hover="" button_gradient_bottom_color_hover="" accent_color="" accent_hover_color="" type="" bevel_color="" border_width="" size="" stretch="default" shape="pill" icon="" icon_position="left" icon_divider="no" animation_type="" animation_direction="left" animation_speed="0.3″ animation_offset=""]BOOK YOUR EVERGLADES FISHING TRIP ONLINE NOW![/fusion_button]
Don't forget to follow us on Facebook, YouTube, Twitter and Instagram.