Tired Arms Fishing Charters
South Florida is a heaven for exploring the great outdoors. If you are looking for big bass or just large numbers of fish, this is the place to visit. While you are here on vacation, take a break from the sandy beaches and experience the Florida Everglades. Hop on board for a Tired Arms Fishing Charter of a lifetime right here in sunny South Florida!
One of the toughest parts about fishing in the Everglades is that everything looks good. You can travel down miles of canals and waterways and never experience what you are hoping for. Our local experts are the key to having a successful day in the Glades. They will dial you in and get you on the bass all trip long.
Before getting into our update, let's talk tackle. Light spinning equipment is the way to go when fishing in the Everglades. You want to have some light tackle that makes the catch more fun and exciting. When it comes to baits, your local expert will have everything you need. The most successful method to catch large numbers of bass is a wacky worm. Soft-plastics are the way to put some nice fish in the boat. Topwater frogs through the lily pads can entice a nice bite as well. Early morning during these warm summer months will have the bass blow up on walking topwater and poppers.
Here is your Everglades Bass Fishing Update to see what you can get your arms into:
Captain Nick Pasquarello had the pleasure of fishing with Mike and his friend on a bass fishing charter. They wanted to explore the best spot for catching large numbers of bass. Mile Marker 41 has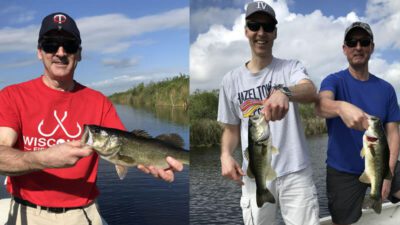 been a very productive area to catch fish all trip long. They were traveling from Minnesota on vacation and bass fishing was a must.
Mike and his friend caught over 50 bass each on their fishing trip. It was a quick 6-hour fishing adventure. They had the opportunity to search down bass all over the Everglades. Mike and his friend went home with some tired arms and had a blast with every catch.
Captain Nick is looking forward to fishing with these gentlemen again in the near future!
It was not long after this fishing trip that Captain Nick was back out on the water. This time he had the pleasure of fishing with Jake. Jake was traveling from Ohio looking to get in the outdoors. Captain Nick took him out on the canals of Alligator Alley and got him on some quality bass. Jake caught numbers of peacock and largemouth bass. He had a great time catching them up and Captain Nick is looking forward to seeing him again in the Everglades.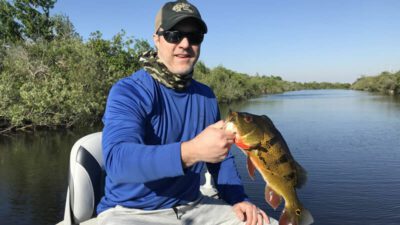 Just shortly after this fishing trip, Captain Nick had the pleasure of fishing with Phil and his son Caden. They were visiting South Florida as well on vacation and wanted to catch some bass. Freshwater fishing is a great way to bond with your young children. Captain Nick is a fantastic guide to get on the water with and experience Florida Bass Fishing.
Phil and Caden hammered the peacock bass and largemouth bass in the glades on this fishing trip. Alligator Alley is one of the best places to catch both bass species in one location. The biggest fish was a peacock bass weighing up to 5 pounds. The biggest largemouth bass weighed 4 pounds. An action-filled day is all you need to get hooked on Florida Fishing for a lifetime!
Captain Nick is looking forward to fishing with Phil and Caden again in the near future!
The Florida Everglades is the place to visit when it comes to catching big numbers of fish. If you are looking to be exhausted when you are done, come explore these waters with our local experts. They will get you hooked on fishing all trip long! Bring your friends and family along for a fishing adventure of a lifetime right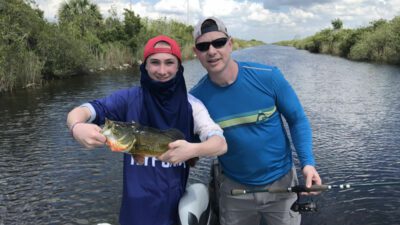 here in sunny and beautiful South Florida!
Come Visit Florida and Catch Yours Today
[fusion_button link="http://bassonline.com/florida-lakes/alligator-alley/" title="BOOK YOUR EVERGLADES FISHING TRIP ONLINE NOW!" target="_self" alignment="center" modal="" hide_on_mobile="small-visibility,medium-visibility,large-visibility" class="" id="" color="default" button_gradient_top_color="" button_gradient_bottom_color="" button_gradient_top_color_hover="" button_gradient_bottom_color_hover="" accent_color="" accent_hover_color="" type="" bevel_color="" border_width="" size="" stretch="default" shape="pill" icon="" icon_position="left" icon_divider="no" animation_type="" animation_direction="left" animation_speed="0.3″ animation_offset=""]BOOK YOUR EVERGLADES FISHING TRIP ONLINE NOW![/fusion_button]
If you enjoyed this post about South Florida Fishing, you might also enjoy this fishing report from the same area.
Don't forget to follow us on Facebook, YouTube, Twitter and Instagram.
Learn More about Florida Peacock Bass Fishing