Sea Bass & Striped Bass: A Comparison
The sea bass and the striped bass are different types of species even though they have the ''bass'' word in their name. When it comes to targeting the right fish, anglers need to know their similarities and differences. The two species are well-known among seafood lovers for their tender meat texture but also among anglers for the thrill.
To point out the difference between Striped bass vs. sea bass, we decided to make a full comparison and provide a detailed review. So, read our article to gain learn more about their habitat, appearance, size, movement patterns, and other aspects of their anatomy.
What's Sea Bass?
The sea bass is a saltwater fish species that live in warmer, shallower waters and belongs to the Serranidae family of the Perciformes order. They can be found on the Indo-Pacific Ocean, the US East Coast, and Europe seas. The sea bass is a predatory species that feed on smaller fish and some invertebrates, and like many other predators, this species searches for the most abundant feeding grounds.
The sea bass is an ambush predator who likes hunting at sunrise and sunset. It has an elongated body that can grow to an average of 24 inches and weigh around eight pounds. Although, depending on the fish species, the average length and weight may vary. 
Every species of sea bass has a distinct look. For example, when you compare the black sea bass vs. striped bass, the black bass is black with more pale hues on its sides, while the striped bass has horizontal stripes and several tones on its body.
We also must point out another comparison, bass vs sea bass. The term bass refers to various distinct fish species, including largemouth bass, smallmouth bass, etc. On the other hand, sea bass is a general term that refers to divergent species found in the sea, including black sea bass, spotted sea bass, barramundi sea bass, etc.
What's Striped Bass?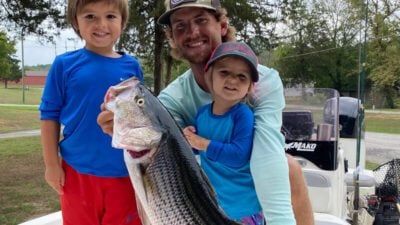 The striped bass is a large carnivorous fish with dark stripes, a metallic look, small scales, and a large mouth. This fish species belongs to the Morone Saxatilis family, but many anglers call it Atlantic striped bass, striper, rockfish, and others. Their body color can range from darker green, blue, and brown to black. The striped bass has a distinctive trait- seven to eight striped lines covering its body.
Striped bass can be found on the Atlantic coast, Canada, Florida, the Gulf of Mexico, and other places. Since the striped bass is an anadromous species, it can live in fresh and saltwater environments. They can ascend in streams and travel more than 100 miles inshore to breed. Some of these species' populations stay in their new freshwater habitat and do not return to the sea.
The average matured striped bass can grow from 2 to 3 ft in length and can weigh between 10 to 30 lb. But, there are cases when a striped bass can reach 6 feet in length and weigh up to 125lb.
The striped bass is an agile predator that is aggressive when hunting its prey. That is why striped bass is a famous game fish and well-known among anglers. Because of the size they can reach and the challenge they present to anglers, this fish is one of the most in demand. 
The Essential Differences:
Striped Bass vs Sea Bass
When we use the term striped bass, we refer to a particular fish species belonging to the Moronidae family. But, when we use the term sea bass, we refer to multiple fish species that belong to the Serranidae family. Technically, many marine biologists consider the Moronidae family a subcategory of the Serranidae (sea bass) family, making the striped bass a part of the sea bass family.
When you explore the differences between sea bass vs striped bass you notice that they live in different natural habitats. Sea bass can be found in Europe, New Zealand, Australia, the US, Canada, and other places. On the other hand, the striped bass is native to the Atlantic coast of the US and Canada. 
Striped Bass vs Sea Bass size is also a key difference. The striped bass reaches a length of between 20 and 35 inches, and their weight can vary from 5 to 40 pounds.
Contrary to the striped bass, the size of the sea bass species can vary greatly, from 2-3 inches up to 2 feet. This also applies to their weight which can go up to 900 pounds.
When talking about the fish's appearance, the striped bass has a distinctive look that makes it recognizable immediately: unique stripes and metallic scales. The sea bass species have distinct colors and shapes. However, they may have standard features, like a large mouth, a forked tail, and large pectoral fins.
Another significant difference between the two species is the environment in which they live. Striped bass can live in salt and fresh water, while sea bass only lives in saltwater environments.
We have highlighted the specific differences between these two species of bass in the table below:
| | | | | | | |
| --- | --- | --- | --- | --- | --- | --- |
| Fish species | Length  | Weight | Color | Habitat | Family/Latin name/Species | Diet |
| Sea Bass | 2-3 into 9 ft  | Up to 900 lb | Black, white, silver, and others | Sea, ocean | Serranidae | shrimp, crab, worm, small fish, and clams |
| Striped bass | 20 to 35 inches  | 5 and 40 pounds | Olive green, blue, brown, and black with 7-8 stripes | Sea, river, lake, pond, stream | Morone Saxatilis | alewives, flounder, sea herring, crabs, soft clams, small mussels, sea worms, and squid. |
Choosing One over the Other:
Sea Bass vs Striped Bass
Both striped bass and sea bass species have many desirable characteristics. However, accurately comparing one fish species with multiple ones is difficult. On that note, many factors may influence your choice of fish species to target.
For example, anglers that like to have a relaxing fishing trip inshore should hunt striped bass. The striped bass can be found in the outlet of the Mississippi River or other rivers in the Mid-Atlantic. Since striped bass prefers slower waters, you can also find them in peers, near bridges, lakes, ponds, and other places.
Depending on preference, anglers may choose to catch striped bass from a boat, kayak, or the shore all year around. Also, anglers choose medium action rods with a 20lb braided line, light lures, and small live baits that will be perfect for catching striped bass.
Anglers that are up for a bigger challenge and are more experienced, who like big game fish, should target sea bass. Sea bass can be found almost anywhere on the globe. However, in the US, anglers usually go out to Buzzards Bay Cape Code, Narragansett Bay, etc. It is preferable to go by boat when a battle is expected with big fish. Also, getting the right gear, like a good and robust medium-heavy rod, solid saltwater line, reel, some shrimps, and hermit crabs as bait, will be the top choice!
Sea Bass & Stripes: Final Take
While both types of fish have their own unique characteristics, they can be enjoyed in different ways. As challenging as it is to point out the differences between one and many fish species, we hope this article gives you some insight into their general features.
Ultimately, choosing between sea bass and striped bass is a personal preference. Good luck on your striped bass fishing trip!
FAQs
Is striped bass like Chilean sea bass?
So when you compare  Striped bass vs Chilean sea bass, you'll notice that they are two distinct types of fish as they belong to different species and live in completely opposite habitats. The striped bass belongs to the Morone Saxatilis species and lives in warm waters. Chilean sea bass, on the other hand, belongs to Dissostichus eleginoides species and lives in colder waters.
What is the real name for sea bass?
There are around 475 marine species that are called with the name sea bass. However, they all belong to the Serranidae family, Perciformes order. Their names vary depending on the fish genus. In the US, people call them black sea bass, striped sea bass, giant sea bass, and white sea bass.
Is sea bass an expensive fish?
Sea bass is a popular fish, and it is the second most expensive median commercial fish on the market – some types of sea bass, such as Chilean sea bass, can be more pricey than others. Generally, sea bass is more expensive than other types of fish, such as cod or walleye.
People Also Ask
Is striped bass high in mercury?
Yes, striped bass can be high in mercury. As the strip bass's body grows, it is prone to accumulating PCBs, mercury, and other chemicals. Food experts advise limiting the amount of striped bass you eat weekly to no more than one serving.
Why is sea bass so popular?
Sea bass became popular in the 1990s due to its low law, tender meat, and rich flavor. The Chilean sea bass is always in demand because of its buttery taste and soft-textured meat enriched with hefty doses of vitamin D.Striped bass vs sea bass.