The Ultimate Battle: Smallmouth against Largemouth Bass
The battle really starts with which is most dominant, so which species deserve to be listed first, Smallmouth vs largemouth bass or Largemouth vs smallmouth bass? Maybe we answer that with which is easier and more exciting to catch? Many anglers naturally ask themselves these questions because even though they come from the same fish species – small and largemouth bass are intrigued by different lures and in various conditions.
In this article, we'll talk about fishing smallmouth against largemouth bass, the difference, and their traits and downsides. Be sure to stick around!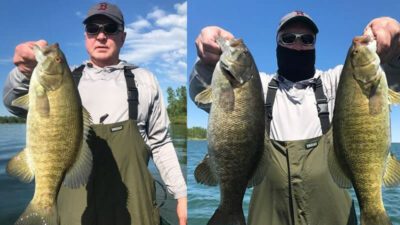 The Defining Features of Smallmouth Bass
The biggest difference between smallmouth and largemouth bass is that the smallmouth bass has a lighter color and small jaws – hence their name. The largest Smallmouth bass grows between 12 and 18 inches and can be bronze, brown, or olive green. These species are native to North America and stay in the cold waters of lakes, ponds, and rivers. 
Smallmouth bass is also an eager fish that eats everything on the menu. Their typical diet consists of insects, smaller fish, crayfish, and other aquatic animals. That's why anglers use spinnerbaits, crankbaits, jerk baits, and buzz baits to catch this hungry fish.
The Defining Features of Largemouth Bass
You can also see the difference between largemouth and smallmouth bass in the largemouth's jaw, sometimes extending even behind the eyes. Largemouth bass is darker than smallmouth, and you can catch them in green, black, or brown colors with horizontal lines along the body.
The largemouth bass is quite bigger than the smallmouth – actually, it's the largest fish in the sunfish family. The standard body length of largemouth bass ranges between 16 and 24 inches. Moreover, these big guys prefer softer bottoms and vegetation of ponds and lakes. The largemouth diet consists of smaller fish, insects, and crayfish. Professional anglers usually use plastic worms, swimbaits, and live bait to catch this aggressive predator.
Smallmouth Bass vs Largemouth Bass
: Ultimate Comparison
As we've mentioned, there are some key differences between smallmouth and largemouth bass. However, they also have some essential similarities that sometimes compel them to interbreed. The key similarities between smallmouth and largemouth bass are
They are the same fish species but from different families

Their daily diet is very similar

They live and breed in a similar environment (lakes, ponds, rivers, and streams)

You can use almost the same lures for catching both largemouth and smallmouth bass hybrid

Their meat tastes relatively the same
Nonetheless, there are also some major differences between the features of the smallmouth vs largemouth bass size. You can see the distinctions in the density of water (salt or freshwater) they prefer, their diet, and their most-active hours. Following are some of the main differences that can compel you to fish for one of the species or help you to recognize the species:
| | | |
| --- | --- | --- |
| Key Features: | Largemouth | Smallmouth |
| Color: | Black, brown, green | Bronze, brown, olive green |
| Length: | 16 to 24 inches | 12 to 18 inches |
| Habitat: | Highly-vegetative lakes and ponds, swampy areas, creeks, and deep rivers | Shallow rocky areas, cool and clean streams, reservoirs, large rivers |
| Diet: | Small fish and bass, baby ducks, insects, crayfish | Smaller fish, crayfish, insects, and other smaller aquatic creatures |
| Waters: | Salt and freshwaters | Mainly freshwaters |
| The best time to fish it: | Early morning, before sunset | From dawn till 2 or 3 hours after sunrise |
| Types of lures: | Rugged worms, swim baits, and live baits | Poppers, vibrating baits, jerk baits, and spinner baits |
What to Choose:
Largemouth vs Smallmouth Bass?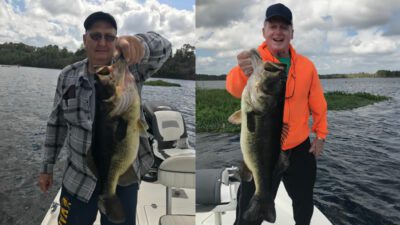 Choosing what to fish can be a difficult decision. You should consider numerous factors before deciding which fish to catch, including the water conditions, time of year, fishing gear, and much more. For example, if you are near warmer and shallower waters, you can always fish for largemouth bass. These fish prefer shallow and warm waters, especially during the summer months.
On the contrary, if you want to fish for smallmouth bass, you must find fast-moving clear water because it loves open waters during the colder months. Moreover, the smallmouth bass is most active during the spring and fall.
Other factors can also prompt you to decide which bass to fish. For example, the fishing gear you use. If your tackle box is equipped with large lures and heavy lines, and you prefer pitching and flipping movements, then the largemouth bass is the right choice! However, if you use lighter lines and vibrating baits, you can always cast your lure into the open waters and attract some smallmouth bass.
Fishing for bass should also be fun! Largemouth bass can be fun to catch, hiding their large bodies in the covers and waiting for the bait. Smallmouth bass, on the other hand, can put up a far more exciting battle and acrobatic movements. 
Lastly, you can check your tacklebox and what color lures you have to decide which one to catch – smallmouth vs largemouth bass. If you use chartreuse, yellow, watermelon, or green pumpkin baits, go for the small mouth. On the other hand, if you prefer red and green colors, search for the largemouth. 
Largemouth vs Sma
llmouth Bass
: Final Words
Choosing which to fish – smallmouth vs largemouth bass – is a fun learning process about the particular fish, its characteristics, and fishing techniques. Once you learn the difference between smallmouth and largemouth bass, like coloring, habitat, and diet, you'll immediately know which one you want to catch.
Smallmouth bass is for anglers who'd want to see some acrobatic moves and tight battles, while largemouth is fun because it hides in the waterbeds and reeds and demands time and concentration. Furthermore, you can always analyze the fishing equipment needed (rods, lures, and lines) and choose the type of bass you want to catch accordingly. 
Lastly, the water conditions around you and where you go for bass fishing are crucial! If you're fishing in shallower waters, cool and clean streams, and rivers, hope to catch plenty of smallmouth bass. However, if you fish in highly vegetative lakes and swamps, you'll witness the powerful strikes of the big guys!
FAQs
Do smallmouth fight harder than largemouth?
Yes, many anglers say that smallmouths are better fighters than largemouths. More precisely, professional anglers consider the smallmouth one of the hardest warm and freshwater fighters. 
Do smallmouths eat trout?
Yes, smallmouths eat trout. However, trout isn't the favorite food on the smallmouth's menu. It usually prefers smaller fish, insects, and crayfish.
Can largemouth and smallmouth bass mate?
Yes, largemouth and smallmouth bass can mate. Although these cases are rare because of the different habitats, there are cases when largemouth and smallmouth bass interbreed and produce mixed offspring.
People Also Ask
What tastes better Smallmouth Bass or Largemouth Bass?
We can also witness the battle between smallmouth vs largemouth bass taste in the waters they live. Even though they taste almost the same, the largemouth is fishier. Smallmouth vs largemouth bass is more delicate and sweeter. That's why many people decide on the smallmouth – because of its firm texture, white meat, and cleaner taste.
What fish eats smallmouth bass?
Numerous fish species eat smallmouth bass, including largemouth bass, northern pike, yellow perch, sunfishes, etc. Moreover, the adult smallmouth bass is one of the favorite meals on the muskie diet.