Golden Shiner Kissimmee Fishing
Kissimmee, Florida is one of the best places to bring the family to explore the outdoors. The theme parks will keep everyone busy and having a great time. When you are looking to change things up, don't overlook Florida Bass Fishing. It is just as exciting as all the theme parks with a different view. Hop on board for a golden shiner Kissimmee fishing adventure of a lifetime.
Kissimmee is closely located to a fantastic largemouth bass fishery. Within a 20 minute drive, you can be fishing Lake Toho. Lake Toho is a large lake with a lot to offer. You can see bald eagles flying overhead while reeling in quality and quantity of bass. Our local experts will get you on the fish all trip long!
Here is your Lake Toho Bass Fishing Update:
Captain Brent Nelson had the pleasure of fishing with Kathy and her husband Darryl. They were visiting Central Florida looking to get out on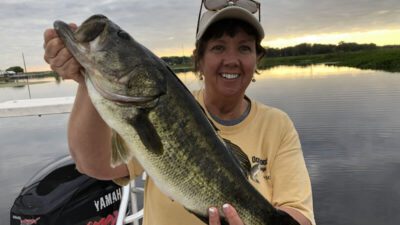 the water. Lake Toho was the perfect option for them. It was a quick trip in the morning with wild-caught golden shiners. Live bait tends to be the best method when looking for quality. Kathy and Darryl enjoyed catching over 20 bass weighing up to 6-pounds. Even when the conditions are tough, Captain Brent has spots that will produce.
Captain Brent is looking forward to fishing with this lovely couple in the near future!
It was not long after this fishing trip that Captain Brent Kirkdendall was out exploring Lake Toho. He had the pleasure of fishing with Derrick on a quick 4-hour fishing charter. Yet again, Golden shiners were the most effective bait to catch multiple Florida largemouth bass. Water temperatures are rising causing the bass to begin to feed more often. Overcast conditions with a slight breeze made for a good day on the water.
The main area of focus was on the outside Kissimmee grass edges in 3 ft of water. Largemouth were feeding aggressively on each cast. Derrick had a blast catching bass up to 5-pounds. Captain Brent is looking forward to catching more bass with Derrick in the near future!
Just shortly after this fishing trip, Captain Brent Nelson was back on the water. He had the pleasure of fishing with Roger and his son Liam.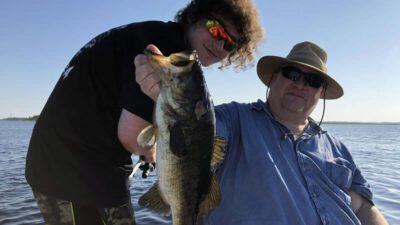 Liam also brought his friend Dalton along for the journey. They were traveling from Georgia looking to explore what Central Florida bass fishing was all about.
The action was strong on this fishing trip. Roger, Liam, and Dalton caught two largemouth bass weighing right at 5 pounds. Most of the bass were caught over main lake Hydrilla beds. This is the time of year when the action gets strong and big numbers can be caught. This family and friends are looking forward to their next adventure with Captain Brent Nelson on their next visit to Central Florida.
Don't miss out on your Lake Toho Bass Fishing adventure! Now is the time to come and explore what you can get yourself into. When you are visiting with the family, bring everyone along for a great time on the water! We look forward to seeing you on our next fishing adventure!
Come Experience Kissimmee and Catch Yours Today…
[fusion_button link="http://bassonline.com/trips/city/kissimmee/lake-toho/" title="BOOK YOUR LAKE TOHO FISHING TRIP ONLINE NOW!" target="_self" alignment="center" modal="" hide_on_mobile="small-visibility,medium-visibility,large-visibility" class="" id="" color="default" button_gradient_top_color="" button_gradient_bottom_color="" button_gradient_top_color_hover="" button_gradient_bottom_color_hover="" accent_color="" accent_hover_color="" type="" bevel_color="" border_width="" size="" stretch="default" shape="pill" icon="" icon_position="left" icon_divider="no" animation_type="" animation_direction="left" animation_speed="0.3″ animation_offset=""]BOOK YOUR LAKE TOHO FISHING TRIP ONLINE NOW![/fusion_button]
If you enjoyed this post, you might also enjoy this fishing report from the same area.
Don't forget to follow us on Facebook, YouTube, Twitter and Instagram.